Solana's astounding rally aided in its latest triumph of scoring a new all-time high above $84 today. At a market cap of $23.67 billion, SOL has cemented its position as the 10th-largest cryptocurrency on the leaderboard.
Moreover, since the July lows, SOL has been up by more than 280%. It is undoubtedly the hottest altcoin now and there's still a lot of buying opportunity, here's why-
Room for Solana buyers?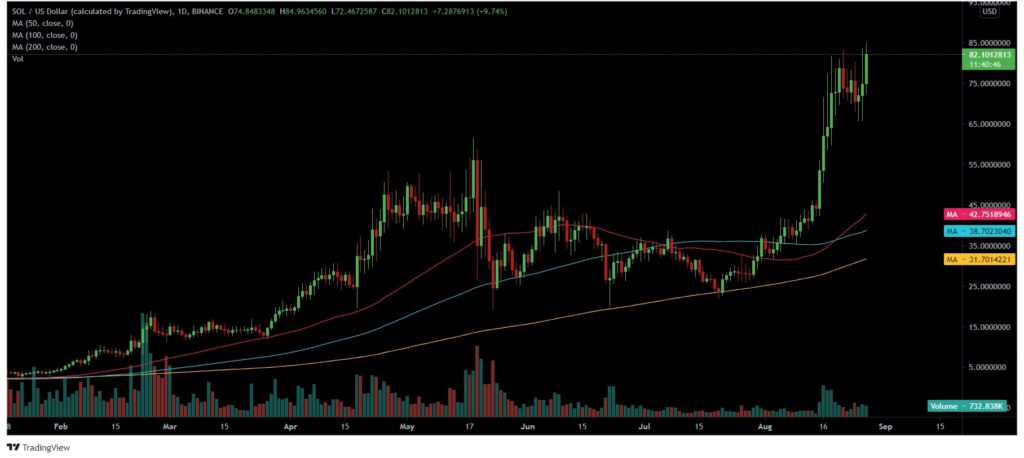 The daily moving averages were at the ideal position firmly supporting SOL's extension of the multi-week parabolic rally. The moderate volume also appeared to be aiding the overall bullish trend in the market
It had previously struggled to move above $78- a crucial level of resistance but conquered it after a brief consolidation on the 27th of August. Let's look at some of the crucial levels that SOL may try to break.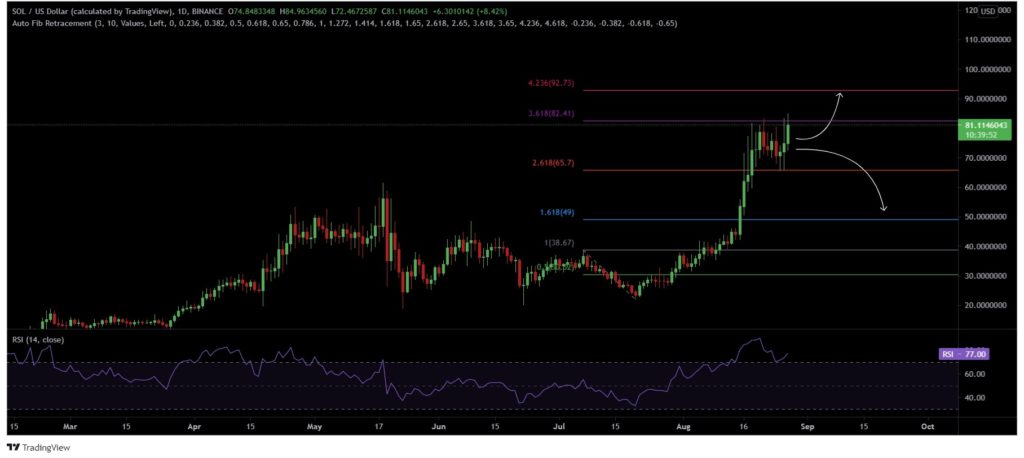 The Relative Strength Index [RSI] was well within the bullish territory and demonstrated considerable buying opportunity at the current level.
It is clear that the overall structure of the big altcoin is bullish. The possibility of an upswing to the Fibonacci extension level of $92.73 has now come into play. However, in a case of a near-term decline, SOL buyers have a window to fetch the token at discounted regions between $48-$65. According to Fibbonacci, this area would be ideal to go long in the unlikely event of increasing sell pressure.
Meanwhile, the wider market also jumped as a result with several tokens resuming the upward trail. Closely mimicking the market, SOL has established higher highs on the daily chart and higher lows since the 17th of August.
But this week's sell-off sparked a lower low, that depicting a potential rounding top structure. However, concerns of a bearish reversal were invalidated as SOL's upswing continued after the breather. The crypto-asset has effectively decoupled from Bitcoin and other top assets. 
Solana Leading the pack of Layer 1 solutions
Solana hitting new strides in the past weeks comes as interest in alternative smart contract chains grows. According to a recent report by blockchain intelligence firm Glassnode, alternative smart contract platforms such as Solana and Avalance have found tremendous token price surges as hints of activity and bets on a multi-chain future start to garner attention.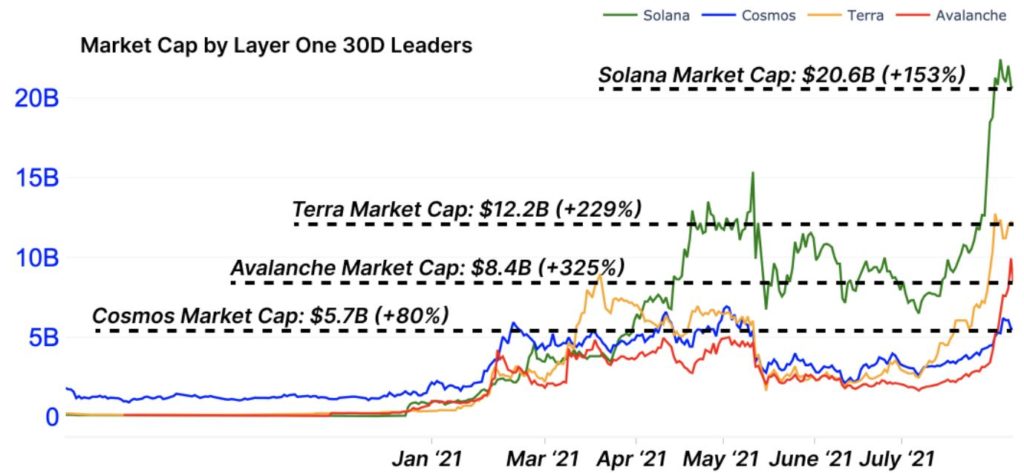 To top that, spikes in DeFi activity on each chain have coincided with the native tokens catching a bid. Glassnode also noted that Solana may be the most overvalued by this metric. 
It had earlier stated,
"Solana certainly presents an attractive alternative option for projects requiring scaling. Though for now it has barely scratched the surface in competing with Ethereum for total liquidity."