Solana (SOL) price analysis reveals data on its recent performance in the crypto market, with exceptional performance during November, which has sparked the attention of both new and experienced investors to its ecosystem.
Currently, SOL is trading at around $60 dollars, showing an increase of 1.04% in the last 24 hours with a trading volume of $3.65B and a market capitalization of approximately $25.41 billion, according to data from CoinMarketCap.
At the beginning of November 2023, SOL was at levels close to $36, since then experiencing an impressive increase in value until reaching the current ranges.
This notable climb by Solana has generated great interest and attention among investors and space enthusiasts, which has attracted renewed investment flows to crypto in recent weeks.
Historical data shows that SOL reached its all-time high of $259.52 on November 6, 2021, since its ATH, SOL has had a low of $8.12 and a cycle high of $68.10, consolidating levels between those ranges and currently showing an uptrend in your quote.
LEVELS OF SUPPORT AND RESISTANCE TO CONSIDER
According to our analysis carried out this Monday, November 20, 2023 on a 4-hour candlestick chart, we can highlight several considerations to try to understand the future of crypto.
The closest support levels in Solana are in the range of $59 and $56, in case SOL decides to look for more purchases, stronger supports in the ranges of $54 and $47, could be areas with high volumes of marketing to buyers.
Above, the immediate resistance is around $62. Breaking through this zone could open the door for SOL to target the next barrier at $65, and potentially higher levels in the $68 range, in the near term.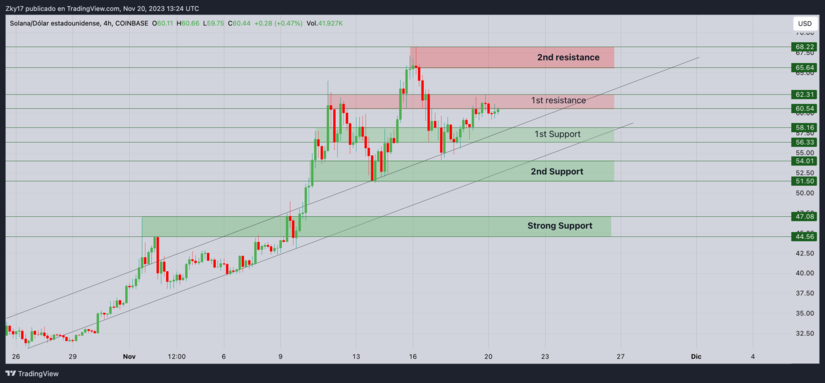 Although some predictions may seem exaggerated or unrealistic, there are investors who firmly believe in Solana's upside potential.
Predictions such as reaching $93.51 by 2026, $276.97 by 2029, and up to $767.28 by 2032 may seem overly ambitious and optimistic and, although they are not a guarantee of actual results, they reflect investors' hope in the long-term future of SUN.
Regarding its position in the market, Solana is currently ranked #6 in MarketCap levels, #2 in Proof-of-Stake Coins and #5 in the Layer 1 sector. This positioning highlights its relevance and adoption in these sectors specific to the Blockchain ecosystem.
While SOL's growth has been significant, with a 370% increase in the last year and outperformance of 93% of the main cryptocurrencies, it is crucial to take into account the levels of accumulation and distribution analyzed, which can reveal more aspects to us. about his career in the future.
Technical charts courtesy of TradingView.
Disclaimer: The opinions expressed do not constitute investment advice.If you are looking to make a purchase or investment, we recommend that you always do your research.
If you found this article interesting, here you can find more Solana news.