Both Solana (SOL) and Cardano (ADA) have experienced a dramatic spike over the past 24 hours as the cryptocurrency market started the week on a positive note. Bitcoin (BTC) pushed past $17K while Ethereum (ETH) along with major tokens gained significantly.
Solana Fires Up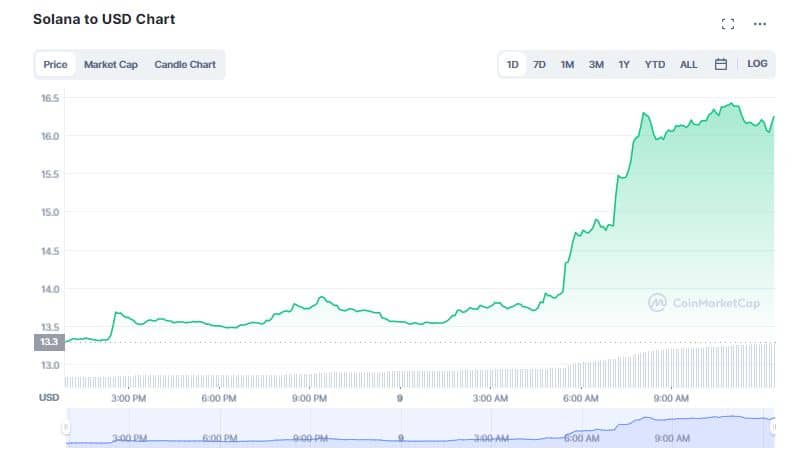 According to CoinMarketCap, Solana (SOL) gained 21.52% in the last 24 hours to trade at $16.16. The "Ethereum killer" is up more than a whopping 60% over the past seven days. The rally behind SOL can be credited to the shiba inu-themed BONK coin launched by Solana developers. Last week, BONK was airdropped to several Solana based developers and NFT collectors. The dog themed cryptocurrency that was created to rival Shiba Inu (SHIB) soared nearly 1200% in just one week.
Since launch, BONK has managed to garner a lot of attention with several Solana based projects integrating for use as payments for listed non-fungible tokens (NFT), while some introduced "burn" mechanisms for NFT-based events. On January 3, NFT bigwig, Magic Eden also took to Twitter to promote the adoption of BONK.
It's a new year, maybe we should integrate some new cryptocurrencies or chains

Should we start with $BONK? Idk

— Magic Eden 🪄 (@MagicEden) January 2, 2023
Cardano Shifts Gear to Fast Lane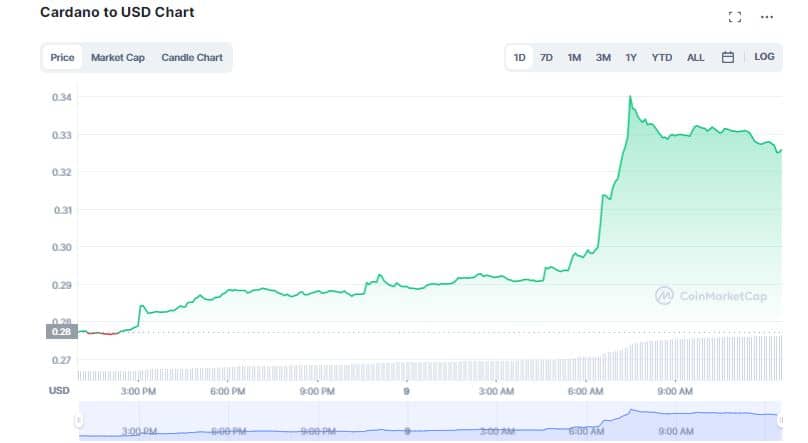 Meanwhile, Cardano (ADA) increased 18.79% in the last 24 hours to currently trade at $0.32. ADA has witnessed significant upswing zooming more than 31% in the past one week. After a disappointing 2022, Cardano (ADA) has started the new year on a positive note as decentralized finance (DeFi) activity on the Cardano network increased substantially.
As per market experts, the underlying fundamentals of the Cardano network along with a considerable increase in the stablecoins, NFTs, and DeFi sectors will help ADA prices to go up this year. Furthemore, on January 6, Cardano co-founder Charles Hoskinson announced that his new Hoskinson Health & Wellness Clinic in Wyoming would accept ADA as payment.
Next Month, open for business pic.twitter.com/yj2pHqLdpl

— Charles Hoskinson (@IOHK_Charles) January 6, 2023
Crypto Starts the Week Green
Along with the rally of both Cardano (ADA) and Solana (SOL), the global crypto market cap has jumped 3.05% over the past 24 hours to $849.11 billion. The total crypto market volume over the last 24 hours increased more than 88% to $31.48 billion. Bitcoin (BTC) has breached the $17K mark gaining 1.45%. The flagship token climbed more than 3% in the past seven days to hover at $17,199. In a statement, Edul Patel, CEO at Mudrex, said,
"Bitcoin rose above the $17,000 level, which has been the resistance over the recent weeks. A move above the $17,400 zone can lead to a midterm rise reversing the pattern in a bear market."
On the other hand, Ethereum (ETH) jumped 3.51% at $1,308 at the last count, with a market capitalisation of $160 billion. Ether has winessed an uptick of more than 8% over the last one week. Patel added,
"Ethereum has been trading very close to its resistance level at $1,300. ETH rose by nearly eight percent in the past week. It indicates that the selling volume is low, so bears are running out of strength. If buyers can keep up the initiative, ETH will likely breakout above the $1,350 level soon."
Most of the top altcoins have performed fairly well over the past 24 hours. XRP, Polygon (MATIC) and Litecoin (LTC) are up 2.20%, 6.36% and 8.35%, respectively. In the same time frame, both the popular memecoins, Dogecoin (DOGE) and Shiba Inu (SHIB) increased almost 4%. Avalanche (AVAX) shot up almost 6.40% in the last 24 hours to trade at $12.49. In the meantime, Polkadot (DOT) ascended over 5% to $4.92.