Recent data reveals that the Solana price is roughly 40 percent from January 2022 lows.
SOL is a beneficiary in a market-wide recovery, lending the necessary props for the project that recently suffered reputation damage.
On February 3, SOL prices fell following an exploit on the Wormhole, a bridge that gives the network interoperability with Ethereum.
The Wormhole Exploit
The attack saw 12k wETH siphoned from Solana. Suppose the attacker bridges back the stolen funds back to Ethereum. In that case, the credibility of the Wormhole Bridge, analysts say, will be shredded. Thus far, there are growing concerns over the security of bridges and whether they should have in-built bridges to prevent exploits.
Earlier, Vitalik Buterin, the co-founder of Ethereum, said that the future would be multi-chain and not cross-chain. He doubts the security of cross-chain bridges and their weakness of hopping across multiple zones of sovereignty.
Wormhole representatives confirmed the $326 million exploit, adding that it would add ETH to ensure wETH on Solana remains pegged to ETH at 1:1 to prevent disruption of DeFi dApps on its network. The wormhole development team also reached out to the attacker, offering a $10 million bounty to return funds.
Solana Is Highly Scalable
The Solana network differentiates itself from other networks with its high throughput of 50k. While it is scalable, the network has encountered reliability challenges due to DDoS attacks. Solana is still in mainnet beta and would completely decentralize once the mainnet launch. The priority, after launch, is to see the network resilient and decentralized to be more robust and reliable.
Solana Technical Analysis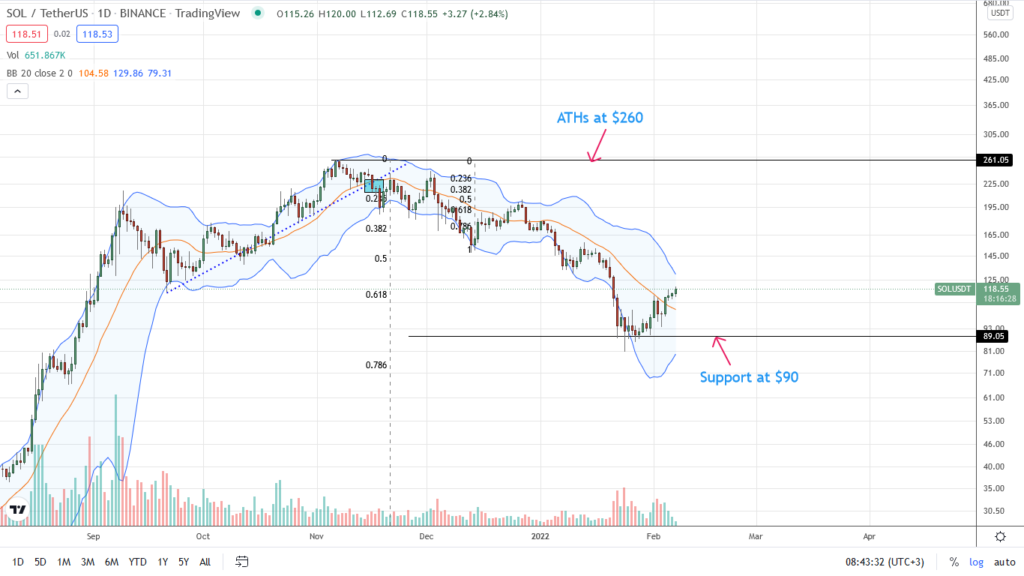 There are a series of higher highs visible in the daily chart; development saw SOL break above the middle BB for the first time in roughly a month.
Thus far, the formation in the daily chart points to strength. Notably, this is at around the 78.6 percent Fibonacci retracement level of the H2 2021 trade range. Historically, pullbacks from this reaction level often lead to a retest of the range's high in the medium term. In this case, this would be at $260.
Solana buyers have wholly reversed the climactic losses of late January 2022 with increasing volumes. Based on this, traders may load the dips above $100 to target $150—the 50 percent Fibonacci retracement level of the H2 2021 trade range.
Technical charts courtesy of Trading View
Disclaimer: Opinions expressed are not investment advice. Do your research.
---
If you found this article interesting, here you can find more Solana News