Solana (SOL) has rebounded significantly from its recent decline to surge nearly 10% over the past day. After witnessing a strong downward move since the FTX debacle which began earlier this month, SOL is finally witnessing an uptick. Is SOL ready to take on the bears?
The crypto market has steadied as Bitcoin (BTC) traded above the $16K mark. The global crypto market cap continued its rally gaining almost 1 per cent in the last 24 hours to $834.51 billion. Ethereum (ETH) started an upside correction above the $1,120 and $1,150 resistance levels increasing more than 2.50 per cent in the past 24 hours to $1,195. From the larger-cap altcoins, Solana (SOL) has emerged as one of the top performers while other cryptocurrencies mostly traded sideways.
SOL Rises After Deep Plunge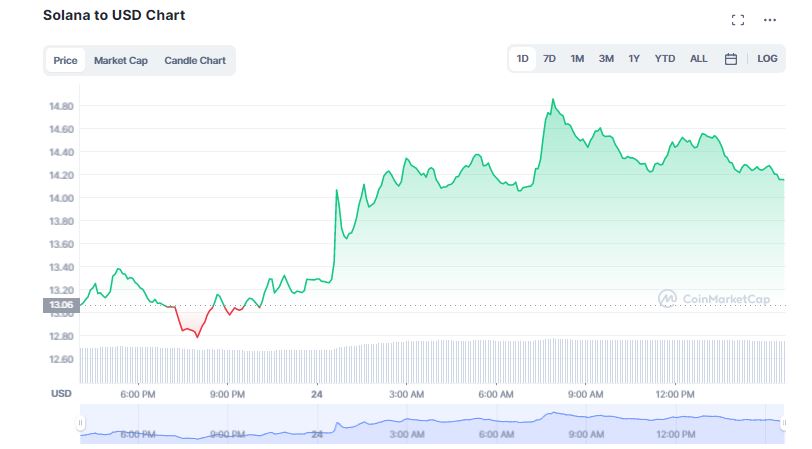 At the time of writing, Solana (SOL) is up more than 6.50 per cent in the last 24 hours to hover at $14.02. Since the FTX crisis started, SOL recorded one of the poorest performances in the crypto market dropping under intense bearish pressure. Solana (SOL) prices tanked nearly 70 per cent in the last three weeks spriralling to a new low since its all-time high at $259.90 in November 2021.
It is worth mentioning that Solana's severe crisis was triggered due to reports about Alameda Research, FTX's sister company. As per reports, the balance sheet of Alameda Research was built up mostly with FTX Tokens and SOL tokens.
SOL has an immediate resistance near the $15 level and the next major resistance is near the $17 zone. Market experts predict if Solana prices can close above the $17 zone, it might propel the price towards the $20 level in the near term. However, if SOL fails to clear the $15 resistance, it could start a fresh decline. An initial support on the downside is near the $13.00 level.
According to on-chain data aggregator, Santiment suggested SOL prices have rallied in the past 15 hours but the overall sentiment continue to remain dented. Solana (SOL) prices can recover only when traders slow down their nearly unanimous bets against the cryptocurrency.
😒 There are not a lot of big #Solana believers, even as its price bottomed out at $11.02 and rebounded to $12.70 over the past 15 hours. This #FUD could cause more rebounding until traders slow down their nearly unanimous bets against $SOL's price. https://t.co/e2jSAmLEqf pic.twitter.com/1qisr8inaj

— Santiment (@santimentfeed) November 23, 2022
Solana's Hopes for Recovery
Although the bears continue to have an advantage, severel analysts anticipate that the Solana ecosystem will be able to fight it off. The Solana network is a widely used layer 1 blockchain that developers are using at a rapid pace to develop mane crypto projects. It has a thriving NFT ecosystem along with high network and web3 activity on the platform. As a result, when the Solana ecosystem recuperates, its criptocurrency SOL will too.
So what is the final takeaway on Solana?

The reality is that we are still in the early innings of crypto.

Therefore, it would be a mistake to write off Solana at this stage.

It has a lot of key foundations in place & could see a resurgence similar to @ethereum saw after 2018.

— Alex Valaitis (@alex_valaitis) November 15, 2022
On Nov. 16, W3T founder Alex Valaitis took to Twitter to explain various reasons why Solana could make a comeback. He explained the Solana Foundation still has a decent-sized treasury that could last at least another two years. Valaitis highlighted that even after the dip followed by FTX fiasco, "Solana remains the 2nd largest NFT ecosystem". He added,
"The reality is that we are still in the early innings of crypto. Therefore, it would be a mistake to write off Solana at this stage. It has a lot of key foundations in place & could see a resurgence."