During a recent business conference, the CEO of the largest banking conglomerate in the world described his experience and view on Bitcoin. As reported by Business Insider on November 19, SoftBank CEO Masayoshi Son spoke at the New York Times DealBook conference, where he at one point started to talk about Bitcoin.
As Bitcoin resumes breaking old highs which we have not seen since 2017, Masayoshi Son started to delve deeper into his experience with cryptocurrencies. During the conference, Son shared that he 'does not understand' Bitcoin and that he spent a significant portion of time monitoring prices when investing in the digital asset. 
According to Son, he was informed about Bitcoin by a friend and was told to invest 1% of his personal assets. Agreeing with the proposal, the SoftBank CEO invested $200 million in the cryptocurrency. However, he started to spend around five minutes each day to monitor Bitcoin's prices, which distracted his own focus on his business. 
Due to that reason, the investment choice became a tiresome burden for Son as he was too preoccupied with business to track Bitcoin. In the end, the CEO decided to sell his Bitcoin which led to a loss of $50 million. However, an article from the Wall Street Journal reports that Son lost a much higher figure when he sold in 2018, precisely $130 million. 
Nevertheless, Son was glad when he finished off his Bitcoin investment and shared that he started to 'feel much better.' But he does not believe that Bitcoin is over, in fact, Masayoshi Son claims that cryptocurrencies are not going anywhere and that they have a place in the future.
"I think digital currency will be useful…But I don't know what digital currency, what structure, and so on."
SoftBank CEO talks about missing out on Tesla and Amazon as Bitcoin drastically rises in value
During the conference, Son touched upon many subjects including his failure to participate early in opportunities such as Amazon and Tesla. The CEO expressed regret for failing to invest in both of the companies, similarly to how he missed out on Bitcoin by not holding the asset for two more years.
At the time of writing, Bitcoin trades at around $18,300 and has reached a daily high of $18,810. If bulls are willing, the leading cryptocurrency may start to 'poke' more significant levels such as $19,000. If the asset blows past $19k, we may even see Bitcoin retesting its all-time high of $20,000.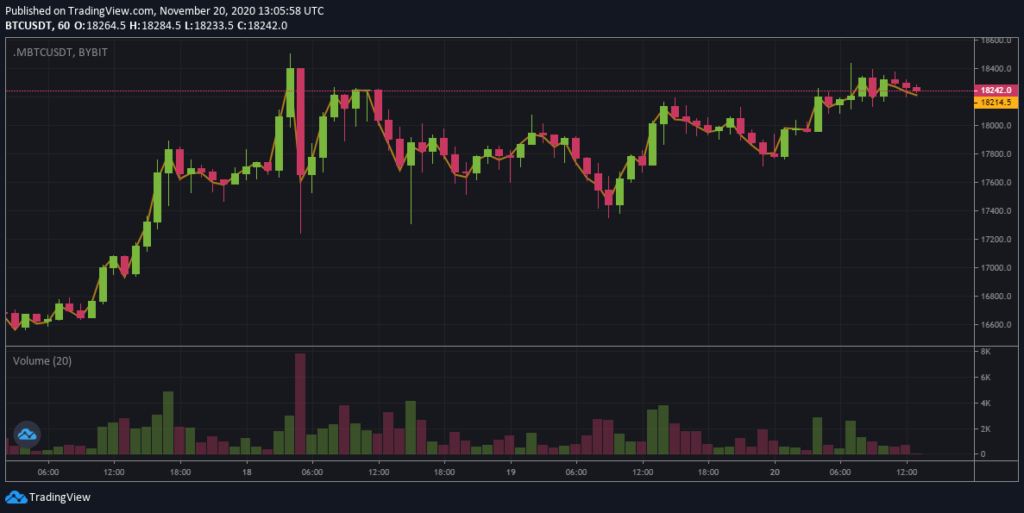 In that case, we could see investors make a final decision and set Bitcoin's future in stone. If buyers are ready to purchase Bitcoin around ATH levels, then we can expect the cryptocurrency to enter price discovery and search for newer prices. Otherwise, this high price level will be denied by investors and Bitcoin will finally have to look for support. It is highly uncertain where that support may be, as experts expect a serious fall that can take us down to $13,000 if not lower.
Whatever the case may be, Bitcoin has shown us one thing for certain this year. Even if we weather political and economic crises, as well as a pandemic, there is nothing that can stop Bitcoin from reaching its true value. If the leading digital asset can reach an ATH in such a terrible environment, we can only speculate what prices we will see a year from now.
---
If you found this article interesting, here you can find more Bitcoin news