In the market of new tokenized initiatives, ICOs and airdrops have stood out as the means of distributing digital tokens par excellence. However, both options have their weaknesses, and to solve them, SmartDrops emerges as a new token distribution model.
A couple of enthusiasts of the crypto world, Esteban Castaño and Rahul Raina (creators also from generation.org) came up with the idea they have unveiled as SmartDrops. This platform will help blockchain projects to effectively distribute their tokens.
It is necessary to bear in mind that the offer of tokens that we see in the various projects whose ICOS or Airdrops are active has the objective that the users benefited with these tokens use the platforms of services and products in general that are offered to them, so that each user network should expand. But unfortunately the result we see in the behavior of the vast majority of crypto users is not to use these platforms, but to keep the tokens or, as in many cases, to exchange them as soon as it is viable.
This reality has led the platforms to understand that perhaps the airdrops more than the ICOs have been a failure to encourage the use of their products and services.
The TRM Labs team is creating tools that help tokens emitters to the development, retention and understanding of the crypto community. SmartDrops is the first product of its kind for entrepreneurs, and is being well received.
In SmartDrops it only takes a few minutes for a project to list itself on the platform and open a new SmartDrop. The SmartDrops service also helps blockchain companies to automatically verify and block bot or spam accounts that have registered only to receive free tokens on their airdrop.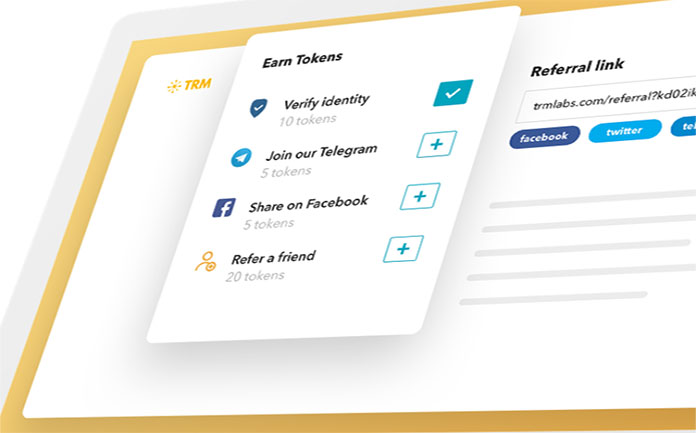 The SmartDrops platform also allows companies to transfer tokens to a specific group of users that belong to a defined geography or other demographic variable. It also uses machine learning to verify identities and protect against bots and fraudulent subscriptions. The SmartDrop is instantly shared with tens of thousands of users in the global network.
SmartDrops is also a cheaper tool for companies since they do not have to bear the costs of the token conversion exchanges that occur when they launch airdrops. Also with its Analytics Board metrics tool to measure impact over time (eg, chip holders and average holdings) it allows companies to evaluate the performance of their tokens during their SmartDrop.