In the past week, the market witnessed a remarkable surge in demand for Bitcoin futures ETFs, setting new records in their trading volume since their launch in late 2021.
The most significant Bitcoin futures ETF, known as BITO, led this surge in interest by recording a trading volume of $1.7 billion during the past week, its second-highest volume since its launch.
Furthermore, the Grayscale Bitcoin Trust, another key player, managed $800 million, resulting in a total volume of $2.5 billion for these ETFs. This figure placed them within the top 1% of all exchange-traded funds.
Despite expectations, Bitcoin spot ETFs are yet to be approved. However, the interest in Bitcoin futures ETFs clearly demonstrates that a significant amount of capital is eagerly waiting to enter the Bitcoin market through regulated investment vehicles.
Notable: $BITO traded $1.7b last week, 2nd biggest week since its wild WEEK ONE. $GBTC did $800m. That's $2.5b (top 1% among ETFs) into two less desirable methods (vs spot) for exposure = while we think spot ETFs unlikely to set records on DAY ONE, clearly there's an audience pic.twitter.com/6bFYtE0UoR

— Eric Balchunas (@EricBalchunas) October 28, 2023
Analysts point out that, unlike in 2021 when the 'mania' for Bitcoin was at its peak, the current situation reflects a more mature market that is less prone to excesses.
Bitcoin Places Its Hopes on BlackRock
The focus of much of the market and the community is directed towards the potential launch of the BlackRock Bitcoin Spot ETF.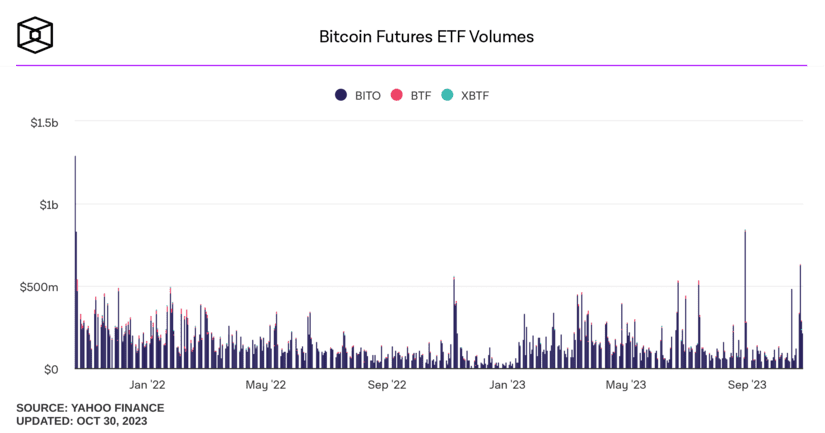 While it's not clear whether BlackRock will allocate a portion of its managed assets to the Bitcoin ETF, there is a possibility that it might, which could inject a substantial sum, approximately $89 billion.
This influx of capital would have a significant impact on the price of Bitcoin as it would signify a massive inflow of institutional investment.
A striking difference in prices can be observed between Bitcoin futures and the spot market. Bitcoin futures on the CME continue to trade at a premium of approximately $400 compared to the spot price.
This difference, which amounts to approximately 1%, presents an arbitrage opportunity for investors who can profit by buying Bitcoin and then selling futures.
The expectation is that once Bitcoin spot ETFs are approved, the demand will shift towards the spot market, directly impacting the overall price of Bitcoin.