Shiba partners with Welly to mark the first partnership with a real-world use-case for the SHIB community.
The news is announced in Shytoshi Kusama's blog saying:
"This year, ShibArmy is on the march, and all armies must have proper sustenance. That's why I'm elated to announce our deep-rooted partnership with Welly's, a new hyper-quality agile blockchain-based fast-food chain! Best of all, you can try this food RIGHT NOW in Naples, Italy. (Via Sannazaro, 4, 80122 Napoli, IT)."
This collaboration marks Shib's first foray into IRL (in-real-life) initiatives. It can be a very good starting point for the community, hoping to grow faster and attract more users. It can also become a hope for other meme coin communities.
What is Welly, and why does Shiba collaborate with them?
Welly is a fast food restaurant in Naples, Italy that opened in 2021 with a large vision. The ambition is to open a restaurant chain that not only provides high-quality, delicious meals to its consumers but also pays attention to them. 
Welly claims to be concerned about customers and grows alongside them. As a result, Welly's goal is to focus on the well-being of its clients by providing the highest quality accessible while maintaining its flavors. The restaurant embraces decentralized technologies, too.
Shytoshi says the Shiba community doesn't want to cooperate with the massive centralized companies. Instead, they have looked all over the world for a fresh, powerful group of restaurateurs prepared to fully redesign their company to meet Shib's ethos and even the technology stack.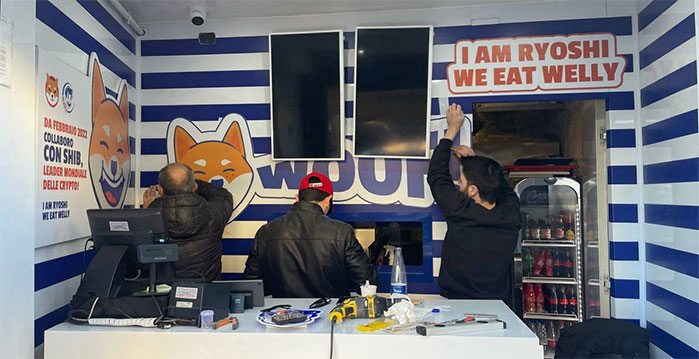 Within one week of implementing the partnership, Welly's was able to accomplish a full makeover of their store, including a mascot, new eco-friendly packaging, and taking marketing, menu, and strategy advice from the Shiba team.
For the next steps, the Welly's team will continue to perfect their first product, Shib integration and tactics, flagship location recon, deep dives into the best approach to organize the NFTs they have coming up, and figure on strategic means to grow (location, price, menu, etc.).
As mentioned above, it's the first partnership for the SHIB community with real-world use-cases. It can help both teams of Welly and Shiba. Shiba can show the community and ordinary users that it has real-world usability, helping the brand become more acceptable. Welly, on the other hand, can attract more new customers who like the crypto world and love brands that embrace the technology. Although Shiba being a meme coin can somehow cause challenges for brands, it can grow in the mainstream sector, no wonder what critics say.