The Shiba Inu ecosystem has witnessed an exponential growth over the past couple of months. Shiba Inu (SHIB) climbed more than 19% in the last seven days with whale transaction volume spiking up to 25.06 trillion. Meanwhile, the ecosystem's BONE token experienced heavy buying pressure ahead of the "Shibarium Public Beta TestNet launch".
Over the years, the Shiba Inu ecosystem has grown in popularity including a rapid expansion in its user base. It consists of three tokens: Shiba Inu (SHIB), Bone (BONE), Leash (LEASH) which have apparently grown multifolds after the launch of the ShibaSwap platform. For the uninitiated, ShibaSwap acts as the native Ethereum-based decentralized exchange (DEX) of the Shiba Inu project.
The platform is a hard fork of the SushiSwap DEX that came into existence in July 2021. ShibaSwap allow users to swap tokens, enable users to stake SHIB, BONE or LEASH to generate high-interest yields, offer liquidity pools and an non-fungible token (NFT) marketplace known as Shiboshis.
Whale Transactions Rise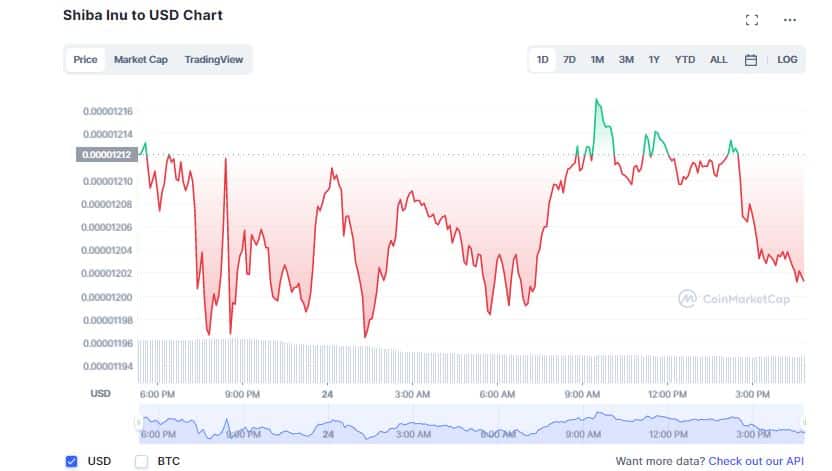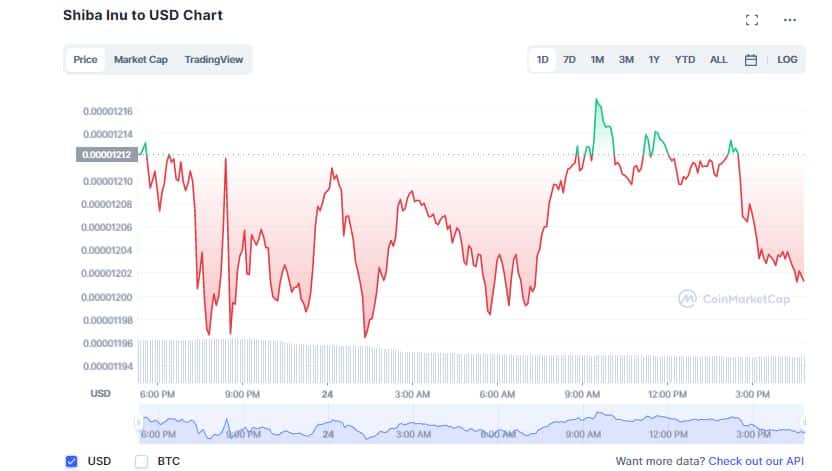 According to CoinMarketCap, Shiba Inu (SHIB) has slipped 0.77% in the last 24 hours but managed to climb more than 19% over the past seven days. SHIB is currently trading at $0.000012 soaring nearly a whopping 52% since January1. It seems, the dog themed cryptocurrency has climbed past all major Exponential Moving Average (EMA) breaking above its 200 EMA a couple of times but failed to continue its rally. However, over the past couple of hours, SHIB was trading above all exponential averages. The recent price surge could be attributed to a number of whales, who seem to be moving trillions worth of SHIB.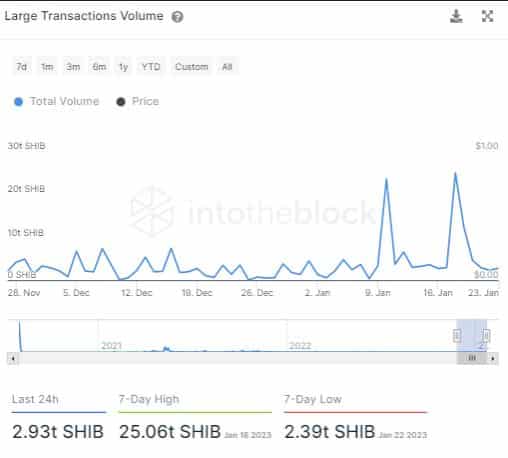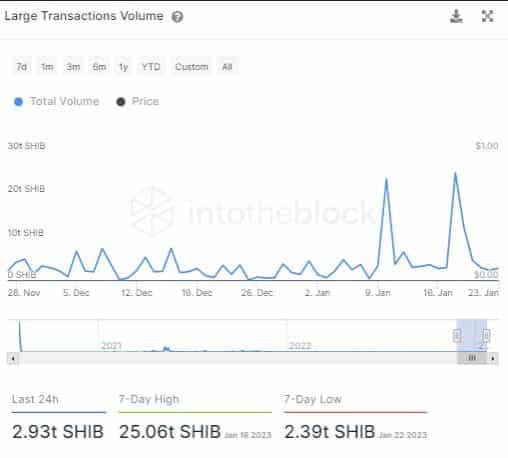 As per reports, last week, the number spiked up to 25.06 trillion SHIB. Prior to that, in the second week of January, the number stood at 23 trillion SHIB. However, interestingly, large transactions greater than $100K only involved to the tune of around 3 trillion tokens, over the past 24 hours. It was also revealed that Shiba Inu was "the largest token" position by dollar value among whales with their cumulative holdings standing at a whopping $614 million, accounting for 16.12% of their portfolio.
Shib's Layer 2 Blockchain Launch Propells BONE
Furthermore, Shiba Inu's BONE token witnessed a dramatic spike as the team confirmed that the Shibarium Public Beta TestNet could be launched soon. The much-awaited Shibarium is now in the last stages of development, according to the latest updates. The Shiba Inu team updated that this layer-2 blockchain solution testnet has been launched, arousing a significant interest from the crypto community.
#Shibarium to be released on the 14th of February — Valentine's Day? 👀 pic.twitter.com/kVtdgLHN19

— SHIB HODLER (@ShibaInuHodler) January 20, 2023
Since the announcement in early January, Bone jumped nearly 70% from $0.80 to a monthly high of $1.42. On January 23, another whale purchased $1.5 million worth of Bone tokens. At the time of writing, BONE is down 0.93% in the last 24 hours to hover at $1.39. It seems, Bone (BONE) is now the most talked about token in the Shiba Inu community as investors rush to accumulate the asset.
Shiba Inu Partnerships Continue to Grow
On January 13, Shiba Inu (SHIB) witnessed a sudden spike following an invitation at this year's SXSW Film & TV Festival and Exhibitions meet to showcase its "SHIB: The Metaverse". As per the official announcement, attendees will get an exclusive sneak peak into "WAGMI Temple", a digital architectural designed landscape.
For immediate release: Shiba Inu & SHIB The Metaverse have been invited to exhibit at this year's SXSW XR Experience. The VR/AR experience showcase is open to all badge holders at SXSW March 2023 in Austin, Texas @sxsw

Read more: https://t.co/51Oa3DwshY

— Shib (@Shibtoken) January 12, 2023
Earlier, the Shiba Inu team revealed a partnership with luxury brand, Bugatti Group, to launch a limited-edition collection of physical items and collectible NFTs. In addition, The memecoin also joined hands with crypto-friendly travel booking website Travala to launch a special deal allowing SHIB users to get a free $25 travel credit. Several experts believe these partnerships will provide a major boost for the entire Shiba Inu ecosystem considering the exposure it would get on all the platforms.