Shiba Inu (SHIB) prices remain under pressure when writing despite the Shibarium launch and the general confidence amongst supporters. Looking at price charts, the token is down 32% from August highs and looks likely to tank some more. 
Notably, from the chart, prices are capped inside the August 17 trade range. Moreover, prices are inching lower—though relatively stable–but with dropping trading volumes. 
Based on this, there could be more losses if bulls fail to force the token above $0.0000085, rejecting recent losses and sparking demand. 
As it is, the immediate support level lies at around $0.0000075. If lost, SHIB may drop to June 2023 lows in a bear trend continuation formation.
Shibarium Launches, Wallet Count Spikes
Days after launching, the Shibarium layer-2 network is gaining traction, attracting users from across the board. As of the end of last week, on-chain trackers show that over 1 million wallets were created. This surge renewed investor confidence in Shiba Inu, considering the initial glitches that had impacted the Shibarium launch. 
Hours after deploying, there were delays in transactions, and some users couldn't access their funds for a brief moment. The spike in transaction count means that users are confident that the platform will be an important arm of the Shiba Inu ecosystem. From trackers, Shibarium has processed over 969,276 transactions, with the platform processing over 99,000 daily.
Shiba Inu Price Analysis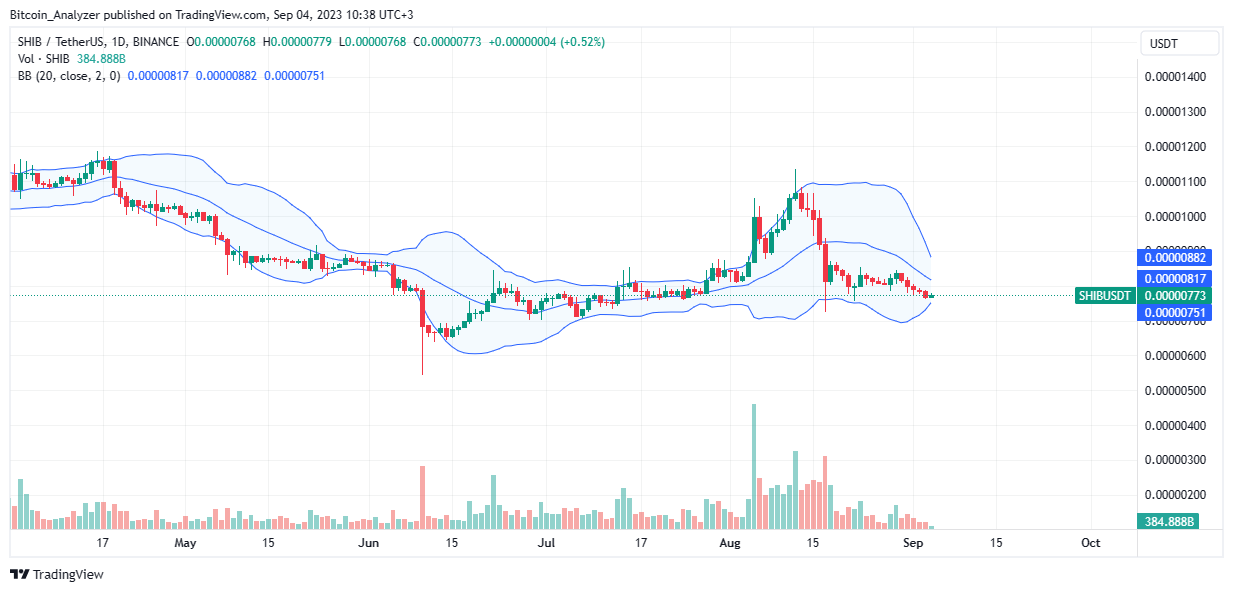 SHIB is at a critical support level at spot rates, looking at the candlestick arrangement in the daily chart. Of note, the coin risks dropping to June 2023 lows. However, even as it is, the token is trading at December 2022 lows and defined by the bear bar of August 17.
Provided prices are inside that bear candlestick, traders can look for shorting entries, analyzing price action from a top-down preview. This forecast can only change if there are attempts to drive the token above $0.0000085, at the back of increasing volumes, in the short term. This move could ignite demand and potentially lift SHIB towards $0.0000095, or August 17 highs.
Conversely, losses below $0.0000075 may see more bears liquidate the token with the first target at $0.0000060, a multi-month support level. In such a case, traders can look to sell, riding the emerging trend.
Technical charts courtesy of Trading View.
Disclaimer: The opinions expressed do not constitute investment advice. If you wish to make a purchase or investment we recommend that you always conduct your research.
---
If you found this article interesting, here you can find more Shiba Inu news.