Sharpe Capital is a blockchain based platform committed to building a decentralized investment ecosystem. Their focus is on helping both retail traders and institutional investors better understand traditional and crypto financial markets. The Sharpe Platform crowdsources market sentiment on traditional equity and blockchain assets. Users receive Ethereum service fee payments for making predictions on equity and cryptocurrency price movements in relation to current events.
Fund distributions equal to 40% of the fund's profit, totaling $105,000.
Machine-learning linguistic analysis, quantitative trading strategies, and crowdsourced investment sentiment are all used by the platform to generate top quality sentiment-based data-feeds for use by retail and institutional investors. Sharpe Capital also has a proprietary investment fund, the Sharpe Fund, which implements the platform's sentiment data. The fund launched on December 4, 2017, and achieved an incredible 85% ROI benchmarked against USD.
The month's profits totaled $105,000, 40% of which will be returned to platform users, the average payout being $972. The average service fee payment per SHP token staked is $0.02, but jumps to $0.12 per SHP token for those with the highest stake and work. The payment is scheduled to be dispersed among 108 users on Saturday, January 13th. The next payment is slated for February 13th.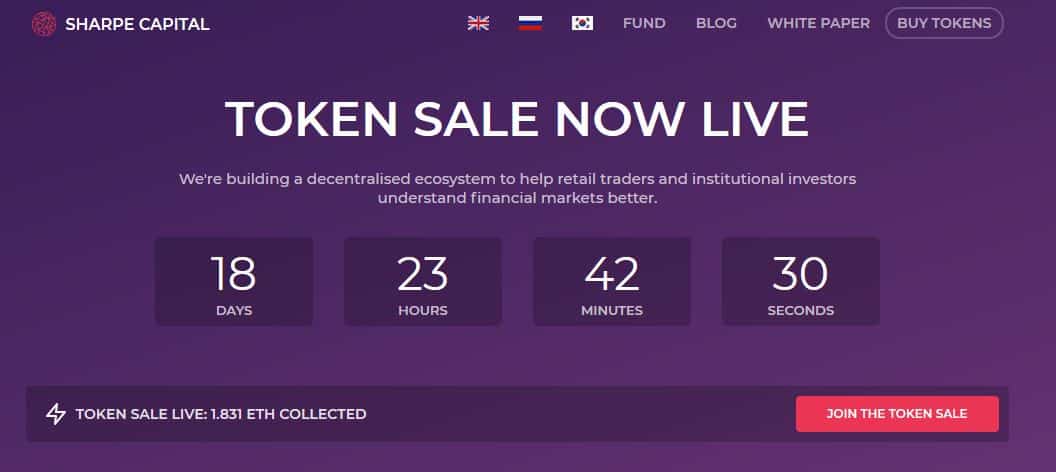 Dr. James Butler, the co-founder and Chief Operating Officer of Sharpe Capital, noted about the inaugural month's performance:
We are delighted to have received over 15,000 asset predictions during the first month of our launch by Sharpe sentiment providers, paying almost $1,000 per user. Through Sharpe's unique combination of quantitative trading strategies and crowd-sourced human intelligence, we are very well positioned to continue our initial success in generating over 100% ROI in just 5 weeks.
We look forward to working with our commercial partners, including TaaS and ETHLend, to develop the Sharpe Global Sentiment Index, helping investors to better understand financial markets and creating valuable new revenue streams for the Sharpe community.
Those interested in joining the Sharpe Capital community can do so through their token sale, which is live now. SHP tokens are available for purchase through February 5, 2018.