Coinbase is under investigation by the SEC in connection with its cryptocurrency listings, according to a report by Bloomberg.
As the platform has expanded the number of tokens it offers trading on, the Securities and Exchange Commission (SEC) has taken a closer look at Coinbase.
Same Old Issue
As a result of this investigation by the SEC's enforcement unit, the agency is not yet investigating the alleged insider trading scheme that caused the regulator last week to file a lawsuit against two former Coinbase managers and a Coinbase employee.
Chief Legal Officer Paul Grewal said:
"We are confident that our rigorous diligence process — a process the SEC has already reviewed — keeps securities off our platform, and we look forward to engaging with the SEC on the matter."
Washington has been calling for more attention to be paid to cryptocurrency regulation in recent weeks as digital currencies have tumbled from all-time highs while erasing hundreds of billions of dollars worth of market value in the process. It is the SEC Chairman Gary Gensler who has recently focused a great deal of attention on the issue of retail investors and urged them to do more to protect them.
During Tuesday's premarket trading, Coinbase shares dropped by as much as 4.8% compared with the previous day. This year, almost 3 quarters of the stock's value has been lost, making it one of the worst performing stocks.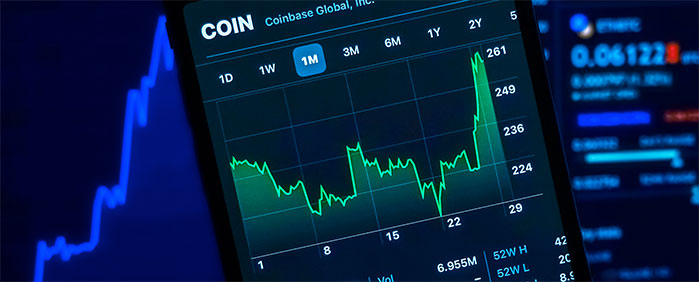 Coinbase is one of the largest US trading platforms that allow Americans to trade a wide range of cryptocurrencies. As long as these products are considered securities, the firm may be required to register with the SEC as an exchange if they are considered securities.
The company had previously admitted that it had been under scrutiny from regulators since it went public last year. According to the company's earnings report for the first quarter, the firm said it had received a subpoena from the Securities and Exchange Commission (SEC) for documents and information related to the company's stablecoin and yield-generating products, as well as certain customer programs, operations, and future plans.
As a way of determining whether a digital asset is a security, the SEC applies a legal test from 1946 that comes from a US Supreme Court decision that was made back then. It is under that framework that the federal agency considers a token to generally fall under the authority of the SEC, particularly when the token involves investors injecting money into a company with the hope of reaping the benefits from the efforts of the company's management.
In most cases, however, the SEC has not clarified which coins are securities, and it is up to the exchange to determine whether a coin should be listed. In order to avoid triggering investor-protection rules that, according to crypto enthusiasts, are incompatible with digital assets, platform operators are trying to avoid offering those deemed securities, as doing so could trigger such rules.