When investing in an ICO you have to study the project very well before investing in it. This is why the Savedroid team has tried to deceive its investors into believing that they had been scammed but luckily it was not like that, they just wanted to give a lesson so that people see how easily it can be to decieve in an ICO.
Last Wednesday on April 18, the investors of this ICO saw how, when they tried to enter the official website of Savedroid, they found an image taken from the series South Park with the message "aaaand it's gone", which had become a well-known meme.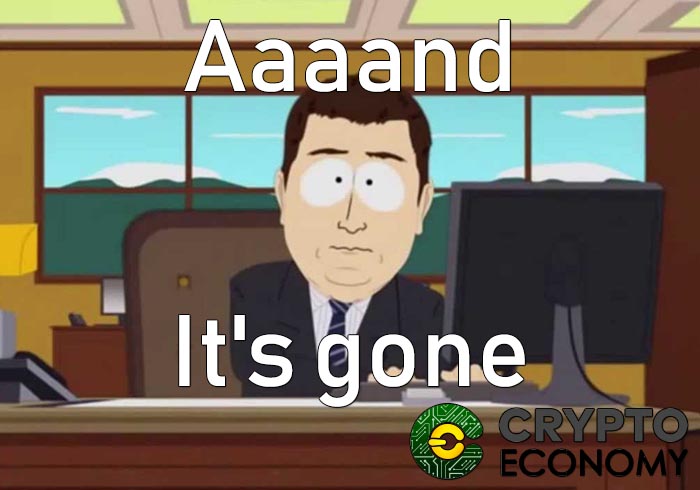 On his Twitter account, Yassin Hankir (CEO of Savedroid) left the following message:
Thanks guys! Over and out … #savedroidICO pic.twitter.com/PMRtjlbEdD

— Dr. Yassin Hankir (@YassinHankir) April 18, 2018
The rumors that the ICO had become a scam did not take long to spread through social networks and the media, which is exactly what Savedroid wanted.
Yassin Hankir declared this previous statement on a video that they have uploaded to Youtube titled: AND IT'S NOT GONE
In this video he apologizes for the drastic campaign they have made, but wanted to give an important message which is that the scams are only the tip of the iceberg. He believes that this should be changed among everyone, since all the scams around this industry can endanger large projects.
They wanted to show how easy it can be even for a well-known company to deceive its investors and disappear with their entire capital.
ICO Manifesto of Savedroid
In addition to this message, they also want to establish high quality ICO standards to have a good future in the ICO market.
For this they have developed an "ICO Manifesto" that will serve as a code of conduct for all the new ICOs and thus strengthen the use of ICOs and cryptocurrencies in general.
Said manifesto consists of 9 points:
1. Transparency first
2. Serve the Community
3. Good Governance
4. Team Matters
5. Real Token Value
6. No Participation Barriers
7. Equality
8. Enforceable Rights
9. Security
What is Savedroid?
Savedroid is an ICO which seeks that cryptocurrencies are within reach for everyone. Among their projects they have smart savings plans with different cryptocurrencies, such as Bitcoin, Dash, Ripple, IOTA, Litecoin etc.
Also thanks to its technological AI (Artificial Intelligence) Users benefit from an easy access to the smart savings plans of Bitcoin, Ethereum, Bitcoin Cash, Ripple, Litecoin, IOTA, Dash, etc. and better opportunities for cryptographic investment, such as wallets, futures and ICO without any barrier of technological adoption.
Savedroid takes advantage of its existing basic assets of self-learning AI technology and great user experience, based on maximum simplification and emotional gamification, to offer this exceptional value proposition.
The pre-sale of the ICO lasted from 12-01-2018 to 01-26-2018 and the main sale from 09-12-2018 to 09-03-2018, in it Savadroid allowed to invest through 56 different cryptocurrencies and raised 50 million dollars.