The gap between the top two leading altcoins by market share continues to widen as Ripple's XRP makes further gains in the past 48 hours as compared to Ethereum's ETH.
The coins had a 'flippening' during the latest market slump on Thursday 15th when the whole cryptocurrency ecosystem experienced double-digit falls in value. Ethereum lost as much as 15% of its price that was averaging about $206 before the fall down to $177. XRP, on the other hand, was the price at roughly $0.50 and it lost 10% of its price value to close that day at about $0.45. This downfall saw XRP overtake ETH for the second time in under a month with the first time only lastly a few hours.
This time, however, XRP seems to be maintaining the lead. According to Coinmarketcap, XRP is currently priced at $0.52 representing a 24hr price gain of 7.6%. Its market cap has also risen to a respectable $20.7 billion as compared to Ethereum's $18.1 billion which represents a market divergence of close to $2.6 billion. Ethereum's ETH is priced at $175 having gained a percentage point in the past 24 hours.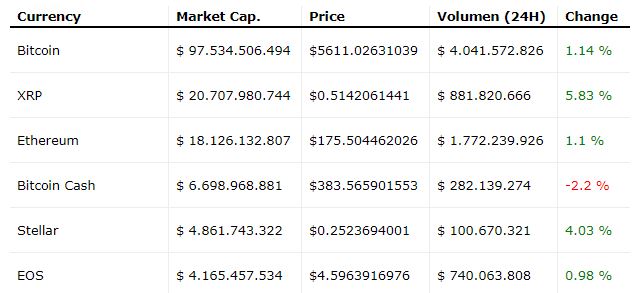 There is no immediate verifiable information that could be attributed to the superior rise in the value of XRP over other cryptocurrencies, however, there has been a slew of positive news over the past few days. For instance, Ripple, the XRP parent company has been making headways in the global FinTech space. Large banks have been finding ways to integrate the cryptocurrencies technology in their processes, especially in cross-border transactions. Most recently, Brad Garlinghouse, the CEO of Ripple met with Ross Leckow, the Deputy General Counsel for the International Monetary Fund at the Singapore FinTech Fest 2018. Their meeting involved talks around the remittance space and how blockchain could improve processes while reducing costs. Regulation of the blockchain space also featured during this discussion.
Ethereum, on the other hand, has been on the downtrend as more negative news keeps filling the crypto space. The latest is a study on the profitability of miners in the bear market. The study revealed that most miners are operating at a loss which could mean that most of them could be exiting the space possibly for more profitable coins. This news may have been spooked Ethereum investors.
As the gap between the leading altcoins keeps growing, the crypto space is losing faith in an ETH comeback. The former altcoin champ has been losing ground and it seems that it could lose some more especially if Bitcoin slides further pat its current support levels.