Latest Ripple [XRP] News
It's a depressing rout out there and as Bitcoin Cash hash and ego war drag the market to the dredges, XRP is apparently weathering the storm, absorbing all the shocks showing how resilient the market can be. Though losses are steep in lower time frames, XRP is up roughly up four percent on a monthly basis as ETH and BTC register visible losses.
Part of this could be the Paths Ripple—the software company that use XRP as a liquidity tool but claim it has no connection with Ripple Labs though it has more than half of the coin locked up in escrow complete with a decentralization strategy to diffuse centralization talks.
For all we know, XRP is an asset that has attracted a lot of interest not only from the retail traders but from institutions, funds and service providers who make use of the network's fast settlement time and efficiency.
With the expectations of future gains, XRP has seen institutional demand increase four folds—sharply rising from $16 billion in Q2 to roughly $98 billion in Q3 and this is positive. Then again, going by the strong community shills, we cannot discount Binance making XRP base further helping the space decouple from BTC shackles.
XRP/USD Price Analysis
Weekly Chart – XRP/USD price prediction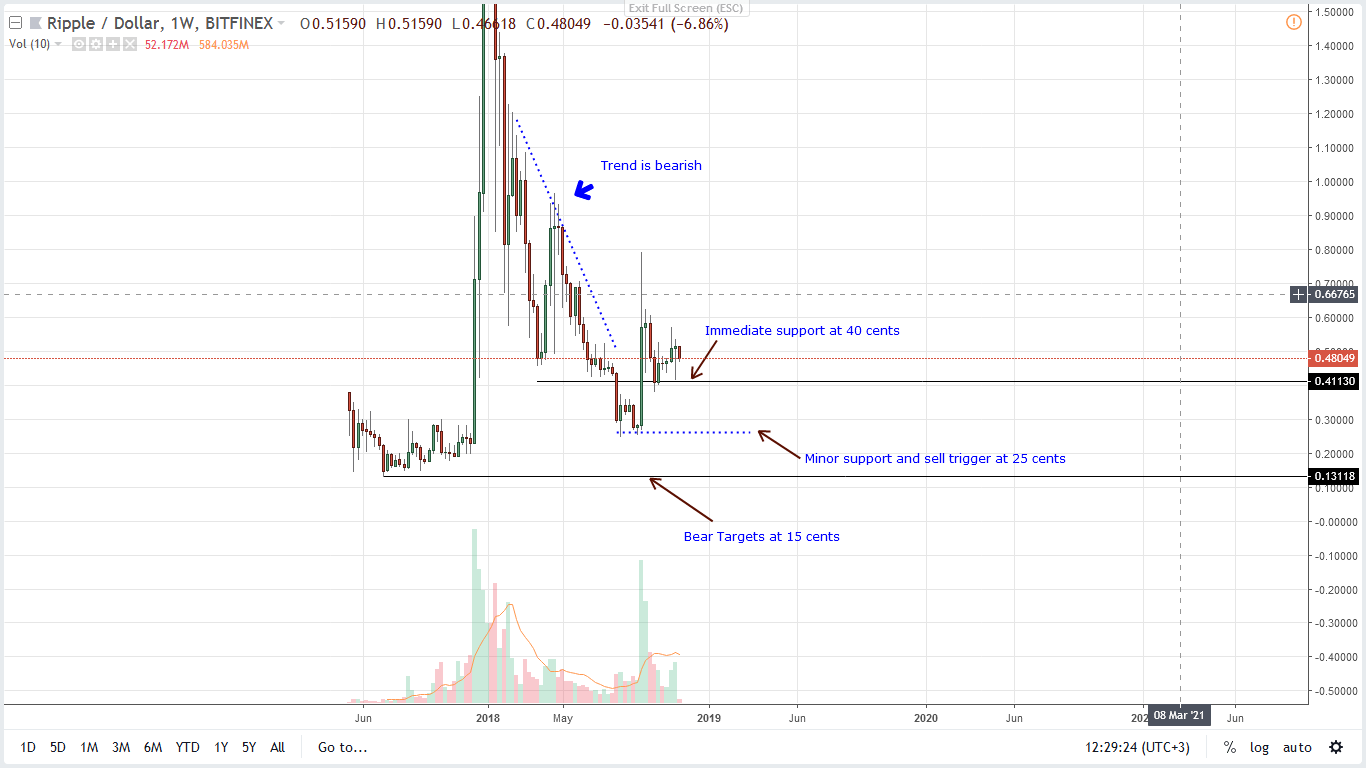 Despite losses, XRP/USD is technically bearish and as long as prices are trending above 40 cents and inside week ending Sep 23, bulls are in charge.
In previous XRP/USD trade plans, we had recommended conservative traders to buy once there are strong breaks above the 55 cents-60 cents mark and though there were attempts of higher highs by close of last week, our trading conditions are yet to be met.
Therefore, we shall maintain a neutral stand aware that we need to see strong gains accompanied by high trade volumes confirming bulls of last week—note the long lower wick—driving prices above Sep highs. Otherwise, the more prices are suppressed, the higher the odds of Jan-early Sep bears resuming and reversing the trend setting bar of late Sep.
Daily Chart – XRP/USD price prediction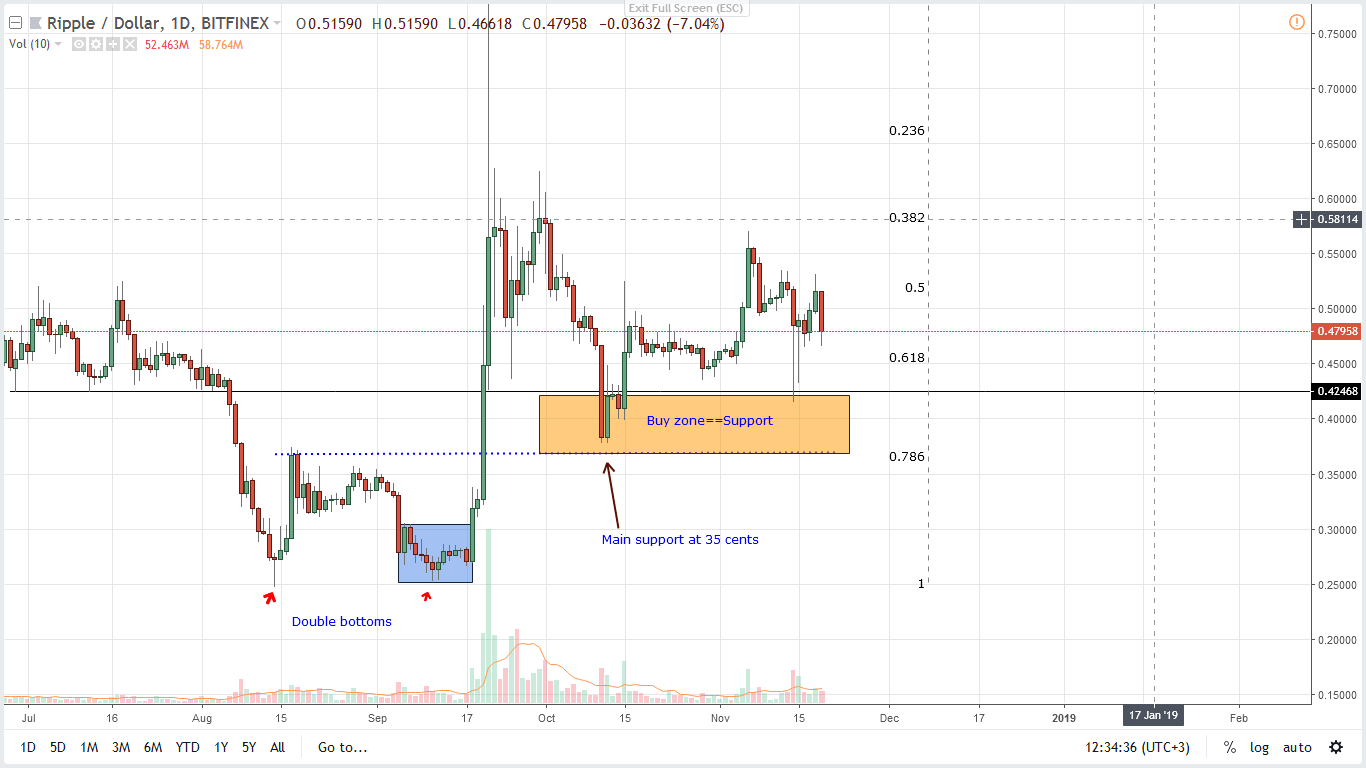 As it is, the long lower wicks of Nov 14 -17 are indicative of bulls and strong support of XRP. They are pointers of bulls in lower time frames adding to their longs on every dip. Unless otherwise mentioned, our last XRP/USD trade plan is valid as the only move that cancel this projection as aforementioned is if there are steady, high-volume declines below the lower limit of our support at 35 cents.
Before then, we suggest buying XRP on all dips testing 40 cents. Alternatively, traders can take a neutral stand until after there are strong moves above 60 cents triggering buyers aiming at 80 cents and later parity.
All Charts Courtesy of Trading View
Disclaimer: Views and opinions expressed are those of the author and aren't investment advice. Trading of any form involves risk and so do your due diligence before making a trading decision.