With Cred now accepting XRP as collateral for their USD loans and RippleNet use in China—via proxies as Amex and Lian Group, the only direction seems to be up. But, since prices are pretty tight in lower time frames consolidating below 55 cents, we recommend patience knowing that drops below 40 cents cancel this bullish outlook.
Latest Ripple News
That Ripple–the independent company, who happen to own the majority of RippleLab's XRP is ambitious, is true.
Save the lawsuits, Ripple the company has been in the media for all the right reasons and with Brad Garlinghouse steering and firming the company's network—RippleNet, as the a superior alternative to SWIFT, it seems to be paying off now that the Ripple through Lian Group have the green lights from the Chinese government to offer payment solutions with settlement done in Chinese Yuan for their high value e-Commerce following a joint venture between American Express and LianLian Group.
Both firms make use of the Ripple Net and their intention is to process micro transactions in a safe and secure environment with a fast blockchain as an enabler.
This is overly positive for XRP and seems to confirm Brad Garlinghouse and Sagar Sarbhai assertions that there was something in the pipeline as far as venturing into China was concerned. After all, this seem to be a product of intense lobbying showing how superior Ripple solutions are in a market whose cross-border payment into the country is above $1.2 trillion dollars with card owners expected to grow to 10 billion by 2020.
Coincidentally, this approval comes at a time when Shenzhen Court of Arbitration said it was legal for coin owners to make payment in crypto including XRP.
Ripple [XRP/USD] Price Analysis
Weekly Chart XRP/USD price prediction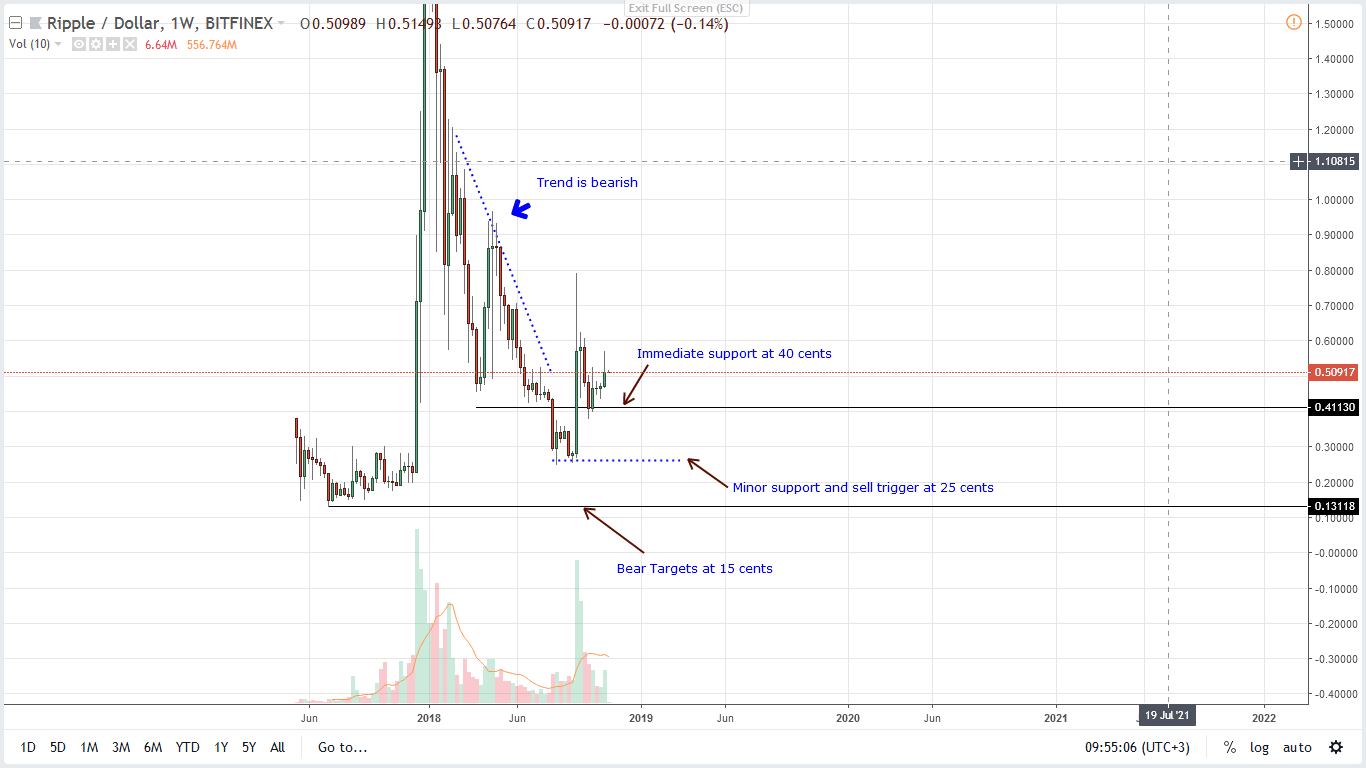 On a weekly basis, XRP/USD is up 10 percent but pretty tight in lower time frames. But this is a none-issue because as long as prices are above the 40 cents mark, bulls are in charge as cemented by week ending Sep 23 break above resistance.
Moving on, we recommend conservative traders to hold off from trading only opening trade positions once prices surge above the 50 percent Fibonacci retracement level anchored on Sep high low.
After all, this bar is definitive and an indicator of shifting momentum from bearish to bullish. The correction level meshes well with the 50 cents mark but it would be ideal if traders begin ramping up when losses of early Oct are completely reversed once XRP/USD print above 60 cents.
On the flip side, main support—previous resistance—stands at 40 cents. Strong drops below 40 cents would likely ignite a wave of sell pressure leading to losses below 25 cents.
Daily Chart – XRP/USD Price prediction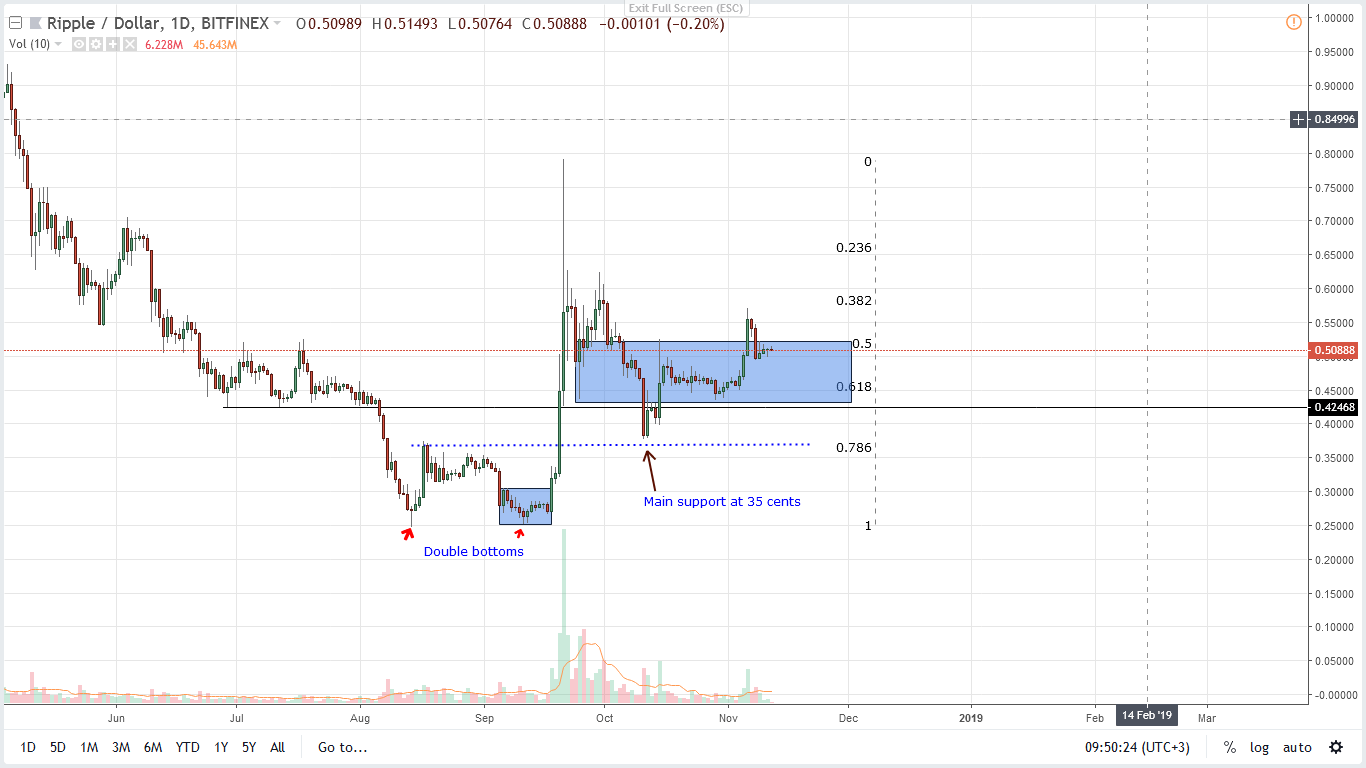 Technically XRP is bullish but like as aforementioned, we suggest taking a patient approach as far as trading is concerned only loading once prices edge past 55 cents–60 cents resistance levels.
These levels are clear in the daily chart and as prices consolidate, every low around 35 cents–45 cents should be buying opportunities with first targets at 80 cents and later $1.
Disclaimer: Views and opinions expressed are those of the author and aren't investment advice. Trading of any form involves risk and so do your due diligence before making a trading decision.