Latest Ripple [XRP] News
There is one unavoidable truth that crypto investors should keep in mind. Despite the markets being driven mostly by retail investors—most of whom cannot stomach strong down turns, most are beginning to realize that any crypto project is as good as the utility it brings on the table. The long-term viability of the project depends on the utility of the tradable asset.
There are hints and as the market matures, investors will not only need fast mover advantage but coin issuers ought to demonstrate to the world what they are actually solving in real time while focusing on the now. At the moment, the Ripple and XRP community have shown that the technology is superior.
Ripple is not only on-boarding important players in the banking sector read—SBI, PNC but they are continuously working with regulators from all over the world. As the market evolve, it is important for these players to work and not fight with regulators. Not only do they help in streamlining the space, riding market manipulation but they put to task exchanges and projects ensuring that investors are safe boosting their confidence. At the same time, regulators do bring innovation in the space. Blockchain by itself is a global phenomenon and as long as regulators aren't in the frame, adoption will remain low.
XRP/USD Price Analysis
Weekly Chart – XRP/USD price prediction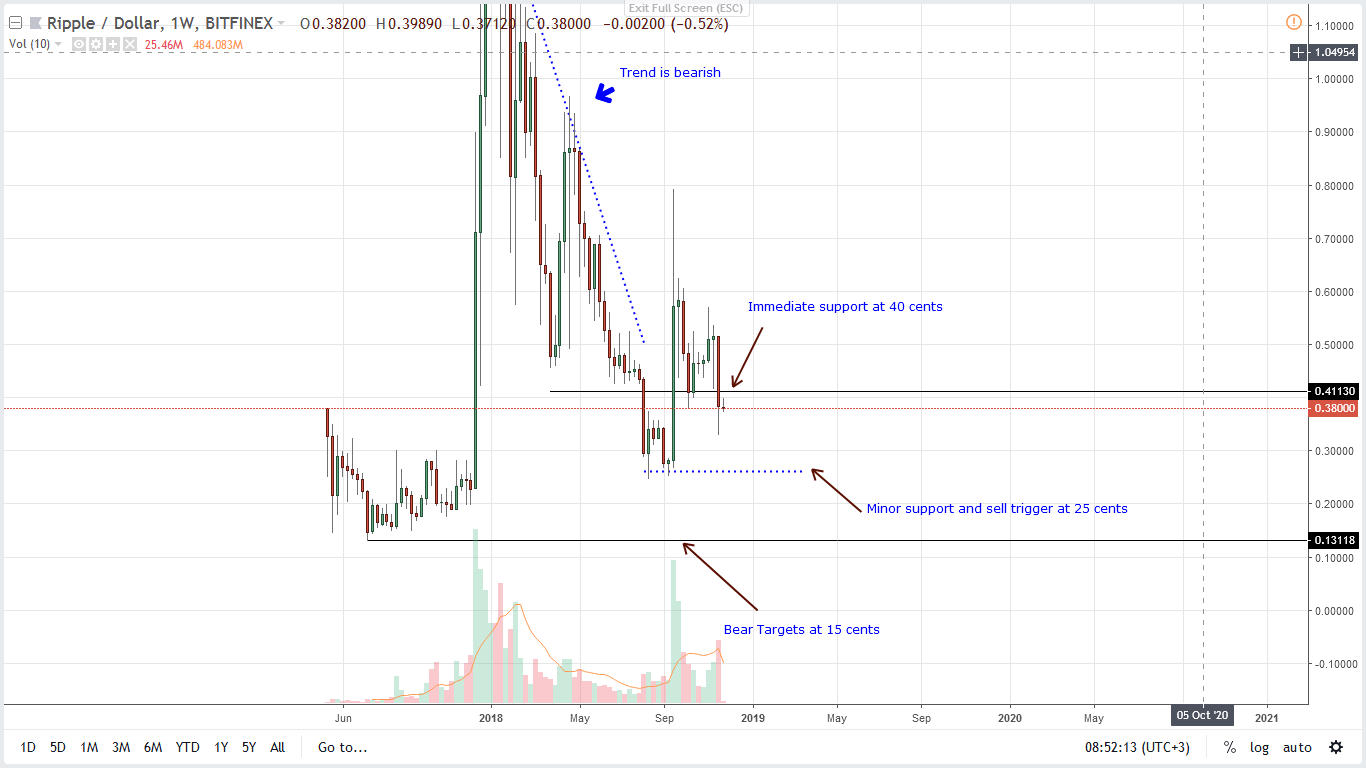 Generally speaking crypto coin holders have been placed on the sword and even with that, there is no reason for traders to unload their XRP. From a top down approach, prices are down 22 percent in the last week but volumes are low and incomparable with those of week ending Sep 23 when prices rocketed from 25 cents to 80 cents printing new highs.
Unless otherwise XRP/USD is trading below 35 cents—the lower limit of our main support zone, our last XRP/USD trade plan will remain valid and we shall recommend traders to buy on every retest of 35 cents—40 cents main support line.
Meanwhile conservative traders can add to their longs once there are clear breaks above the main resistance line and Oct 2018 highs at 60 cents. In that case and just like we had emphasized in previous trade plans, our first targets would be 80 cents and later $1 while dips below 35 cents would trigger shorts in lower time frames with targets at Sep lows and later 15 cents.
Daily Chart – XRP/USD price prediction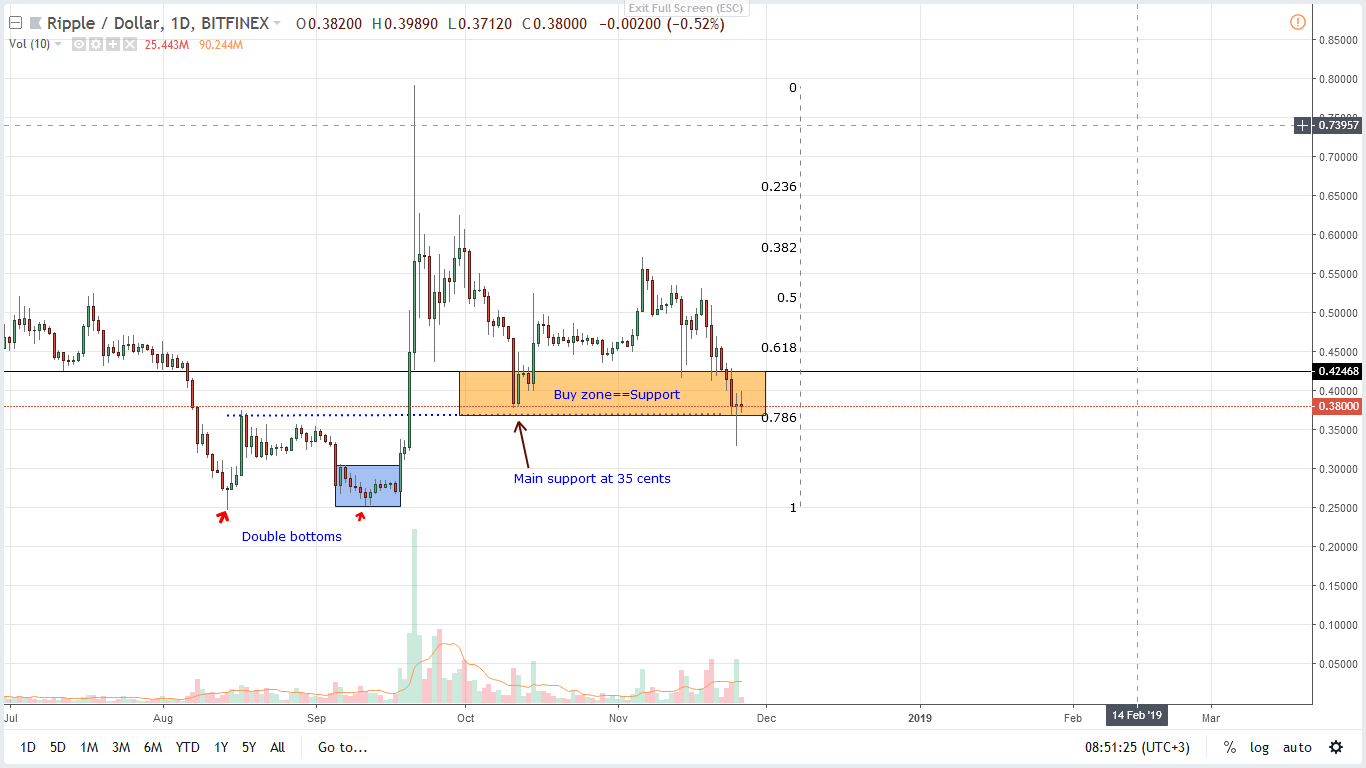 In this time frame, it's clear that XRP is finding support. After a clear pin bar complete with a long lower wick pointing to increasing demand in lower time, the fact that prices did bounce back to from below 35 cents and convincingly close within 35 cents—40 cents main support zone mean aggressive traders can buy at spot prices with stops at Nov 25 lows of 32 cents. First targets will be 60 cents—Oct 2018 highs.
All Charts Courtesy of Trading View
Disclaimer: Views and opinions expressed are those of the author and aren't investment advice. Trading of any form involves risk and so do your due diligence before making a trading decision.