Latest Ripple [XRP] News
Thing is banks—no matter the size are profit motivated. And in their bid to generate more and use less, they are always seeking for avenues to improve efficiency and slash down on costs. Part of this efficiency is speed and with Ripple, three important metrics determining whether an institutions is efficient or not has been presented on a silver platter.
There is the RippleNet, a proprietary blockchain solution over which three of Ripple' main solution rides on. Of the three, xCurrent—an enterprise level software solution over which payment can be processed via blockchain complete with end to end tracking for confirmation purposes was the first and is the most popular.
Despite this, banks are slow to adopt its new upgrade that allows for integration of xRapid—another of Ripple's solution that banks can use to move funds faster, cheaply and efficiently as it make use of XRP—an on-demand liquidity tool. Of the 200+, only two—American Express and Santander—but have failed to incorporate xRapid into their options. Despite this, Brad Garlinghouse the CEO of Ripple is optimistic that many others will find use of XRP—which the community remains doubtful of its decentralization level and whether it is a real necessity for Ripple to function.
Critics reckon that Ripple as a niche technology used XRP as a primer, an Airdrop to spur adoption during inception. To that end, the company has been forced to split and is actually dealing with three class action cases with "investors" seeking for compensation for losses.
XRP/USD Price Analysis
Weekly Chart – Price prediction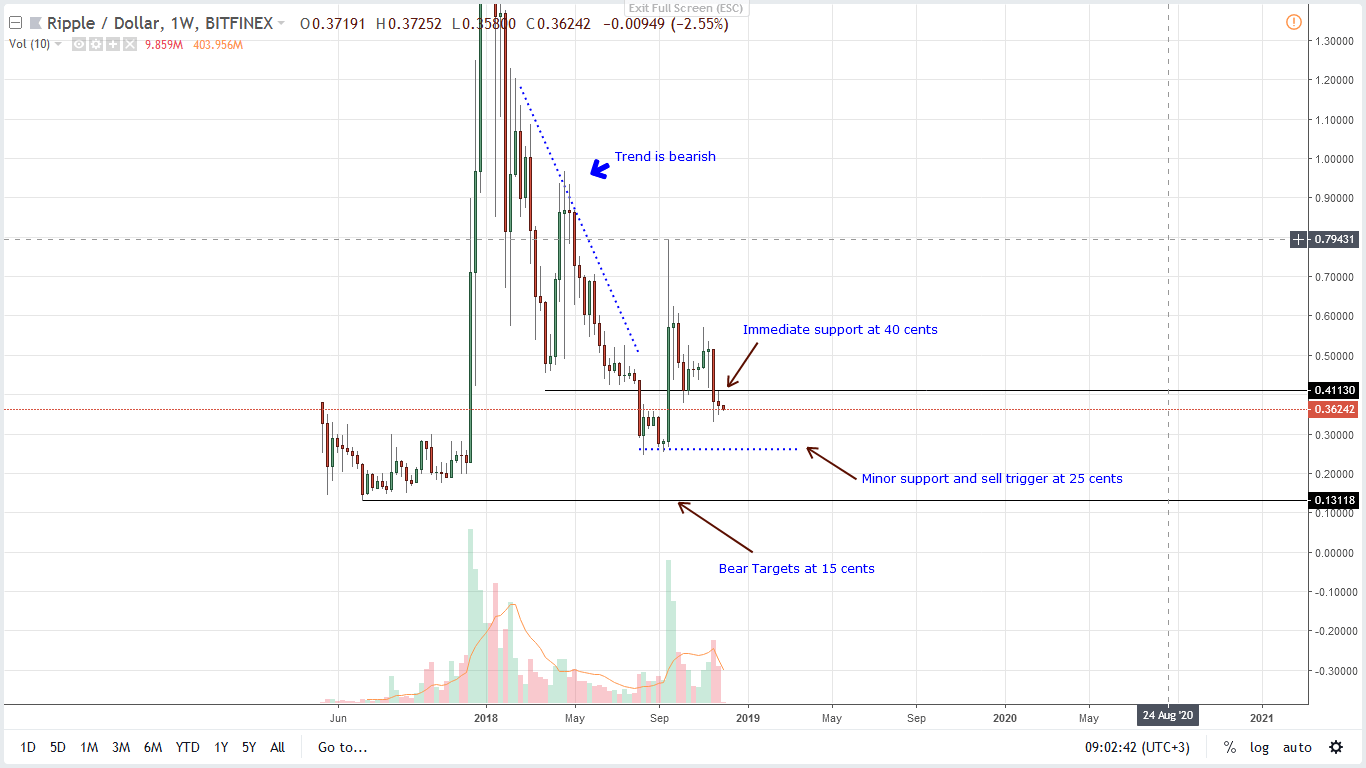 Still, XRP is the second most valuable coin in the space and overly bullish despite draw downs of the last two weeks. Even with that, losses are mild and XRP is actually down three percent in the last week and trading above the lower limit of our main support zone at 35 cents.
In line with our previous XRP/USD trade plan, we shall maintain a bullish outlook as long as prices are trading above 35 cents expecting a rally towards 60 cents—which shall trigger another wave of longs towards 90 cents—more so if there are high volume gains in lower time frames thrusting prices above 40 cents.
Before that happen, bulls seem to be in charge and thanks to last week's tight trade range, it's likely that bears are slowing down and could recover igniting a market wide reversal of 2018 losses.
Daily Chart – Price prediction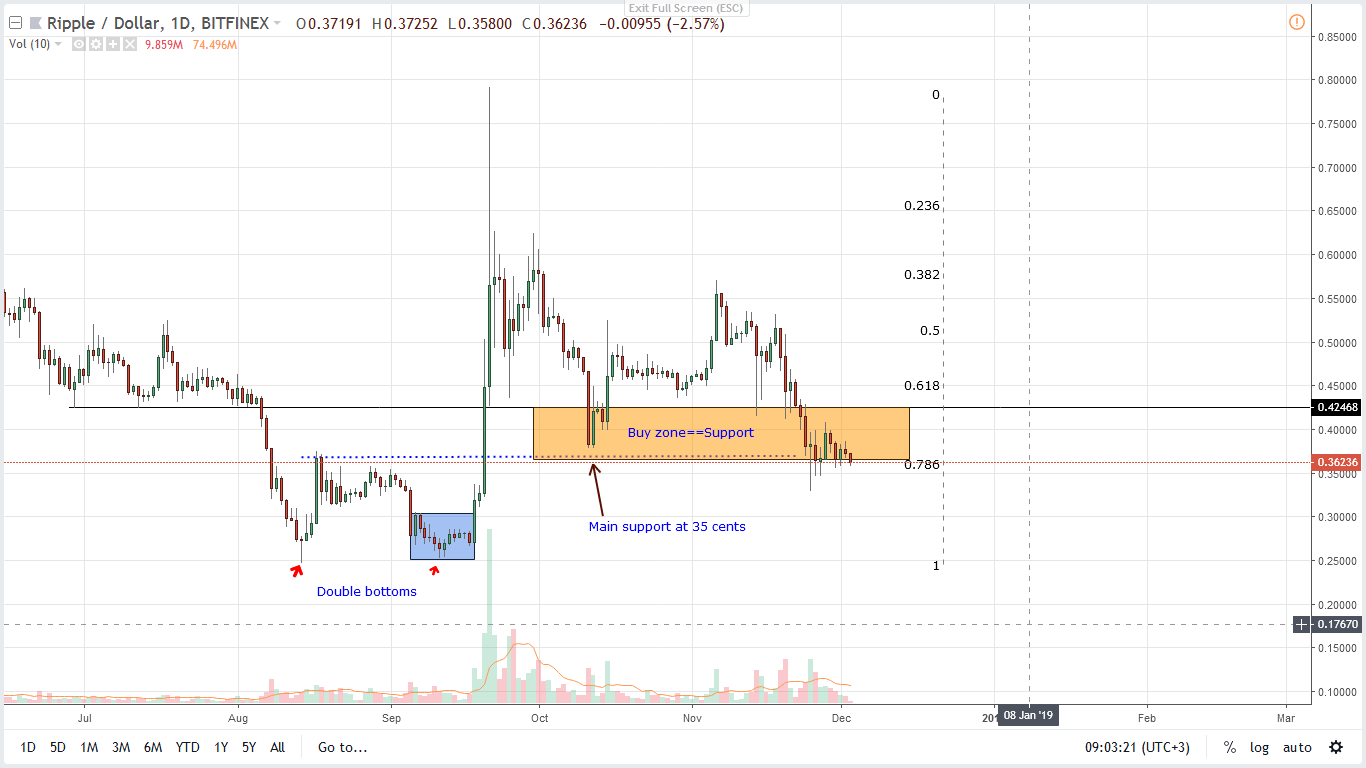 As visible from the chart, what we are interested with is Nov 25 bar of which XRP/USD price action is held in. Notice that unlike other subsequent bars, it is backed with high volumes and with a long lower wick, it hints of underlying bulls.
Those bulls were confirmed on Nov 28 but since the Morning Star pattern is yet to be confirmed as buyers thrust prices above 40 cents, we shall retain a neutral but bullish stand until that prints.
However, if it doesn't and prices drop below 35 cents, then odds are we might see further degradation towards 15 cents.
All Charts Courtesy of TradingView
Disclaimer: Views and opinions expressed are those of the author and aren't investment advice. Trading of any form involves risk and so do your due diligence before making a trading decision.