Latest Ripple [XRP] News
With a loyal XRP army, it's true that the company Ripple has made some sound progress in the last few months. Months after launching xRapid–following days of hyping the SWELL conference where Bill Clinton delivered a keynote, to the rolling out of xVia, an API system that compliments the more dominant xCurrent, supporters have all the reason to be bullish on the long-term outlook of their investment, XRP.
XRP is an asset that xRapid-adopting banks utilize as an on-demand liquidity tool. Incorporation means speed and expediency like never seen before.
That is why the company—though claiming to be distinct from Ripple Labs, the official XRP coin issuers are desperate to see across the board adoption of xRapid. Demand means wholesale purchase of XRP from different exchanges and that will no doubt lift the coin from the bear pits of 2018.
At the moment, it is clear that buyers are struggling against strong headwinds and besides legal challenges—which Brad Garlinghouse, influencers and a former member of the SEC are confident that regulators will find soon reasons to sync with their assertion that XRP is a utility, the near positive correlation with Bitcoin mean the recovery of the former determines the long-term trajectory of the former.
It's a maze and that's why despite specific fundamentals like Binance making it base and possible listing at CoinBase, investors and traders alike are tracking BTC performance.
Ripple (XRP) Price Analysis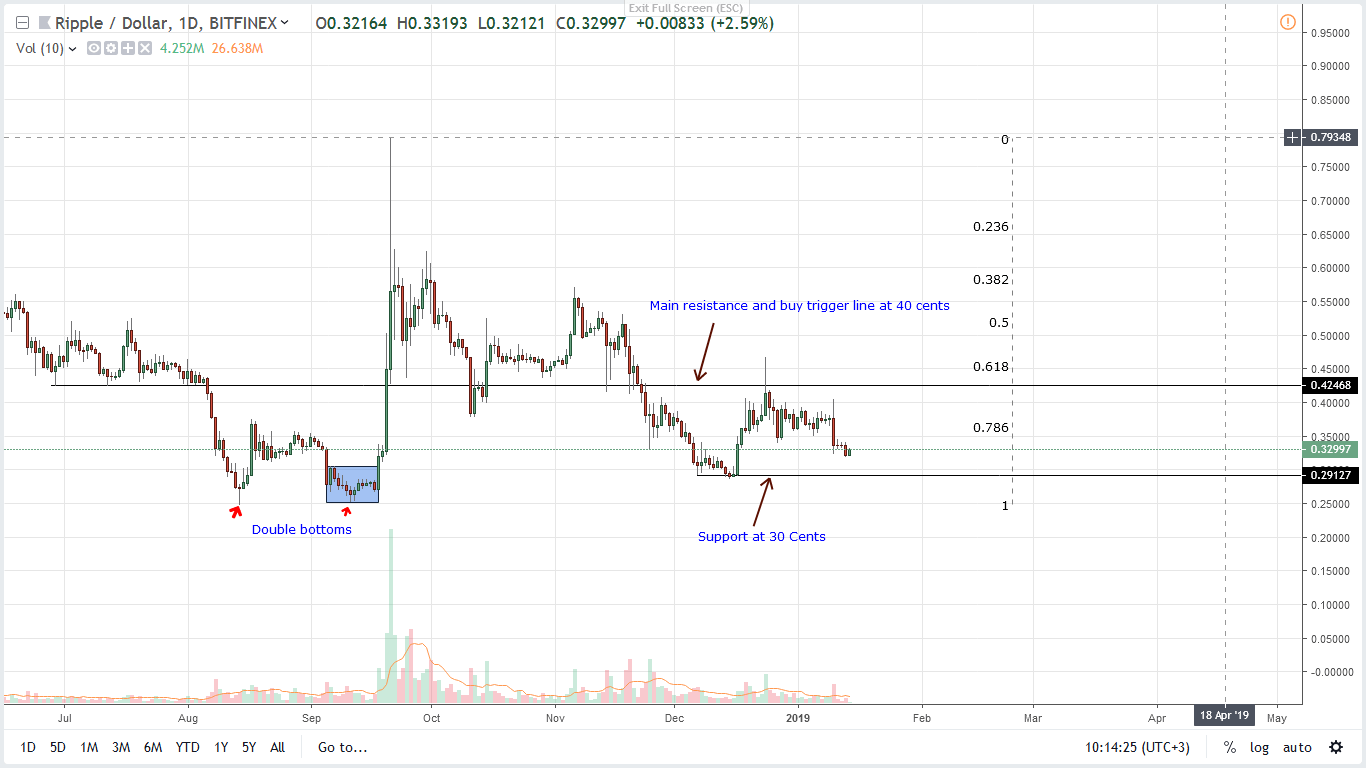 The trend has been set and although sellers are back, events of Sep 2018 will guide us on the long run. Over the short to medium term, the path of least resistance is southwards and following Jan 10 meltdown, traders are apprehensive aware that losses below 30 cents and 25 cents on the lower edge could mean 15 cents in the medium term. Of course, price action as such will be devastating and crash expectations built by bulls of late Dec and early Jan 2019.
From candlestick arrangement, bears are in charge and because of losses of Jan 10 were at the back of high volumes—83 million versus 30 million average and consequent bars are yet to reverse those losses, it is likely that prices will further drop towards 30 cents as laid out in our last XRP trade plan. This trajectory has been laid out and confirmed by yesterday's losses.
Now, unless otherwise, we remain neutral to bullish aware that drops below Dec 2018 lows will most likely lead to losses below 25 cents in the process erasing Sep 2018 losses invalidating our bullish stance. Besides, 30 cents is important as around the 78.6 percent Fibonacci retracement level. Therefore, any reaction at the level will re-define the trend of the next few days.
All Charts Courtesy of TradingView
Disclaimer: Views and opinions expressed are those of the author and aren't investment advice. Trading of any form involves risk and so do your due diligence before making a trading decision.