Latest Ripple News
Well, there is nothing new about the recent study that BTC and most altcoins are correlated. They always have and albeit thin transaction volumes, any recovery in Bitcoin prices will see the grand daddy of crypto lift others including XRP.
It's not complex and a recent study goes to length debunking theories that individual coin development can move coin prices faster than rising BTC prices—which is also true.
If XRP happens to be listed at CoinBase then it won't be rocket science that the "CoinBase effect" will kick in and XRP prices may surge to $2 in a quick short burst.
Nevertheless, the altcoin market is recovering and spearheading these upsides is XRP which has been technically bullish for three straight months after XRP prices expanded from 25 cents to 80 cents in less than a week.
As it is, hopes of higher highs are pegged on fundamentals and with news that XRP is now base for several pairs at Binance, we expect increased volatility in coming weeks.
Remember, Binance is not the only exchange that has made XRP base, BitTrue and Mike Novogratz fund are enjoying the speed and efficiency benefits after making base for their businesses.
Furthermore, Kraken did launch an XRP- margin trading feature although with strict terms and conditions urging traders to always keep enough funds before opening positions as their XRP balances won't be collateral currencies.
Ripple (XRP) Price Analysis
Like BTC, XRP is on an uptrend recouping losses of the last three months. At the time of press, XRP is up 5.6 percent against the USD and perched as the third most valuable coin in the space.
Despite the drop, XRP price trend has been defined and unless otherwise there are sharp drops below 25 cents invalidating our bullish projections, bulls are in charge.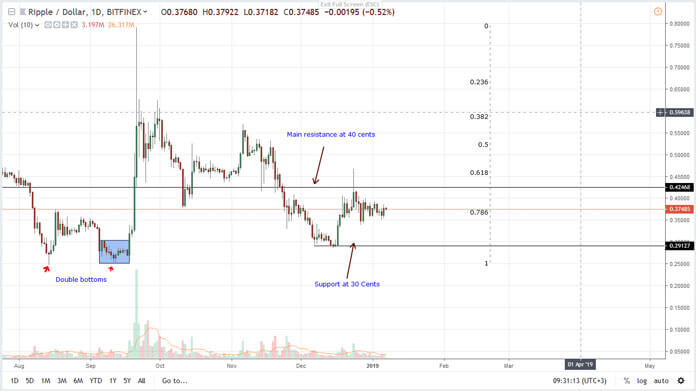 From candlestick arrangement, it is likely that the ranging prices would be the basis of the next wave of bullish pressure thrusting prices above 40 cents as the trade conditions of previous XRP/USD trade plans are met.
Notice that the failure of sellers to erase gains Sep 18-21 gains and higher highs of Dec 28 bulls preventing declines below 34 cents hints of underlying support and presence of bulls further cementing our previous stance.
While none of our trade conditions have been met, aggressive traders can buy at spot prices while conservatives can wait for high-volume bull bar above 40 cents. Targets will remain as before with safe stops at 34 cents—Dec 28 lows or 37 cents.
Our XRP/USD trade plan is as follows:
Buy: 40 cents
Stop: 34 cents
Target: 60 cents, 80 cents
All Charts Courtesy of Trading View
Disclaimer: Views and opinions expressed are those of the author and aren't investment advice. Trading of any form involves risk and so do your due diligence before making a trading decision.