The Ripple price wasn't spared of last week's battering. Like all coins in the top 10 by market capitalization, it took a hit, sliding from recent highs to spot levels. However, there is so much more to glean from recent developments.
Regulation as a XRP Price Determiner
On the first glance, Ripple as a platform seeking to revolutionize remittance has to tread carefully. There is the regulatory aspect affecting its operations demanding compliance from stake holders. Secondly, the position of those in political positions and their stance on cryptocurrencies.
Ripple's executives in previous interviews have revealed their deep ties with the White House but it remains to be seen whether through their partners will influence the DoJ and the main regulator to defuse tension and to re-assure investors that XRP is decentralized and a utility more like ETH and BTC.
On the flip side, Ripple is convinced U.S' procrastination will be their undoing as China gallops ahead with their DC/EP plans and clearly defining their regulatory position on blockchain and crypto.
Compliance and Ripple's Commitment
A blogpost on Sep 5 reiterates Ripple's commitment on compliance and their tireless goal of angling to be a key player in the future token economy by trying to improve the financial system from within. An extract mentions their "cry for smart, transparent, and principles-based regulation" urging policy makers to formulate rules which don't disadvantage American companies.
A previous open letter by Brad Garlinghouse resonates what they recently assert. Then, the CEO wrote:
"We urge you to support regulation that does not disadvantage U.S. companies using these technologies to innovate responsibly, and classifies digital currencies in a way that recognizes their fundamental differences—not painting them with a broad brush."
Ripple Price Analysis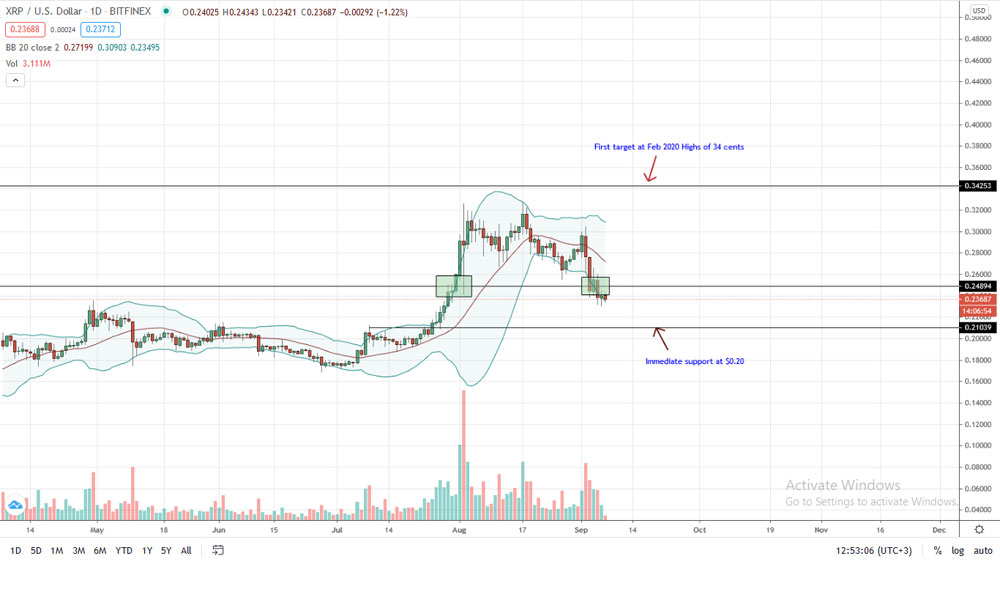 The Ripple price is bearish and sellers are in control. As traders flow back to the safety of stablecoins and the USD, its resurgence is obliterating bulls. At the time of writing, the XRP price is down 15 percent against the greenback. It is also trailing both the USD and ETH.
Candlestick arrangement in the daily chart suggest weakness. Following last week's fall, the XRP price is now trending at an important support level of around $0.25. Breached, a close below this level builds an impetus for lower lows towards $0.17 to $0.20 support level is a major retest.
Since last week's trading volumes were humongous and there are signs of USD strength in higher time frames, every retrace could provide an opportunity to unload XRP at better prices. Note that bear candlesticks are banding along the lower BB—pointing to high sell momentum.
As such, perpetual swaps traders may target anywhere between $0.17 and $0.20 as their immediate bear targets
Chart courtesy of Trading View
Disclaimer: Views and opinions expressed are those of the author. This is not investment advice. Do your research.