Latest Ripple News
Now that the now known XRP Army had to wait for 13 good months for the third most valuable coin to list at CoinBase, we expected the so-called "CoinBase Effect" to be immediate. However, that is not the case. It's a disappointment and after Sep 2018 rally, XRP is stuck at the 30 cents–33 cents zone. This begs the question: is this effect done and CoinBase is slowly losing its nobility? Well, from the look of things and their controversial decision of acquiring Neutrino simply because individuals making up the blockchain intelligence company are talented may be a little bit inconsiderate.
Neutrino figure heads, it is noted, were members of the notorious Hacking Team who were caught red handed selling surveillance weapons to government with questionable human rights track record. All the same, they insist, the decision to on board them is for the benefit of the community. Instead, the most important thing we can draw from recent addition, controversy aside, is that XRP may be a utility despite all the talk about the token being a security, being centralized and run by a scammer, the Ripple Inc.
The scam question was floated by Bloomberg and in the article, the author, Jason Bloomberg, brought to question Ripple Inc business practices. The industry leader IT specialist thinks at core, Ripple Inc, the independent company separate from Ripple Labs runs a pump and dump scheme at several stages of XRP price cycle to convey an image of legitimacy. It would be important if Ripple Inc respond to these allegation.
XRP/USD Price Analysis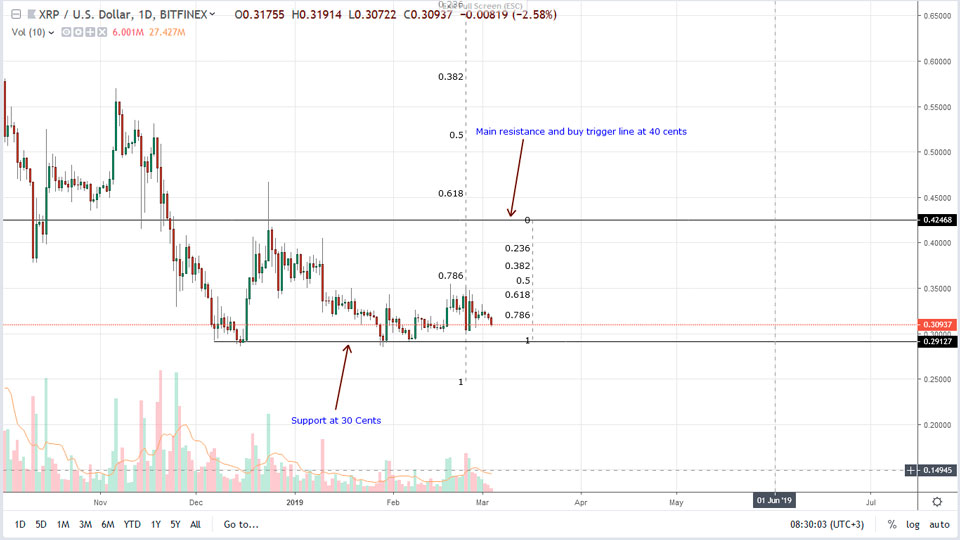 After periods of greens, XRP is back to red and this time, XRP is up 4.6 percent in the last week. However, it is bad in the daily chart. The third most valuable coin is down 3.6 percent in the last day and at this rate, odds are XRP will break below Feb 24-25 high lows as prices melt below 30 cents. It is a discouraging prospect and as laid out in our last XRP/USD price analysis, that will cause a dump down towards 25 cents as our bullish outlook is binned.
Note that 25 cents is the lows of Sep 2018 bull bar and as long as prices are trending above this mark and 30 cents, there is a strong possibility that XRP prices will break out of this consolidation past 34 cents. With 34 cents being our resistance level and buy trigger line, we shall maintain a neutral but bullish outlook expecting a comprehensive break and close above 34 cents at the back of high trade volumes as bulls of mid-Dec and late Sep 2018 flow back. On the reverse side, break below 30 cents invalidates our upbeat outlook.
All Charts Courtesy of Trading View
Disclaimer: Views and opinions expressed are those of the author and aren't investment advice. Trading of any form involves risk and so do your due diligence before making a trading decision.