Latest Ripple [XRP] News
Considering the volatile nature of cryptocurrencies, sometimes hype prevail over common sense—at least that what "analyst" keep on saying. They describe it as a case of irrational exuberance and the fear of missing out. But what is there is this joy of missing out. A JOMO moment like what we saw in 2018—that's when asset prices plummeted from their all-time highs to near or below 2017 lows. It is the situation we are seeing with XRP and Ripple in general.
In one hand we have Ripple Inc on-boarding and striking deals with production level clients, marketing their solutions and on the other, there is a reluctance of these very banks and payment processors to plug in and use xRapid. The solution is one of three but that leverage XRP for liquidity purposes.
It has been demonstrated in various pilot programs—that done by Western Union, that using XRP leads to more efficiency and saves on cost but it is now emerging that xRapid—despite all the moon sling talk—is commercially available but not "live".
That's according to Dan Morgan, Ripple's Head of Regulatory Relations in Europe in a recent interview. He didn't expound further only saying "there are reasons for that" but we can guess that regulators are blocking the official roll-out and use.
XRP/USD Price Analysis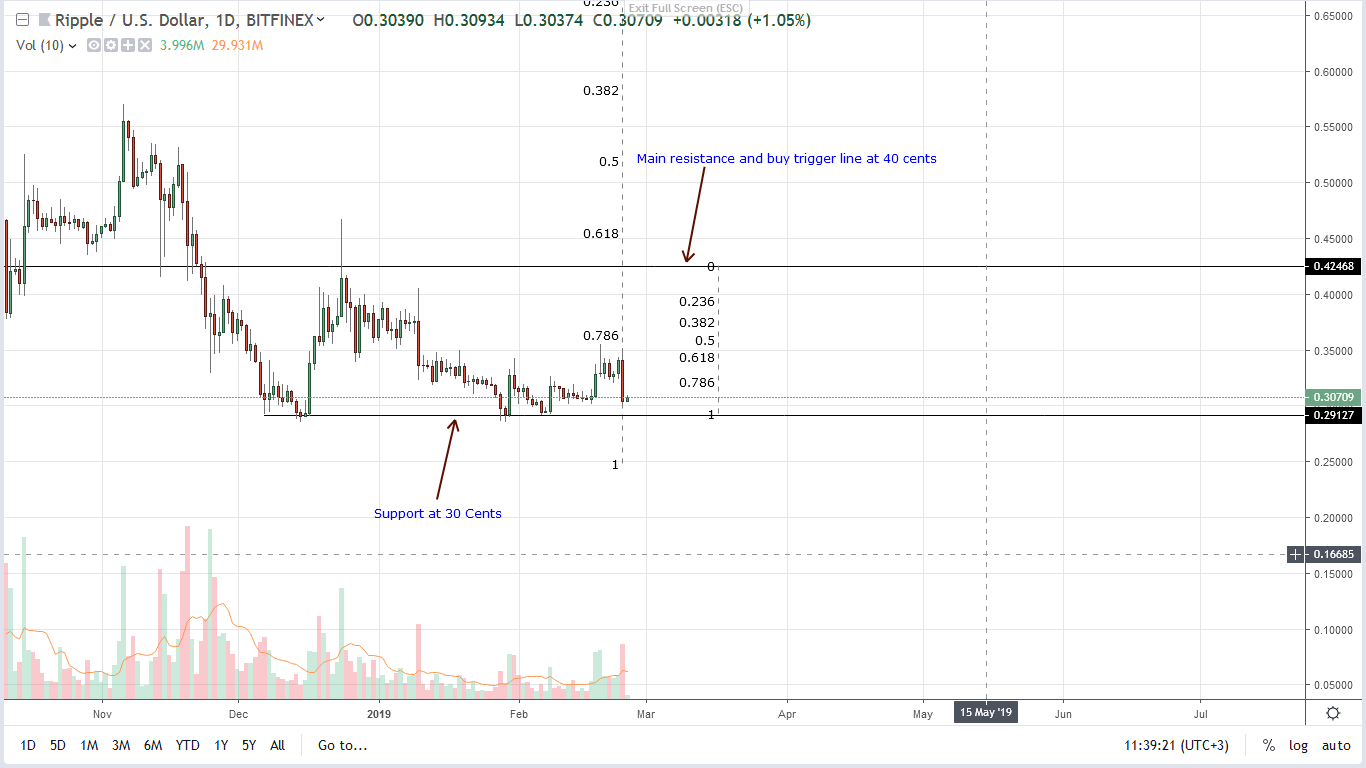 In a single bar, XRP prices tumbled. By yesterday's close, XRP prices were down 9.1 percent and what is striking is the huge volumes behind this liquidation. As we have insisted, it was imperative for XRP bulls to build enough momentum and drive prices above 34 cents at the back of highs volumes—preferably exceeding 52 million as recorded on Feb 8 and 10 and even 83 million of Jan 10.
However, from the look of things, that is not the case. It may be a causative effect and as BTC prices took a hit, it is dragging other altcoins thanks to their direct correlation. Even so, none of our trade conditions are live and until after prices rally above 34 cents, we shall be watching price action and possible scenarios at the 30 cents minor support line.
Note that Jan 10 bears are yet to be reversed and yesterday's losses may spill over to today. That means prices may tank below 30 cents as our short-term XRP bull stance is invalidated gifting sellers an opportunity to retest 25 cents and even wipe out gains of Sep 2018.
All Charts Courtesy of TradingView — BitFinex
Disclaimer: Views and opinions expressed are those of the author and aren't investment advice. Trading of any form involves risk and so do your due diligence before making a trading decision.