Latest Ripple [XRP] News
That cryptocurrencies and the traditional banking system are not the very "best of friends" is true. However, the efficiency and the transparency of the former is what sets it apart. All the same, banks are the anchor that holds the society and the global economy together. It is for this very reason that Brad Garlinghouse, the CEO of Ripple Inc is of the opinion that the two must work harmoniously.
In an interview, he explained that banks are very good at what they do and that is the reason why his firm is diving headlong, striking partnership and affirming their vision mission statement as they trudge forward in an eventual bid of dethroning SWIFT.
"I don't think banks… governments will go away. Banks are applying a very important regulatory framework that I actually think is important for society. I personally believe that banks will continue to serve that role, they're good at it… I think this is a new set of technologies that they can benefit from to grow their business."
All the same, it is until there is proper regulatory framework that guide the generally unregulated cryptocurrency market that business can draw maximum benefits from what these digital assets can bring to the table.
XRP/USD Price Analysis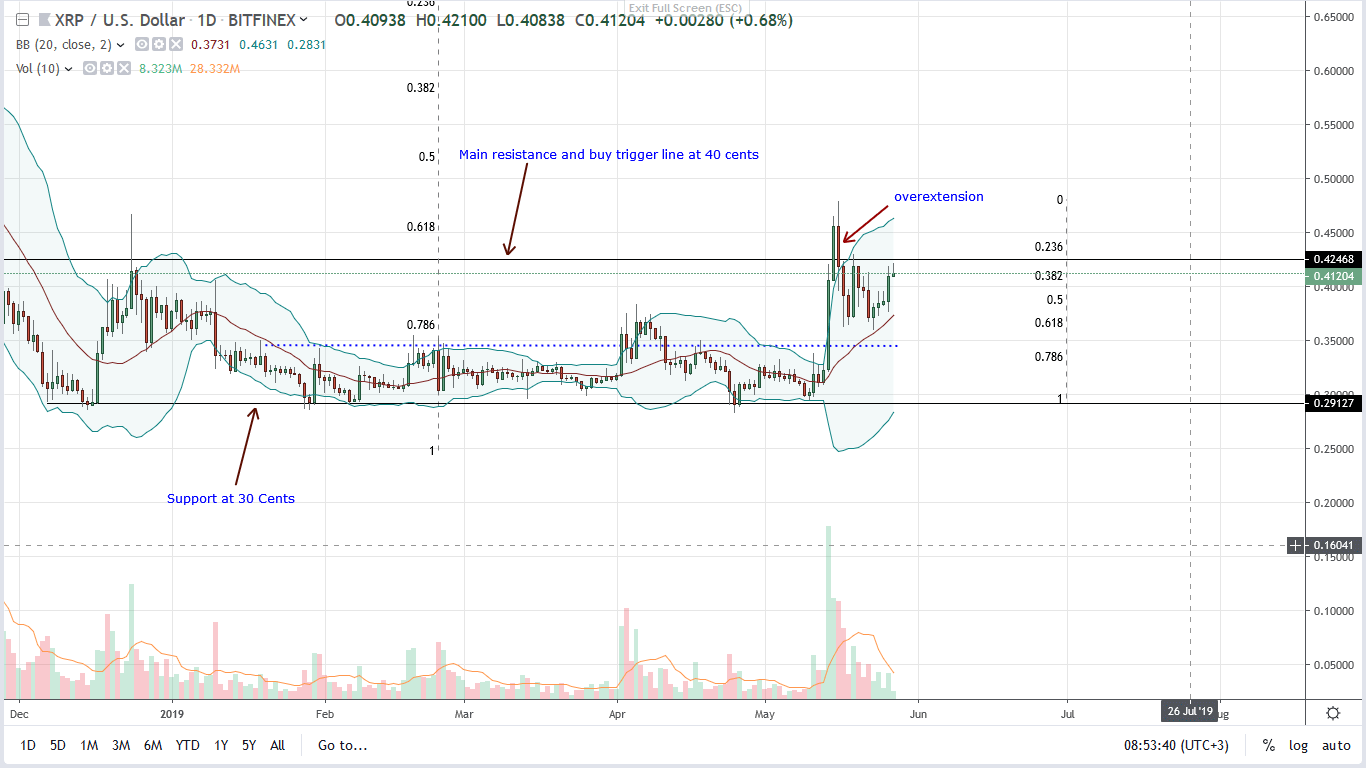 At the time of press, XRP is up 7.3 percent from yesterday's close effectively reversing last week's losses. Changing hands at 38 cents, buyers are in control and risk-off, aggressive traders taking advantage of the bullish breakout pattern of 34 cents can buy the dips in smaller time frames with first targets at 40 cents and later 50 cents.
However, it all depends on the strength of the underlying momentum. To reiterate our previous stance, bulls are in control and the only time this position will be null is once there is a meltdown, forcing liquidation below 30 cents.
Presently, the general optimism in the space could spur a FOMO. In that case, any close above May 16th highs after a correction of that double bar overvaluation could lead to a close above 43 cents. It is only then that conservative traders can load up with ambitious target of 80 cents or August 2018 highs.
As a stamp of participation, it is ideal that the accompanying bar, breaking above 43 cents, ought to be with high participation exceeding 187 million of May 14th, wide-ranging anchor bar.
All Charts Courtesy of TradingView—BitFinex
Disclaimer: Views and opinions expressed are those of the author and aren't investment advice. Trading of any form involves risk and so do your due diligence before making a trading decision.