Latest Ripple [XRP] News
Riley Q, a musician and one of the many content contributors at Stefan Thomas' Coil is pretty excited about the future of crypto, Ripple and Coil. Earning over $3,000 in XRP from her fans, the artist is likely one of the many that are interested in leveraging the abilities of XRP and InterLedger Protocol and their ambition of connecting the various cryptocurrencies, making payments easy and content accessibility seamless.
Eventually, their goal is to connect the way and eliminate the need of subscription and ads, resolving the one Web 2.0 sin: ads. Towards that end, the ILP protocol that use XRP for settlement will be the core of the Web 3.0 evolution, the age of the internet of value of which Ripple is pushing forward.
Desirous to achieve, Ripple's investment arm, Xpring participated in the latest investment round netting Coil, one of the many projects where Ripple has an interest in, $4 million.
Additionally, they gave the project 1 billion in XRP as grant from their balance sheet as per the accompanying press release. At spot rates, that's over $245 million worth of XRP.
Even so, the donation is now the reason why some analysts say Ripple is deliberately manipulating XRP prices, keeping them low, affordable to xRapid customers but at the expense of XRP price investors.
XRP/USD Price Analysis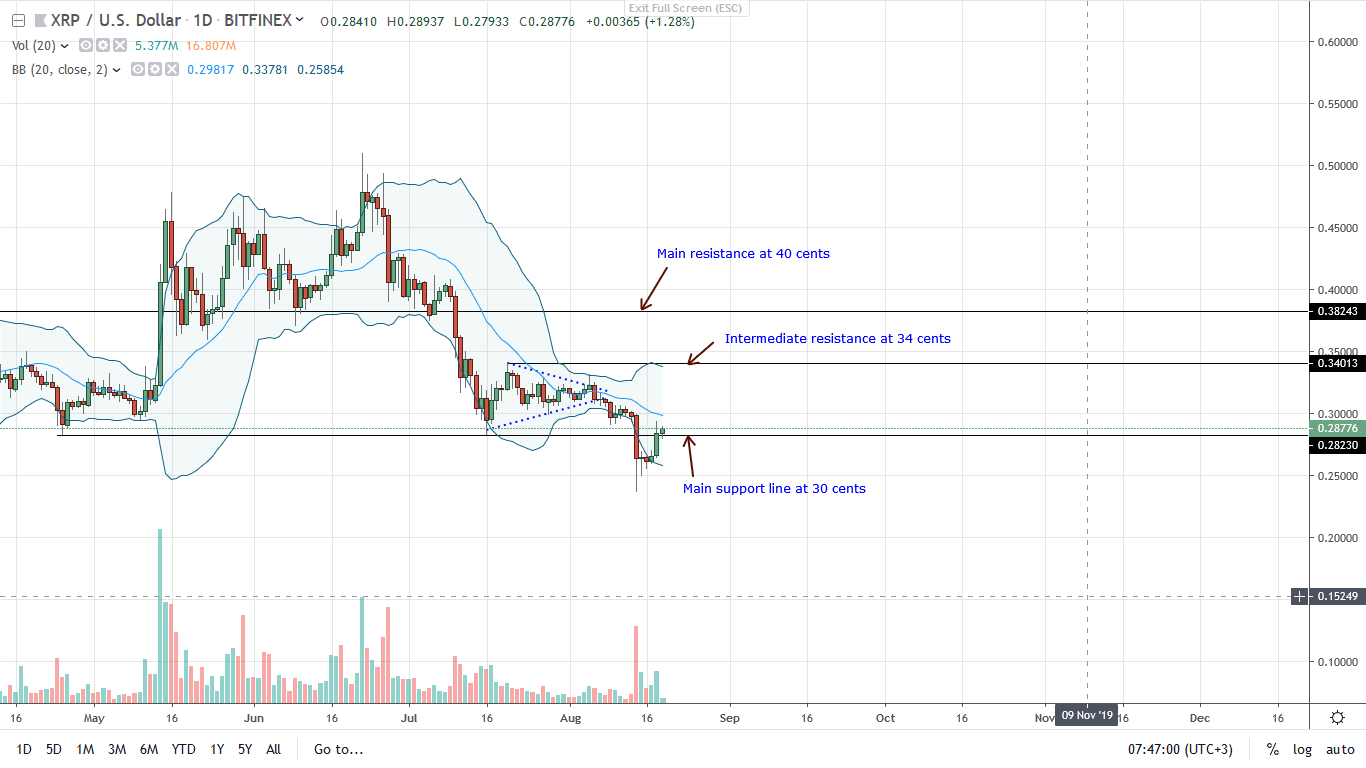 XRP is up 7.2 percent in USD terms in the last day, printing modest gains against BTC and ETH. Adding roughly 3.5 percent against these assets, there is a revival as buyers flow back, reversing losses of Aug 14.
Nonetheless, even if there is a tinge of optimism, sellers are in charge. Following the break and close below 30 cents, which in previous XRP/USD trade plans we insisted is a crucial support line of H1 2019, buyers have an uphill task. Additionally, from an effort versus result point of view, the draw down was at the back of high trading volumes-82 million, hinting at the presence of sellers.
Therefore, unless otherwise there is a sharp spike in trading volumes exceeding 113 million of June 22 as the break bar convincingly close above 30 cents and Aug 14 high, every high will be a selling opportunity with targets at Aug 14 lows and 20 cents.
Conversely, should our ideal bull trading conditions be met and there is demand for XRP, then buyers ought to wait for a close above 34 cents or even 40 cents before loading the dips with targets at 50 cents and later 80 cents.
Chart courtesy of TradingView—Bitfinex
Disclaimer: Views and opinions expressed are those of the author and is not investment advice. Trading of any form involves risk.  Do your research.