Latest Ripple (XRP) News
Seems like the future is blockchain and open source development. Statistics indicate that the technology, though facing resistance from many quarters including from influential politicians, is here to stay and disrupt. Of the many blockchain startups, Ripple is undoubtedly a standout.
Different from Ripple Labs, the official issuers of XRP, Brad Garlinghouse-led payment platform continues to sink millions of dollars into the space. In the last 18 months alone, more than $500 million were channeled in various startups including Wietse Wind's XRPL Labs, Coil and Forte. The objective here is to support programs that integrate XRP in their operations.
Demand of the later means business efficiency of the adopting firm. A pilot program with Western Union revealed that companies that use xRapid can save up-to 70 percent in costs. Because of Ripple's investment in MoneyGram and the subsequent integration of xRapid in the latter's core operation, it is highly likely that MoneyGram will be more efficient, more liquid and turn in good returns after struggling for some times now.
If there is a turnaround, Ripple may invest another $30 million as they demonstrate to the world the benefits of blockchain solutions. Meanwhile, Garlinghouse, the CEO of Ripple has revealed that the company's balance sheet is strong and the firm is looking to make some acquisition and investment within the space.
When and which companies or industry they are considering to "press advantage" is yet to be made public.
XRP/USD Price Analysis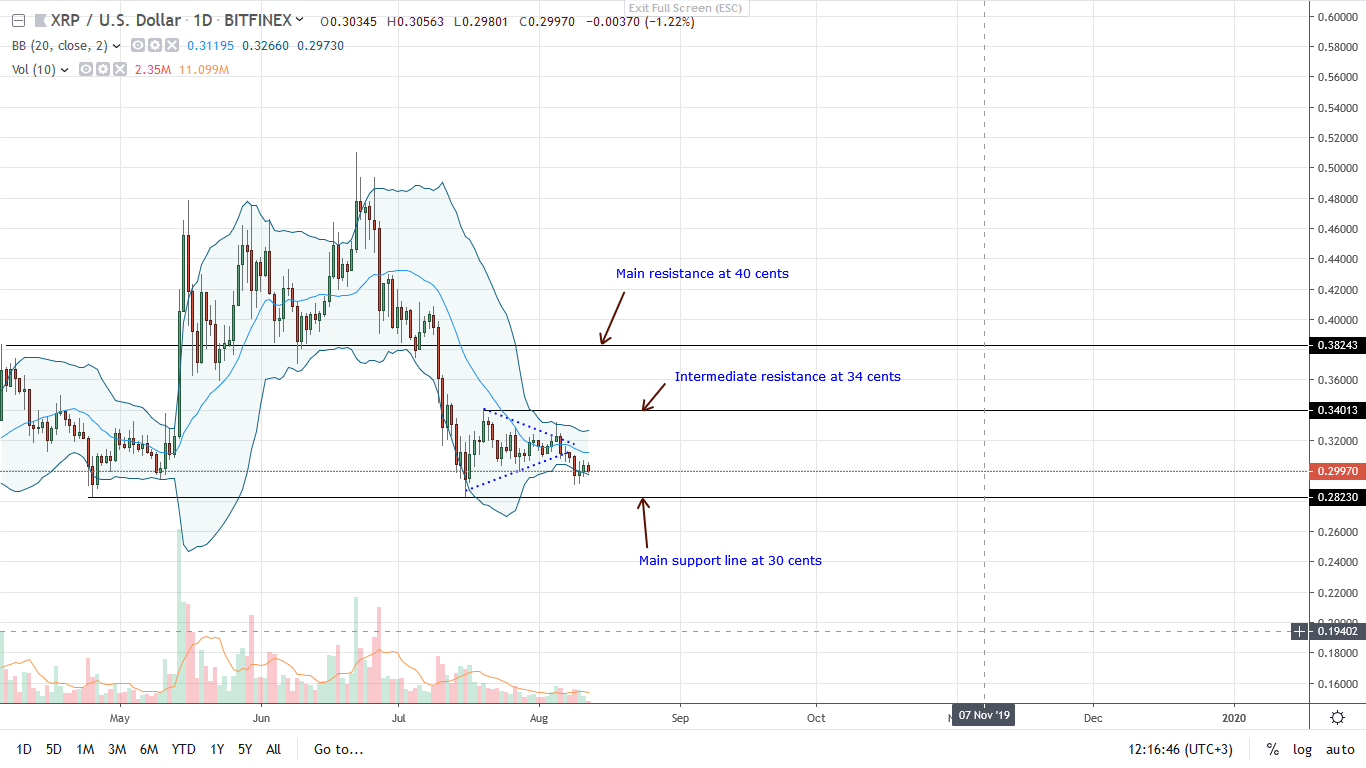 Like BTC, XRP prices are flat-lining, trading above 30 cents and technically bullish. Although there are hints of price weaknesses following the close below the main support trend line, the simple fact is that XRP is consolidating against the USD inside a narrow 10 cents channel with caps at 40 cents.
Even so, bears have the upper hand. Note that even after yesterday's reaction and reversal of the under-valuation of Aug 10, prices are trending inside Aug 9 trade range which is a confirmation of Aug 6 losses and of bears, from an effort versus result point of view.
Considering this weakness, traders should take a neutral stand until after there is a slip below the main support line at 30 cents or there is a sharp expansion of XRP prices above 40 cents, reflecting demand of mid-May. Ideally, the rally (or dump-nullifying this overview), ought to be with high trading volumes.
It would be perfect if these trading volumes sparking a rally above 40 cents exceed 187 million of May 14. Otherwise, any spike above 102 million of June 27 will be decent enough to signal a bull trend continuation. On the contrary, high level dumps below H1 2019 support will cancel this trade plan.
Chart courtesy of TradingView—Bitfinex
Disclaimer: Views and opinions expressed are those of the author and is not investment advice. Trading of any form involves risk.  Do your research.