Latest Ripple (XRP) News
If anything, Ripple Inc, the innovative San Francisco based company behind xRapid, xVia and xCurrent is successful despite hitches. By and large, cracking open the finance industry is always a tall order more so if the incumbents are geared to squeeze every last coin from users. SWIFT and other legacy options are profit driven but Ripple Inc solutions are changing this narrative.
Not only does it charge low fees for end users but plugging processor or financial institution will save costs should they opt for xRapid which leverage XRP for instantaneous payments. As they forge forward, they have a solid presence in the Middle East where SAMA, the main regulators of the KSA said they will promote xCurrent and in Kuwait where two of their leading banks are plugged in.
Meanwhile, the entry of Federal Bank of India means there are six leading banks in the sub-continent that are part of the RippleNet. Going by Asheesh Birla's words, the aim of Ripple Inc is to dominate India's cross border remittance and they are gradually making inroads even if the RBI is against cryptocurrency trading.
However, of interest in the burgeoning space, is the increasing number of xRapid users. As laid out in our reports, processors jumping ship and using a demonstrated solution in xRapid will no doubt drive demand lifting prices from spot levels spurring participation.
XRP/USD Price Analysis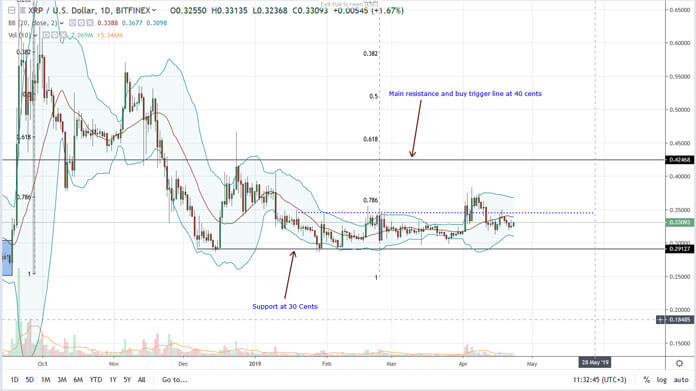 At spot rates, Ripple (XRP) is up 2.3 percent, lagging peers and back into an energy-sapping trade range. Nonetheless, the fact that it is within a 4-cents range but with strong support at 30 cents point at bulls. To reiterate, buyers are firm and in control despite recent draw downs and failure of buyers to drive prices above 34 cents.
For trend continuation and confirmation of Jan 30 and late Sep 2018 buyers, then prices must first edge past the 61.8 percent Fibonacci retracement level of Dec 2018 high low at 34 cents at the back of high transactional volumes.
That means, the wide-ranging bull bar thrusting above 34 cents volumes must exceed 32 million of Apr-11. When such prints out, then from an effort versus results point of view, bulls of Apr-2 will be valid and most likely the path towards 40 cents—our main resistance level and the upper limit of our trade range, will be unhindered as participants flow back.
Ideally, any high-volume close above 40 cents is the only trigger that would allow risk-averse, conservative traders to load up on pull backs with first target at 60 cents. At spot rate, risk-off traders should be involved with stops at Apr-15 lows and first targets at 40 cents.
Chart courtesy of Trading View—BitFinex
Disclaimer: Views and opinions expressed are those of the author and aren't investment advice. Trading of any form involves risk and so do your due diligence before making a trading decision.