Latest Ripple [XRP] News
Facebook, the giant social media network, has a lofty plot of launching their stablecoin, a cryptocurrency that is backed by different fiat currencies. Grand as it is, their plans have been met by regulator resistance with senior congressional finance committee members, global regulators and policy makers weighing in on the dangers posed by the anonymous stablecoin.
With most referencing Facebook's scandal-ridden past, their dalliance with Cambridge Analytica and the heavy fines imposed as a result of their data breaches, regulators are mostly wary of Libra. Rep. Maxine Waters, D-Calif., chairwoman of the House Financial Services Committee said:
"With the announcement that it plans to create a cryptocurrency, Facebook is continuing its unchecked expansion and extending its reach into the lives of its users."
Former Rep. Barney Frank, further added that Facebook's Libra will not doubt be a "hotbed" of issues ahead of the 2020 Presidential elections saying:
"There's already a concern that Facebook is being used by bad actors to disguise their identity and pretend to be other people — cryptocurrency enhances your ability to do that."
Similar to Facebook, Ripple has been under scrutiny with its native currency, XRP subject to regulatory uncertainties, brought in part because of Ripple's control over the cryptocurrency. Although there is a decentralization strategy in place, XRP prices are pinned down by the lack of regulator's clarity.
To this end, Ripple CEO, Brad Garlinghouse has wrote a letter to Congress. Quoting a section, he said:
"We urge you to support regulation that does not disadvantage U.S. companies using these technologies to innovate responsibly, and classifies digital currencies in a way that recognizes their fundamental differences—not painting them with a broad brush."
XRP/USD Price Analysis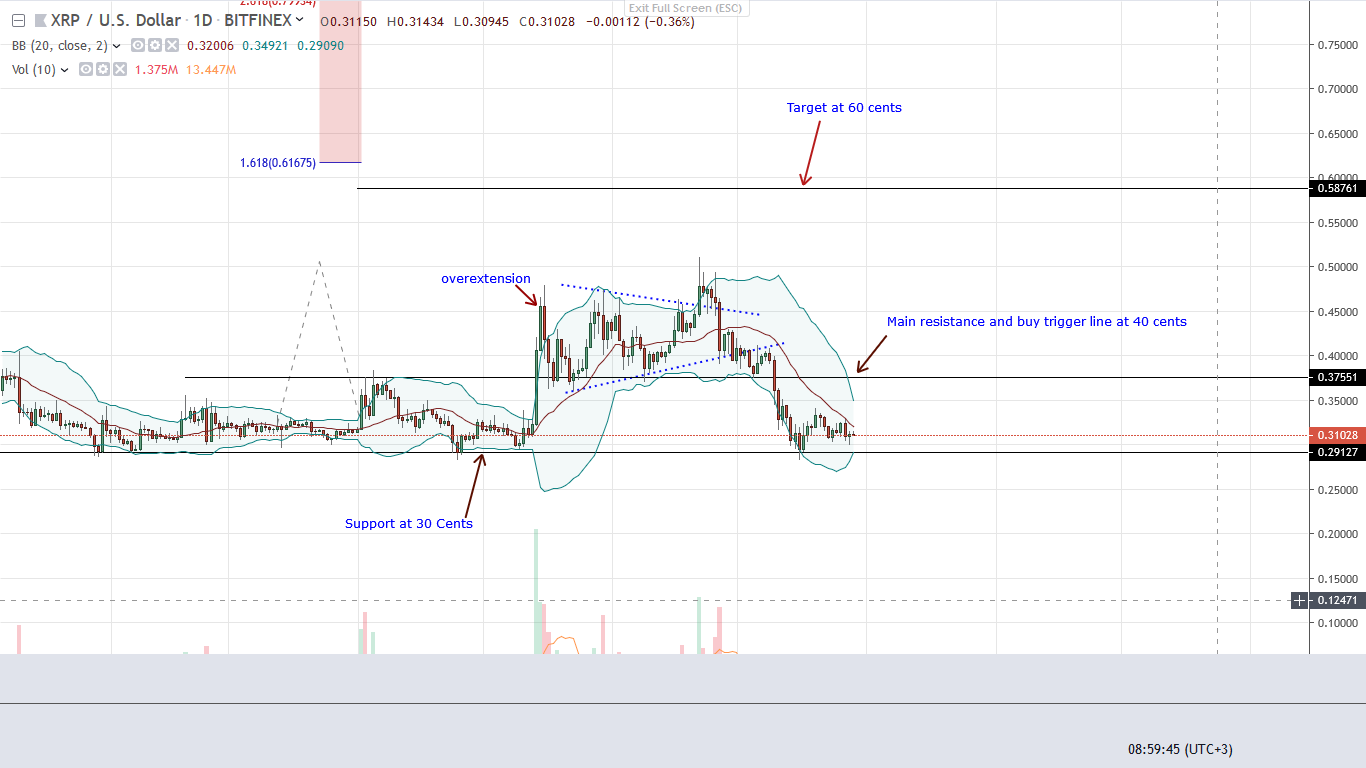 At the time of writing, XRP, like BTC and ETH, is under bear pressure, dropping 6.2 percent in the last week. Bullish, as the chart may indicate, there is a high likelihood that prices may tumble below the main support level of 30 cents in days ahead.
Even so, given the configuration of candlestick arrangement and the strong support of H1 2019 support, every low, for aggressive traders, should be a buying opportunity with fitting stop limit just below the 30 cents mark.
Extrapolating from this, fitting targets should be 34 cents and later 40 cents. However, the medium-to-long term price trajectory of XRP is dependent on the reaction of prices-due to bulls or bear influence, at 40 cents-assuming prices find support at 30 cents, or 30 cents-if prices drop below support.
In the case of the former, XRP would easily glide to 60 cents and later 80 cents in sync with the main trend definition of Sep 2018 bar that leads this trade plan.
Chart courtesy of TradingView—Bitfinex
Disclaimer: Views and opinions expressed are those of the author and is not investment advice. Trading of any form involves risk. Do your research.