Latest Ripple [XRP] News
There is progress as far as Ripple and their drive for dominating the global payment system is concerned. Weeks after their investment and literal resuscitation of Money Gram, word has it that American Express will opt to adopt xRapid.
With a foot print in the global payment system and working closely with Lian Lian of China, American Express stands a chance to break into the heavily regulated Chinese payment system. To make it even better, it is a member of the RippleNet, a suite whose members can chose to incorporate any of the three main solutions promoted by Ripple. Of the three, xCurrent is widely used but the number of xRapid could rise following the buzz around Money Gram integration.
Even so, as the competition heats up, Marjan Delatinne, who is Ripple's head of global banking and a previous employee of SWIFT is categorical that the San Francisco based start up is not at all competing with SWIFT. The latter is a behemoth by itself and used by more than 11,000 global banks.
Most importantly, it has been shaping the way value is moved for the last four decades. Despite increasing competition, it is dominant and evolving to check mate firms as Ripple.
Marjan, talking during the Blockchain Summit in London, said Ripple does complement SWIFT and are not at all competitors.
"We are two different things. We are not replacing Swift, as Swift has its own value," she answered, adding that banks could "take advantage of both."
XRP/USD Price Analysis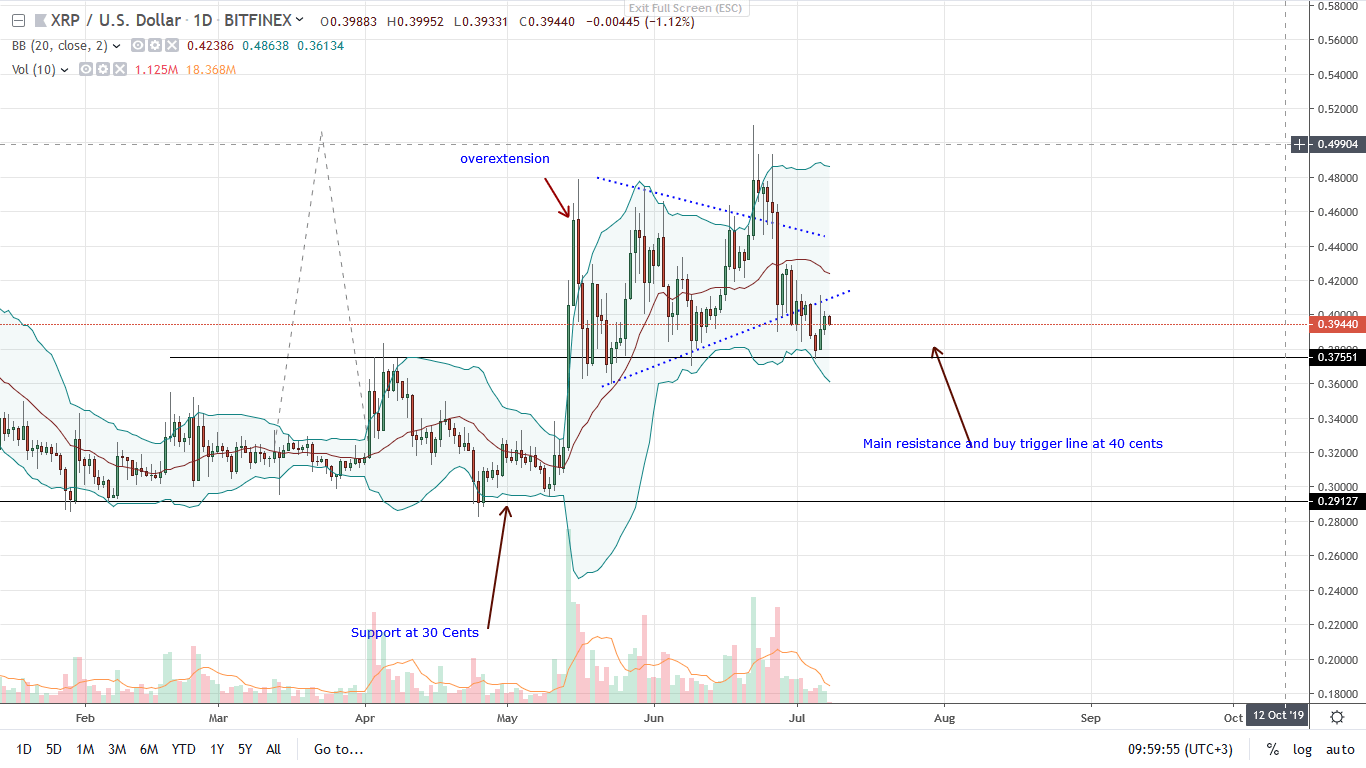 At the time of press, XRP prices are flat-lining. Oscillating within a larger 15 cents range with floors at 34 cents and caps at 50 cents, buyers have a chance. However, this is largely dependent on how prices trend in the next couple of days.
Although risk-off traders can buy the dips and take advantage of the lifting tides of various fundamental events, conservative and risk-averse traders should wait for a revival, driving prices above 50 cents.
Odds are prices will recover. Note that for the third time in six months, buyers are rejecting lower prices below 40 cents following the breakout of mid-May. Overly, this is bullish and therefore it is imperative that bulls build on this momentum.
Ideally, the complete reversal of June 27 losses could open the doors for a rally to 80 cents more so if the accompanying trading volumes propelling bulls exceed 113 million of June 22.
Chart courtesy of TradingView—Bitfinex
Disclaimer: Views and opinions expressed are those of the author and aren't investment advice. Trading of any form involves risk and so do your due diligence before making a trading decision.