Latest Ripple [XRP] News
Blockchain as a disruptive technology has been around for roughly ten years. Although conceived in the 1990s, the technology blossomed after the disastrous Great Financial Crisis. Bitcoin leads and Ripple, is trailing the world's most popular digital asset. At Ripple, the idea is to decentralize the way financial transactions is done. Initially, their aim was to create a platform for banks and financial institutions.
They have been pretty successful at that. Through the Ripple Net there are more than 200 global banks forming the base of an internet of value web. Payment processors are involved and gradually, Ripple Inc and Brad Garlinghouse are cementing their position in South East Asia.
Enabling them is Yoshitaka Kitao and his SBI Group. Already, they have an exchange that supports XRP and their involvement in the SBI Ripple Asia as well as Money Tap has been phenomenal for Ripple. Responding to Resona Bank departure, seven more banks joined the network.
According to XRP Research Center:
"SBI Group announces that SEVEN additional Japanese banks (20 in the aggregate as of today) have agreed to invest in Money Tap, Co. Ltd, a brand-new company operating a domestic settlement system for digital payments that Run on Ripple."
Although the conversion of banks from xCurrent to xRapid is limited, there is confidence that this will soon happen. Regulations could be limiting but once technical hitches and uncertainty is ironed out, XRP prices shall inevitably correct upwards.
XRP/USD Price Analysis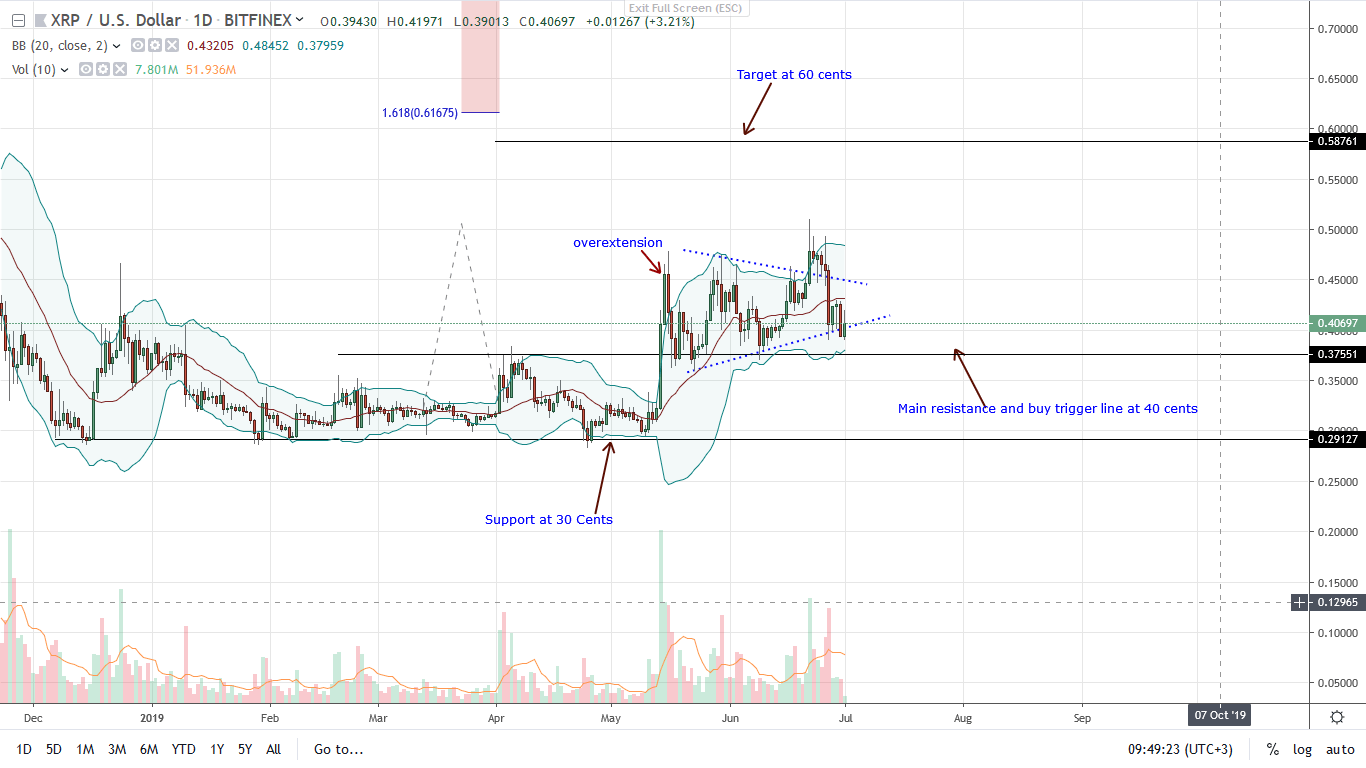 Price wise, XRP prices are quite literally, "all over the place". Even so, XRP is bullish. Note that from the chart, prices are oscillating within an increasing wedge, a bull flag. This cements traders' conviction that buyers are in charge.
For confirmation, it is ideal that prices close above 50 cents as buyers of May 2019 are confirmed as bulls ready for a path to 80 cents and even $1.40.
As it is, there is opportunity for risk-off traders. On every dip above 34 cents, these traders can buy the dips with first targets at 60 cents and later 80 cents.
Meanwhile, risk-averse traders can wait for a comprehensive close above 50 cents or June high before buying the retracement with similar targets. Conversely, losses below 34 cents and more crucially, 30 cents immediately invalidate this trade projection as reiterated in previous trade plans.
Chart courtesy of TradingView—BitFinex
Disclaimer: Views and opinions expressed are those of the author and aren't investment advice. Trading of any form involves risk and so do your due diligence before making a trading decision.