Latest Ripple [XRP] News
The decision by JP Morgan and Chase to launch their stable coin, JPM Coin got a lot of media attention. The excitement mostly stems from Jamie Dimon's previous comments on Bitcoin and although he has since tone down of his jabs, their move is surely a direct endorsement to crypto.
But, what is a worry is if banks follow the same route, creating walls between them as they embark on working towards reducing costs and improving efficiency of cross border bank transfer. While this is not what we want to see as there are ready made solution–InterLedger Protocol, the move will shift from individuals to firms and corporates.
JPM Coin is more of a stable coin designed for inter-bank settlement as they try and fortify their turf against emerging, cost saving and efficient fintechs as Ripple.
People compare #XRP to #JPM Coin. They miss the point. JPM Coin is an IOU, XRP is not. XRP competes with #SWIFT as a settlement layer, JPM Coin is built on top of it. XRP can be decentralized, #JPMCoin can't.

— Weiss Crypto (@WeissCrypto) February 15, 2019
All the same, we expect the multi-trillion-dollar space to saturate with new entrants trying to outmuscle and eventually outcompete competitions. Ripple Inc is leading the way and while they are a settlement layer that can be decentralized unlike JPM Coin, it appeals to firms and ordinary users.
Already, Spend.com–a fintech firm that has a working partnership with Visa–now allow users to instantaneously sell their XRP for fiat and spend them in more than 40 million locations across the globe. This sort of adoption is what we need and with time, it will snowball leading to increasing demand and consequent pump of XRP prices.
XRP/USD Price Analysis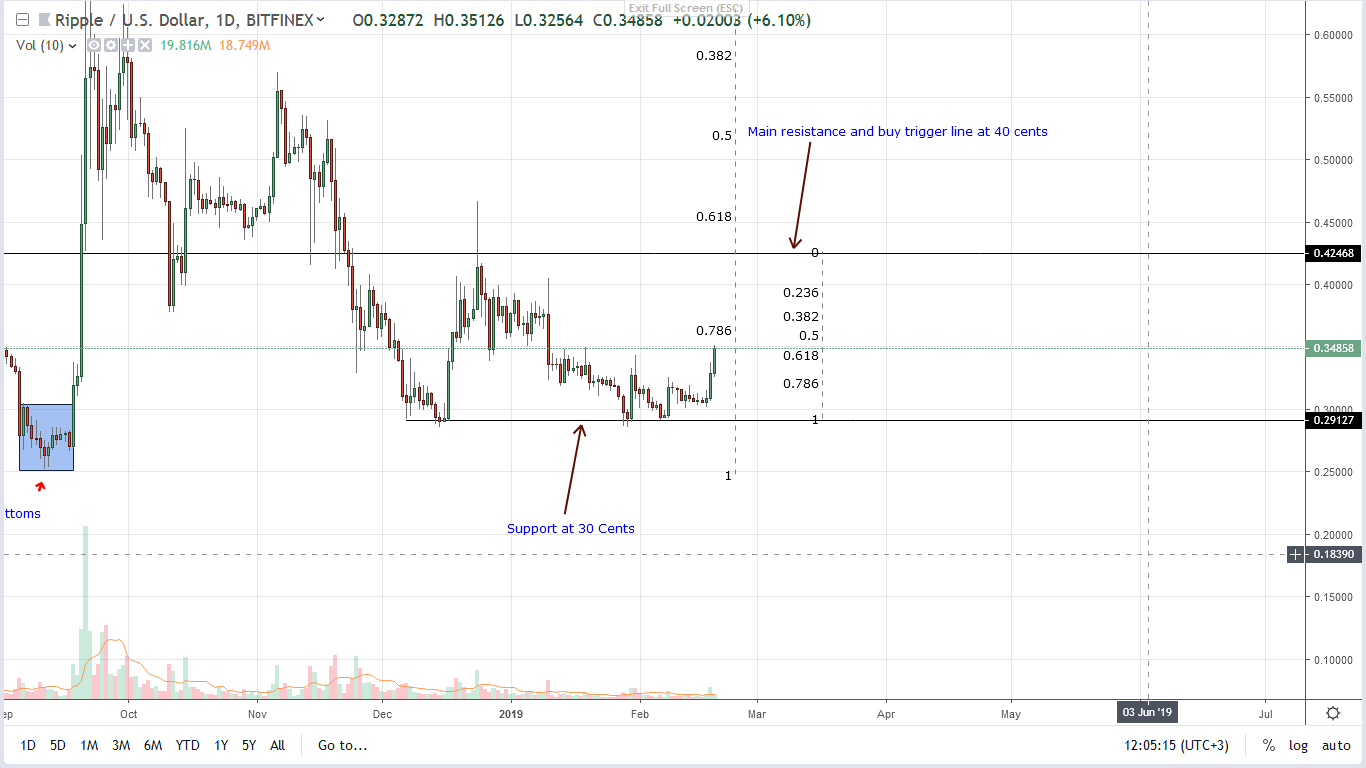 Meanwhile, XRP prices are flying. The pump is on and in the last day, the third most valuable coin is up 9.1 percent and 12.4 percent in the last week. Considering the direct correlation with BTC prices, expansion of BTC had a magnifier effect which we expect to last especially in altcoins as XRP.
All the same, from the chart, XRP bulls are rising from the double bar bull reversal pattern of Feb 7-8 as bulls of Jan 30 are confirmed. Now that trade conditions of the last XRP/USD plan are live, aggressive traders can begin loading up on pullbacks with first targets at 40 cents.
Conservative, risk-averse traders should be on the sidelines until after prices rally above 40 cents at the back of high trading volumes exceeding recent averages. After that, assuming there is a comprehensive break above 40 cents, first target will be at Dec 2018 highs of 60 cents and later 80 cents.
All Charts courtesy of TradingView – BitFinex
"This is not investment advice. Do your research."