Latest Ripple [XRP] News
There is an air of expectation as far as cryptocurrency as an emerging sub-sector is concerned. Perhaps it is because of the recent media coverage thanks to President Trump's dismissive remarks of Bitcoin and cryptocurrencies and the ensuing debate by congressmen.
While it is now an open secret that the majority are not aware of cryptocurrencies-and surprisingly are offering solutions in ignorance, the role of Facebook cannot be discounted.
True, there are issues with the social media giant tracking their users, trying to scrape as much data as possible for their robots—after all it's a tech company, a recent pool now shows that 17 percent of the 600 people surveyed are willing to trust Facebook with their funds.
However, it is not about trust or their leaning to Facebook as a behemoth, it is the revelation that despite the several data breaches, dress down and outright attacks, Libra, unveiled less than five weeks back, is more popular than XRP and a majority of altcoins.
Bitcoin, the pioneering and the most valuable digital asset, is popular. The study, done the social trading platform eToro, cements the general belief that Facebook will introduce new demographic to cryptocurrencies.
Talking to Forbes, Guy Hirsch, the Managing Director of eToro within the US said:
"We believe that crypto and the blockchain technology that underpins it will be essential to tomorrow's economy. By introducing the concept to a new audience, Libra could play a vital role in the evolution of decentralized and more democratized finance."
XRP/USD Price Analysis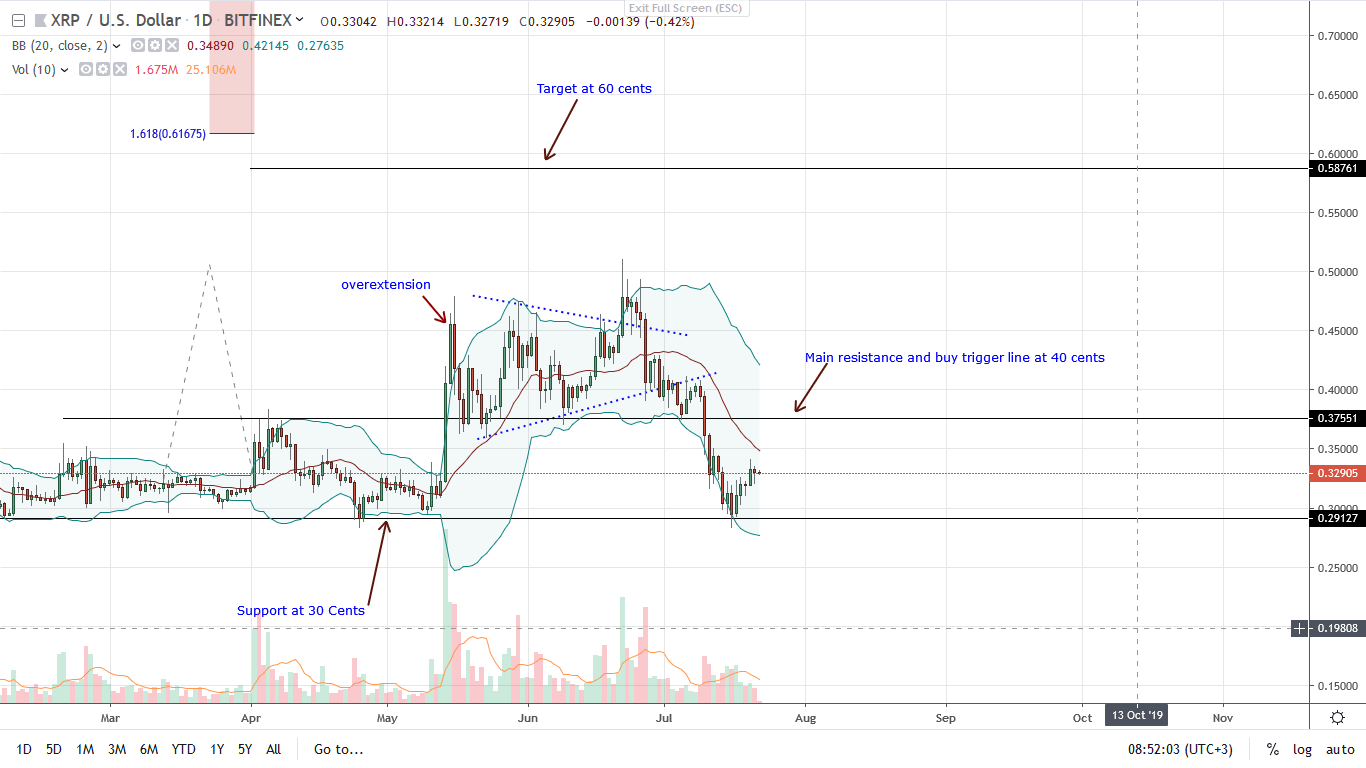 Despite citation from Bank of America, XRP market dominance is quite low at 4.89 percent. Even so, in light of the recent technical candlestick arrangements, there is a ray of hope as bulls are concerned.
Rejecting bears in the last week and day, there is a real chance that prices will edge higher in days ahead. It is easy to see why. Note that aside from finding support from Q1 2019 main support at 30 cents, the recent wave of higher high is at the back of increasing trading volumes.
Signaling a trend change is the double bar bull reversal pattern of July 16 and 17 confirmed by subsequent bars, hinting of support. Although there is a real chance that sellers might flow back, the possibility of a snap back to trend in line with May 2019 upswing is high.
Therefore, aggressive traders can buy the dips with stop limits below July 17 low while targeting 40 cents. Meanwhile, conservative traders can wait for comprehensive break and close above 40 cents before fine-tuning entries in smaller time frames with targets at 50 cents and 80 cents.
Chart courtesy of Tradingview—Bitfinex
Disclaimer: Views and opinions expressed are those of the author and is not investment advice. Trading of any form involves risk.  Do your research.