It has been an interesting week for Ripple and XRP. Though prices are still tepid with no major gains to the upside, Ripple as a party seeking to advance XRP and related use cases, is heading in the right direction.
Aside from obstacles on the regulatory front–a thorn for XRP holders, the milestone made by Ripple—the for-profit company which may opt for an IPO by the end of Q1 2021, can't go unnoticed.
Specifically, the announcement of PayID is massive for the ecosystem.
Ripple joins PayID
PayID is a global instant payment network which was formed by a host of leading faces in blockchain and DLT including Brave, Huobi—the Singapore-based cryptocurrency exchange, and Ripple—the San Francisco based remittance firm.
In total, there are 40 companies that joined the initiative, a coalition to further ease the movement of funds across the world at any point of time and any day of the week.
Interestingly, for the more than 100 million customers associated with the collaborating companies, all they will need to send money across borders is their email address or a phone number linked to their bank account.
Crypto will be a big component of PayID
There will be no need of complicated bank numbers, SWIFT codes or other details when currently needed to send funds.
In this arrangement, Mike Kayamori, the CEO of Liquid—a cryptocurrency exchange, said digital assets will be a key component in such a way that fiat and crypto payment will be interoperable and convenient for the end user.
Ripple Price Analysis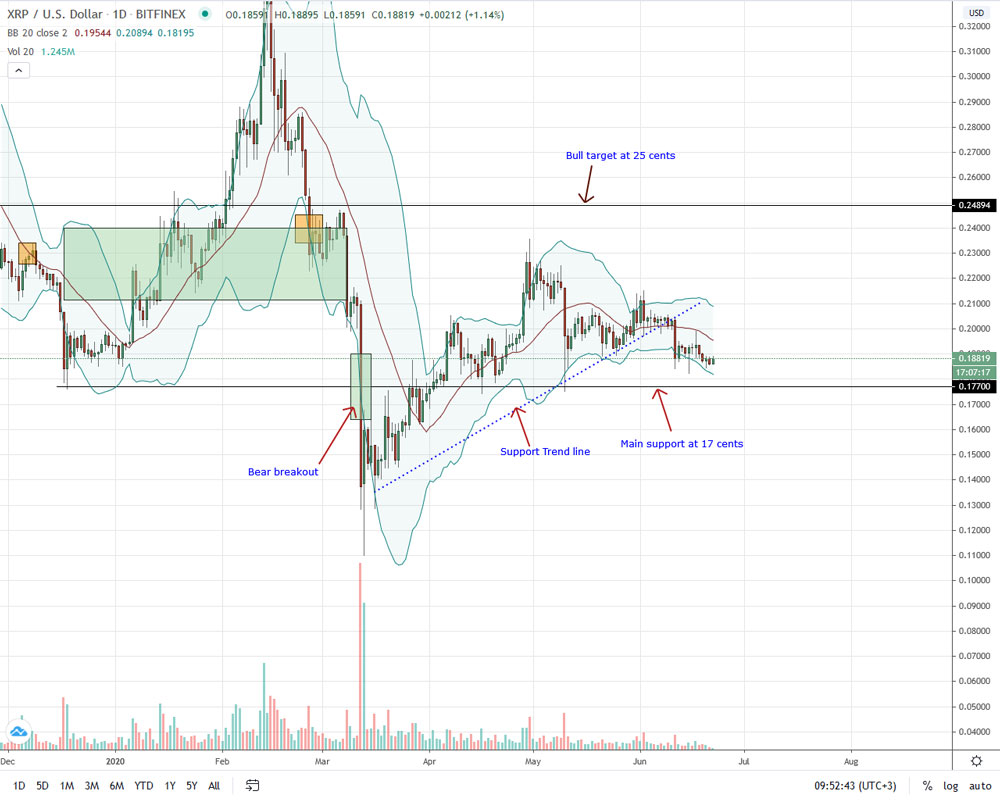 XRP is currently trading at $0.187, down two percent for the week and relatively stable against the greenback in the last trading day. Week-to-date, XRP is still lagging against BTC and ETH.
Technically, XRP remains in consolidation and is in the short-term, bearish. Since buyers failed to drive prices above $0.25 with high trading volumes, the court has been left open for sellers.
In the daily chart, prices are trending lower and there is a likelihood that sellers will dump some more this week. Noticeably, prices are trending below the main support trend line—now resistance, and inside the conspicuous bear candlestick of June 11, 2020.
This, from an effort versus results point of view, is bearish and aggressive traders may search for shorting opportunities in lower time frames.
Unless otherwise there is a sharp uptick of prices and trading volumes thrusting prices above $0.203, odds are XRP may fall back to $0.17 as prices sync with sellers triggered by May 10, 2020 candlestick.
---
Disclaimer: This is not investment advice. Opinions expressed here are those of the author and not the view of the publication.