Ripple has footprints in Middle East, Africa, and South East Asia. Their core objective is to build use cases that advances their solutions.
And it is expected since Ripple's goal is to drive down the cost of remittance and to provide solutions to those who truly need them. That's why in Central and South Africa there is Mojaloop whereas in Western Africa, xPring is funding several initiatives in Ghana.
Still, adoption remains low. Now, Ripple wants to build corridors from and to the U.S. states where transactions will be settled via XRP through the On-Demand Liquidity (ODL).
Previous endeavors have been successful with the US-Australia corridor where transactions are executed via partner exchanges have been overwhelmingly successful with record trading volumes.
A Brazil Corridor
The same has been registered with those of US—Mexico.
In a recent YouTube interview, Marjan Delatinne—the Ripple Head of Global Banking, said Ripple will expand to Brazil, building an ODL-powered corridor:
"We extend these services now to more and more corridors typically exotic corridors with lots of challenges, like [the] Philippines [and] very soon within Brazil, so let's say there is a big agenda and roadmap on that."
"The way we are working on this is using XRP—which is our native crypto asset—as a bridge between two fiat currencies. And this is completely revolutionizing the way that the pre-funding is happening today."
ODL transactions settle in seconds and studies show that adopting companies can reduce operational costs by up-to 70 percent.
XRP/USD Price Analysis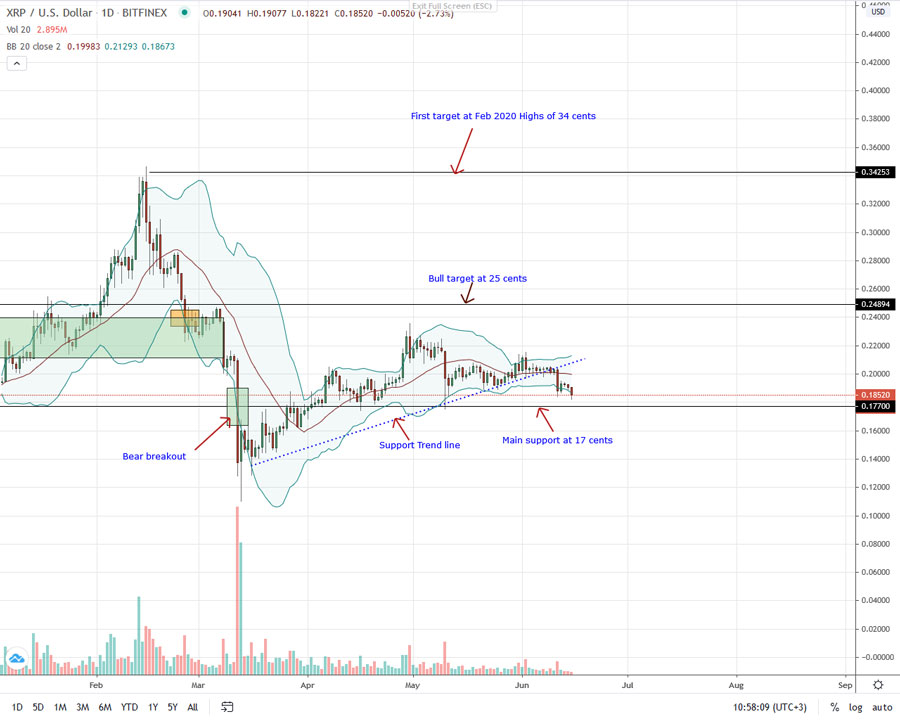 Week-to-date, XRP is down nine percent, and is back below the $0.20 level. Even though there is optimism and that buyers may triumph, chances are bleak judging from price action.
Movements in the weekly chart is restricted and prices have fell back into the descending channel. In the daily chart, the XRP price has dropped below the main support trend line of March-June 2020.
And accompanying this drop was the sharp uptick of trading volumes on June 11, 2020. Technically, this confirmed the double bar bear reversal pattern of June 1-2, 2020 as bulls failed to conclusively reverse losses of May 10, 2020.
Therefore, from an effort-versus-result point of view, sellers are in control, a fact that will be cancelled once there is a solid break above $0.2150 preferably with high trading volumes exceeding those of May 10, 2020.
As it is, XRP may fall back to May 10, 2020 lows of around $0.17 as prices consolidate. Any drop below $0.17 could see XRP drop to $0.11, or 2020 lows.
---
Disclaimer: This is not investment advice. Opinions expressed here are those of the author and not the view of the publication.