RippleNet—the flagship suite of tools by the San Francisco remittance company, Ripple, is now present in over 55 countries, offering more than 95 currency pairs.
Meanwhile, the On-Demand Liquidity (ODL)—a product that leverages the XRPL and XRP for cheap and instantaneous, serves five corridors in the US, Europe, South America, the Philippines, and Australia.
From information derived from the RippleNet's newly re-designed website, it is emerging that exchanges and wallet services are the most common businesses operating from the open source digital ledger.
Even so, most RippleNet partners operate from the platform, mostly integrating xCurrent and not ODL partly because of regulatory concerns around the token.
Brad Garlinghouse's Concerns
It is precisely because of the lack of clear regulations that the CEO, Brad Garlinghouse, is convinced companies will move abroad to where there are well developed laws.
This is on the background of the U.S. Department of Justice (DoJ) releasing the Cryptocurrency Enforcement Framework that the CEO slammed as contradictory.
In a tweet, he predicts:
"A 70+ page contradictory report is not regulatory clarity — many responsible private players are trying to follow the rules, but that becomes increasingly hard when there's no single arbiter of the law (5+ government agencies with different Point of views on crypto)."
Adding:
"We need a framework (like DCEA) that provides clarity, protects consumers AND fosters innovation in the United States or companies will move their investment (or whole company) overseas."
Even so, the DoJ emphasizes the need of a close cooperation between private crypto companies and regulators to root out crime.
Ripple Price Analysis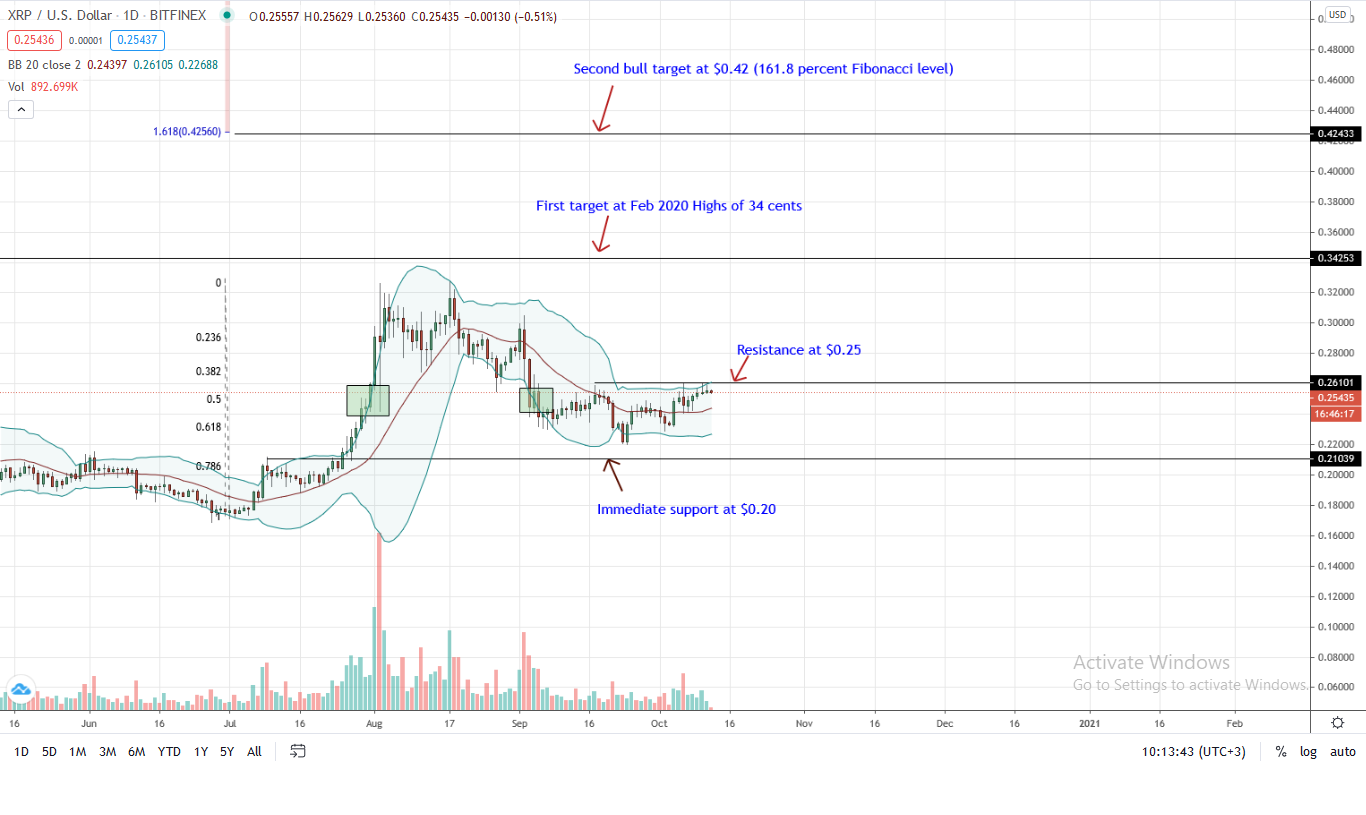 After last week's gains, the Ripple price was one of the top performers. At the moment, trackers indicate that the coin is trailing both the BTC and ETH, losing roughly three percent. Notably, the XRP price is up three percent versus the USD.
From the daily chart, bulls lead. After breaking and closing above the 20-day moving average (the middle BB), trading volumes are expanding as bars band along the upper BB. This hints of demand in lower timeframes, suggesting a possible continuation throughout this week.
Last week's gains confirmed buyers' attempt to push for better prices after sharp losses in the first half of September 2020.
Visibly, the reversal was from around the 61.8 and 78.6 percent Fibonacci retracement level of July to Aug 2020 trade range. If history leads, odds of XRP prices rallying to $0.32—or Aug 2020 highs, remain high.
Before then, the first bull target is at around $0.30.
Loses below $0.23 could spark losses towards $0.20 or $0.17 in the medium term.
Chart courtesy of Trading View
---
Disclaimer: Views and opinions expressed are those of the author. This is not investment advice. Do your research.