Ripple, the remittance firm leveraging the blockchain to move value, will be sued by the United States Securities and Exchange Commission (SEC).
Ripple, XRP, and Remittance
The company, though dominant and holds the majority of the 100 billion XRP coins in circulation, had a decentralization strategy in place. It also went to great lengths to disassociate itself with Ripple Labs, the official issuer of XRP.
The coin is native to the XRPL. Just like Ethereum and Bitcoin networks is open source, funded by the community and Ripple.
On the other hand, Ripple–while holding the over 50 billion XRP that were pre-mined, has several products.
One of them, On-Demand Liquidity (ODL), uses XRP for cross-border fund transfer.
SEC Headwinds
The SEC doesn't have a problem with ODL and Ripple as a firm.
Their main argument is that XRP is an unregistered security compliant with the Howey Test classification criterion. Therefore, Ripple Labs should follow their rules.
They are now suing Ripple, Chris Larsen, and Brad Garlinghouse for raising $1.3 billion after selling unregistered securities to Americans.
The plaintiff accuses the company of promising returns on their investment. After posting losses, they claim compensation.
Will Coinbase Delist XRP?
Albeit rumors that Coinbase will delist XRP now that it is a security, Brad Garlinghouse is confident that they will emerge victories.
They have been in operation for over eight years, he explains. During this time they received an endorsement from FinCEN as a utility.
Ripple Price Analysis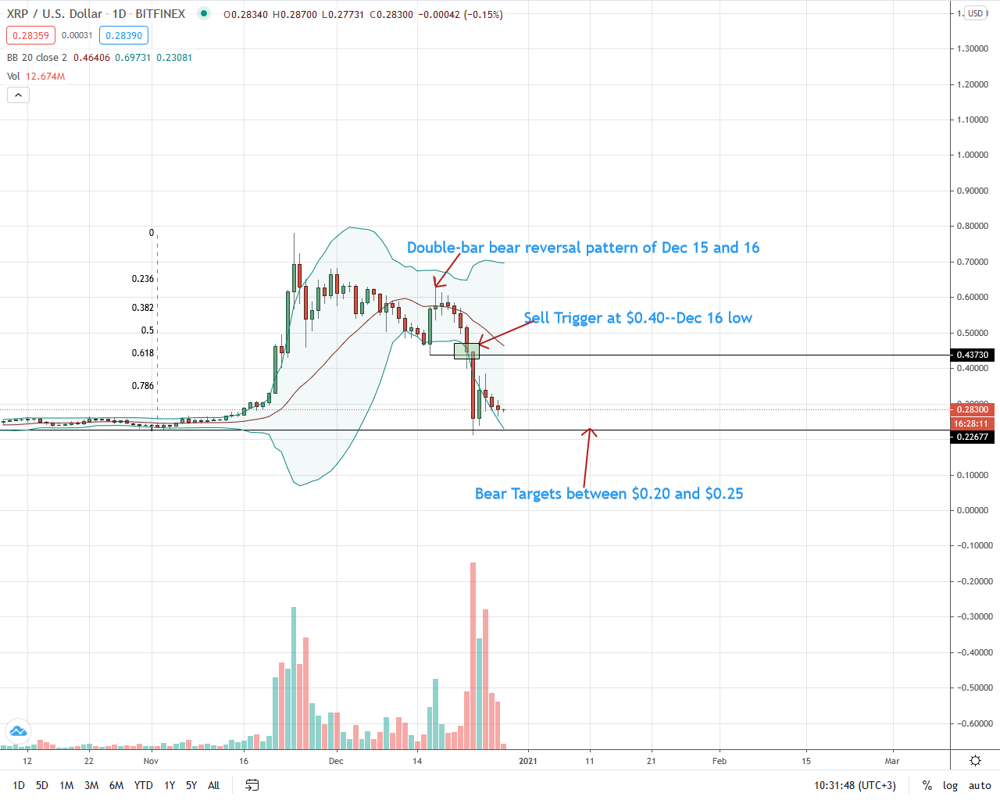 If the chart guides, then November is a lost month for traders. The free-falling digital asset completely reversed gains of late November and is not stabilizing after losing over 50 percent from Nov 2020 peaks.
While bears are in control, the XRP price is stable and ranging inside the bull bar of Dec 24. Encouraging for buyers, it closed outside the lower BB pointing to a possible undervaluation. However, since the path is defined and prices are back to September to October 2020 highs—previous resistance now support, in a re-test, the XRP/USD price could temporarily find support before further degradation.
The immediate-term trend will be determined by reaction at Dec 24 high of $0.37, $0.25, and $0.20 on the lower side. A break below $0.20 could see the XRP price tumble towards $0.12—2020 lows.
On the flip side, gains above $0.37 will provide reprieve for holders, and might be the foundation for recoveries especially if it is accompanied by higher trading volumes exceeding Dec 24's (Bitfinex data).
Chart Courtesy of Trading View
Disclosure: Opinions Expressed Are Not Investment Advice. Do Your Research.
---
If you found this article interesting, here you can find more Ripple news