Latest Ripple [XRP] News
Even as the market experience one of the largest drawdowns in recent history, heavy weights are making their forays. Starting with Fidelity Investment—the asset management fund that with over $2.1 trillion under administration and Goldman Sachs–the world-renowned investment bank interest in setting up a trading desk, Gazprombank—the banking division of the $112.2 billion Russian company Gazprom, now plans to offer crypto services in partnership with Metaco.
The Swiss company shall allow Gazprombank to utilize its custodian service product, Silo—which they claim to allow custodian to seamlessly integrate digital asset into their operations. But, as a far as XRP is concerned, it has to be the increasing development and attempts by different XRP enthusiasts and developers to integrate XRP services with mainstream tech as Alexa and Siri.
Days after a Twitter user Nixer successfully incorporated XRP sending services with Alexa, another user managed to fuse XRP with Siri voice commands. At the moment, it is not clear how Apple will handle this but assuming it get the go ahead, then this will hopefully encourage more development in the space.
That's not all, according to a latest CoinBase blog, the US crypto exchange is now exploring 30 digital assets including XRP. If they meet all their criteria, then the coin would be added. Considering XRP is second most valuable asset in the space, it is likely that it shall get the node of approval ahead of ADA or XLM. The only hitch that could hamper listing is the regulatory hang around XRP legitimacy as a security or a utility.
XRP/USD Price Analysis
Daily Chart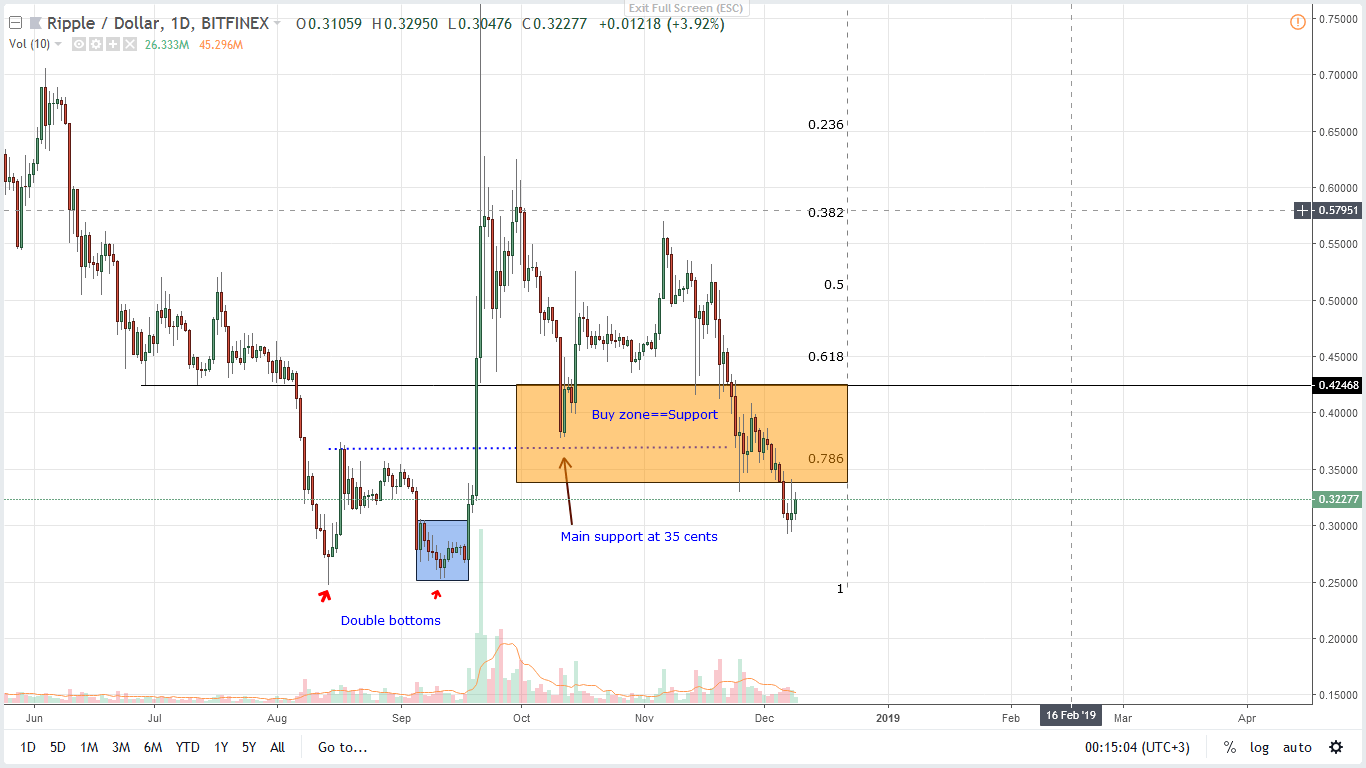 Technically and as reiterated in previous XRP/USD trade plans, XRP is bullish but XRP prices is below 30 cents—our support levels.
But, even with this, we expect influx of XRP buyers to drive prices above 35 cents completing the double bar bull reversal pattern of Dec 7-8. Notice that prices are roughly 8 cents away from our main support level at 25 cents or Sep lows.
Regardless, XRP/USD is still trending inside Dec 8 high low and we expect bulls to print higher rejecting lower lows thanks to surge in volumes on Dec 7-8.
4HR Chart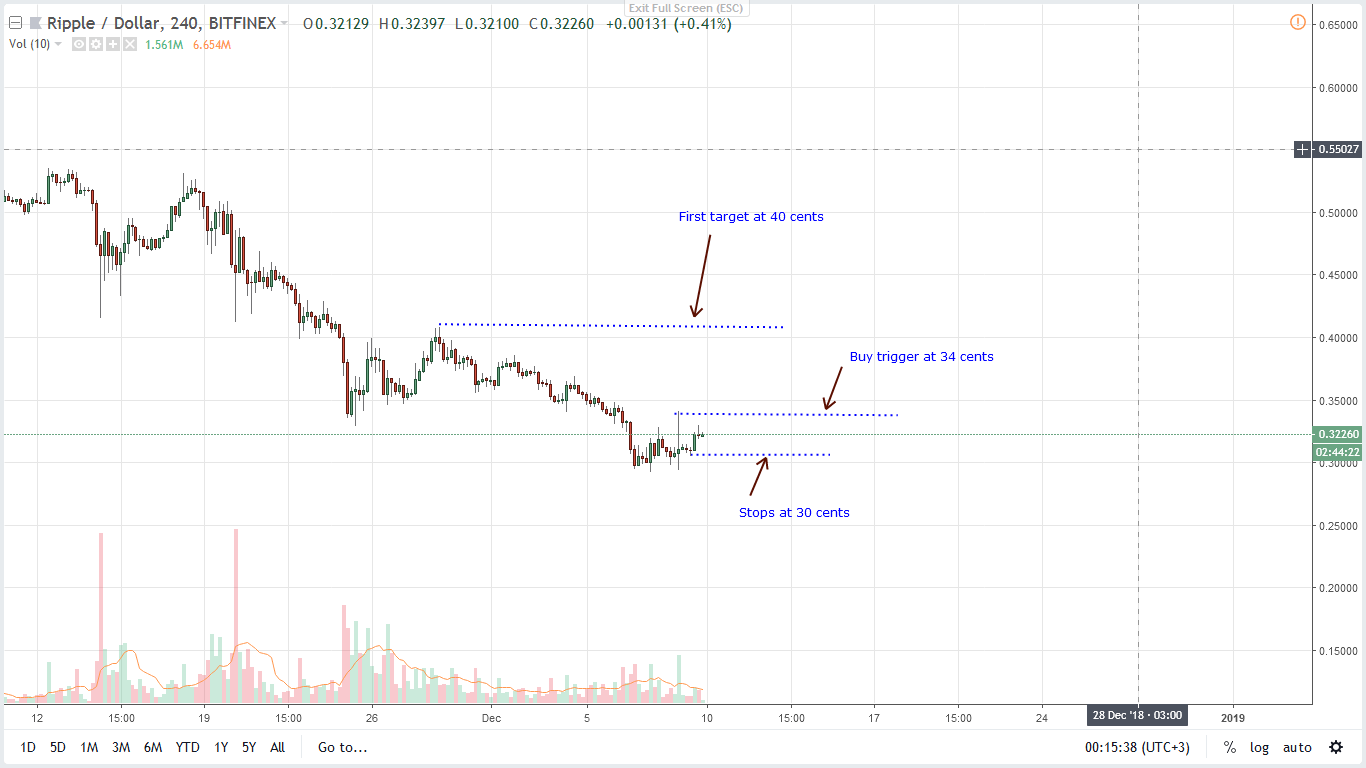 Here's the thing, we are technically bullish on XRP. As long as there is increasing volumes and prices are expanding, then bulls are in charge.
Now, from candlestick arrangements, the short to medium term trajectory of XRP depend on the high-volume bar of Dec 8 —23 million versus averages of 9 million.
If there is increasing demand and prices edge past 34 cents today, then XRP traders should load on pullbacks or at spot with first targets at 41 cents with stops at 32 cents.
Trade Plan will be as follows:
Buy: 34 cents
Stop: 32 cents
First targets: 41 cents
Disclaimer: Views and opinions expressed are those of the author and aren't investment advice. Trading of any form involves risk and so do your due diligence before making a trading decision.