Yesterday, the crypto community was shocked to see that there was another crypto asset in the 2nd place of the top 100 cryptocurrencies by market cap, instead of long-time second largest crypto asset, Ethereum (ETH). And the virtual currency that kicked Vitalik's coin out of its accustomed ranking spot was Ripple (XRP).
During a bullish rally in which almost all cryptocurrencies saw their value increase notably, the XRP pressed the turbo button and skyrocketed its way towards the heights, registering around an 80 % in gains. Its market cap soared from US $ 19.3 billion to $ 27.5 billion in just 48 hours, surpassing Ethereum's market cap of 23.3 billion dollars at that moment.
This made Ripple the second largest cryptocurrency in terms of market share over the course of four hours, and it triggered the alarms of all the crypto community, especially those of the overthrown crypto asset.
However, the party crashed for the XRP when it topped at the aforementioned amount, then began to lose momentum. This was used by the ETH, which hit the gas pedal and gained about $ 2 billion and located at $ 25 billion, reclaiming its silver crown. At press time, Ripple has been unable to surpass it again.
xRapid could have been the fuel of this rally
Much to the dismay of Ethereum supporters, Ripple's XRP achieved something not usual in the top 3: a flippening. Although the victory was short-lived, the fact that this token managed to increased its market capitalization beyond that of Ethereum is noteworthy, especially if we take into consideration that Ripple has been working lately in a new product that is expected to improve cross-border transactions drastically.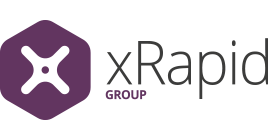 xRapid – the next product by the frictionless blockchain – is expected to hit the market next month, and it will represent a huge improvement from xCurrent, the blockchain-based platform used by banks and other financial institutions to keep track of cross-border payments.
What makes xRapid different from its predecessor is the use of XRP for executing such transactions. But the real deal of this product is the fact that, if successful, it'll prove that cryptocurrencies are not as useless as several banking institutions and other financial entities have stated in the past.
This could give Ripple a boost in its market cap, thus threatening Ethereum with another flippening – and this time, for real.