Phyllis J. Hamilton of the US District Court for the Northern District of California has consolidated the two class action lawsuit against Ripple. According to reports, the merger will give investigators time to review facts while saving time and resources.
"Relating the BMA action to this action would avoid the duplication of labor and conflicting results that might otherwise arise. Plainly, a core contention at issue in this litigation — whether XRP qualifies as a security under federal and California state law — is novel and nuanced."
"While the court is less concerned about potentially conflicting results, its determination of that core contention, in addition to that of the other questions presented in this action, will require significant labor."
At hand are two cases against Ripple where plaintiffs claim that the payment company first violated the advertising laws of California, and the second—which is the latest, that XRP is an unregistered security.
The first case pitting Ripple against the law was presented by Bradley Sostack back in 2018 and is one of the long-standing case that can be consequential for the for-profit company and by extension XRP. Ripple applied for a dismissal back in Feb 2020, a request which was denied.
XRP has high inflation unlike Bitcoin
Meanwhile, a Messari finding shows that XRP inflation is the highest compared to other high cap altcoins.
At over 20 percent over the last year, Ripple seems to be weighing down on prices by constantly releasing coins as other networks slash down their yearly emissions.
The Bitcoin network has slashed theirs by half to roughly three percent rivalling that of gold.
XRP/USD Price Analysis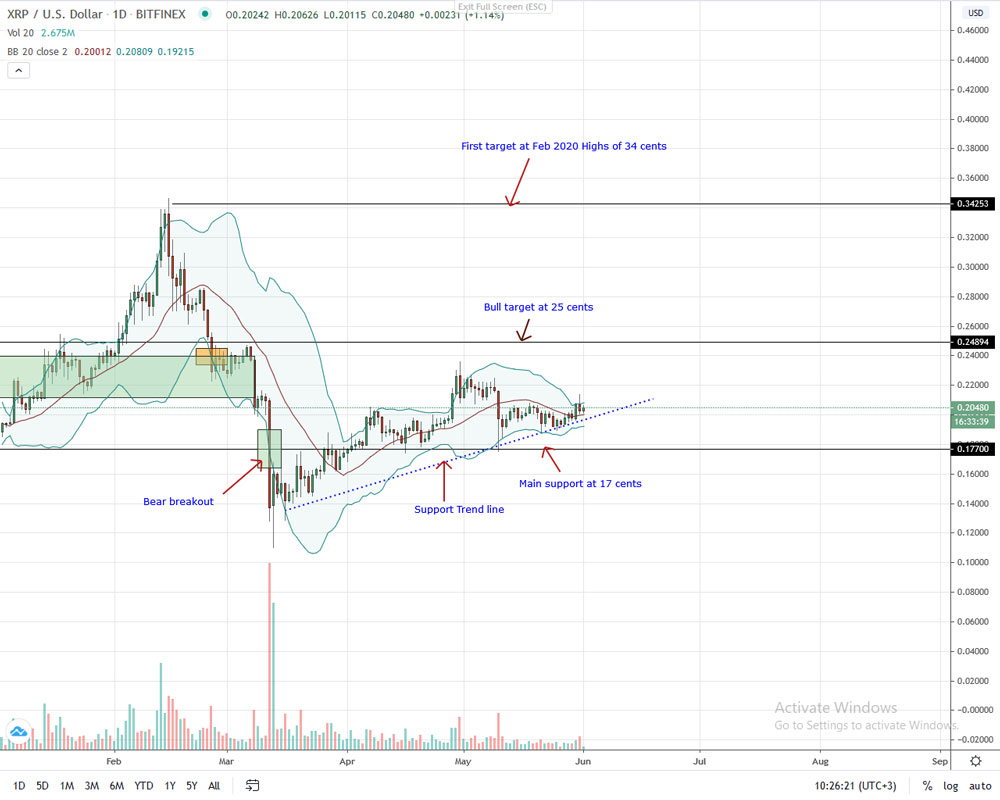 Week-to-date, XRP is up six percent and has encouragingly closed above the 20 cents mark. Although it lags the performance of other coins, XRP bulls have reversed losses of May 10. Still, from an effect-versus-results point of view, sellers may press lower especially if buyers fail to satisfactorily close above May 10 highs of around 22 cents.
The immediate support line is the flexible 20-day moving average or the middle BB, the three-month support trend line and 17 cents. A close below this accumulation zone could trigger a sell off towards 2020 lows.
On the reverse side, the $0.218 region, a close above May 10 highs, may trigger aggressive traders into action.
Not only will XRP buyers be squarely in charge but prices will sync back to trend building the foundation for a possible close above May 2020 highs and 25 cents.
A breach above 25 cents could see XRP soar to Feb 2020 highs of 34 cents.
---
Disclaimer: This is not investment advice. Opinions expressed here are those of the author and not the view of the publication.