On December 7, cryptocurrency mining website NiceHash suffered from a breach in its security at the hands of a hacker, who took away up to $ 62 million worth of Bitcoins.
Although reported previously as a maintenance routine, the team behind said website announced via a post on Reddit that, in fact, they were victims of a hacking and as a result, all operations were paused for a whole day. "Unfortunately, there has been a security breach involving NiceHash website. We are currently investigating the nature of the incident and, as a result, we are stopping all operations for the next 24 hours." they stated.
Much to users' fears, the team confirmed the theft of all Bitcoins stored in NiceHash's wallet, though they didn't detailed the exact amount of money stolen in this breach. However, a wallet address users found was shown to have held a total of 4,736.43 BTC, worth of more than $ 62 million by that moment, draining it out in six transactions. About the measures and actions to follow, they stated that were working with all relevant authorities and law enforcement on due investigations, besides that that they'll be conducting on their own.
Good news for its users
By that moment, users were hanging clueless about whether or not their wallets would be restored, a fear exacerbated by the company's representatives declining to talk on this matter when holding a Facebook Livestream the day after the attack.
Yesterday, however, a letter was send to these users confirming the restoration of their wallet. It stated:
"We are happy to announce we have been able to reserve the funds required to restore balances from a group of international investors. Old balances will therefore be restored by January 31, 2018. We need this interim period to ensure all legal paperwork is processed correctly, so please be patient while we do this."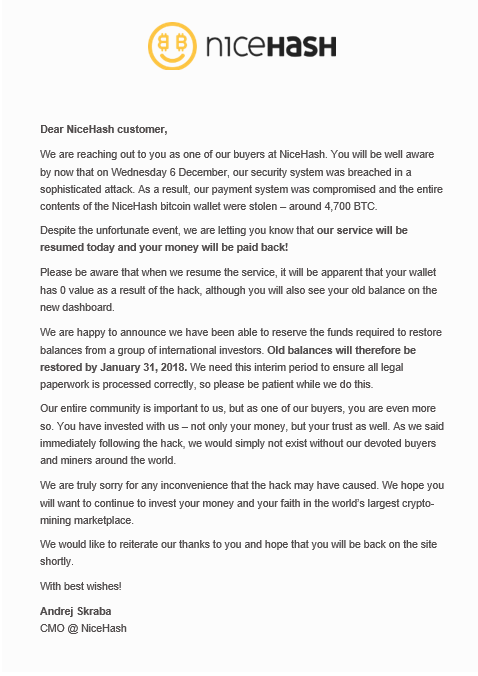 Aditionally, stronger security measures would be taken by the cryptocurrency mining website, while recommending everyone a few tips via their Twitter to prevent further issues, like changing passwords, setting up a new 2FA, and generating a new NiceHash wallet address. The company has also become more active in the aforementioned social network, by updating their status regularly and announcing that the first payout after the hack was successfully completed.
They finished the letter by apologizing for the inconveniences caused by the hack, thanking for trusting the platform and hoping for them to continue investing their money and faith in it.