There are not many openly pro blockchain politicians. This may be due to the fact that not many have taken time to study the technology. The few that are aware of it as users are quite vocal in support of it.
The just concluded mid-term election produced a well-known advocate of the technology Jared Polis as the next governor of the state of Colorado. The co-chair of the Congressional Blockchain Caucus will be assuming office in January.
Polis will no doubt run a blockchain friendly government in that one of his campaign promises is to,
"Establish Colorado as a national hub for blockchain innovation in business and government."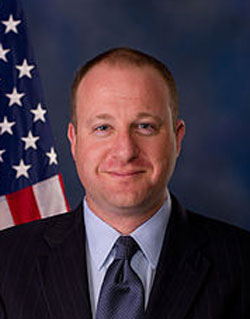 The congressman who defeated the state treasurer in the mid-term election wants to use the distributed ledger technology to enhance election infrastructure and improve security.
The incoming governor also intends to exempt digital currencies from money transmission laws as is obtainable in blockchain investment havens. This move will establish digital currencies as utility tokens instead of securities.
There also is an ambitious plan to explore blockchain based solutions in energy optimization, distribution and consumption. The incoming government will, "digitize government records and move them to public ledgers".
It will also create a blockchain council,
"to work in coordination with the state's Office of Economic Development & International Trade. Polis is open about taking the crypto-friendly state of Wyoming as a mold for many of his policies."
Gavin Newsom who won the Californian governorship election is another blockchain friendly politician elected in the mid-term election. Newsom may not be as vocal as Polis but nonetheless has interest in cryptocurrencies. Since 2014 Newsom has advocated for campaign contributions made in bitcoins.
This is not surprising considering his overall affinity towards innovative technology. Digital Asset Trade Association, an advocacy group recently released data showing that Newsom favors attracting blockchain based startups to the state. He is also in support of a legalization status for digital assets and crypto transactions.
Considering the position of California as an economic powerhouse, the favorable inclination of the governor towards the distributed ledger technology is great news for the industry.
Two other incoming governors are considered blockchain friendly. Greg Abbott who won the election for the state of Texas has favored Bitcoin campaign donations since 2014. He won his second term election defeating the Democratic Party's Luke Valdez. Gina Rainmondo is another crypto-friendly governor in Rhode Island.
The good news for the industry is not limited to the medium-term choice. J. Christopher Giancarlo, chairman of the Commodity Futures Trading Commission (CFTC), said last week at the DC Fintech Week conference at Georgetown University that the technology of Distributed accounting can be used to facilitate better application of the law of derivatives.