Latest Bitcoin (BTC) News
Yes, cryptocurrencies do fluctuate. Of the many, Bitcoin is indeed a solid investment. Some of its key properties like being inherently deflationary, guided by mathematics and acting like a safe haven, a store of value amid increasing geopolitical tensions, could easily propel the world's most valuable digital assets to new highs.
Add that to increasing awareness and Wall Street players foraying into the space and we cannot discount the possibility of BTC exploding to $1 million or higher. Although the timelines are uncertain, prices shooting to $1 million could happen next year. That's according to investor and entrepreneur, James Altucher.
While citing Brexit, US-China planned tariffs and other concerns like bans and sanctions, inflows to BTC will only increase in the medium to long term. And it is not hard to see how that is already affecting the trading landscape.
Meanwhile, steadying prices after May 30th flash crash is the reason why Vinny Lingham of Multicoin Capital is overly bullish on BTC saying:
"This BTC action looks aggressive. Makes me think that we may blow through 10k and test $12k very soon; but $12k is a very heavy resistance level, so I would expect consolidation around the $10k level for some time if $12k is (likely) rejected."
BTC/USD Price Analysis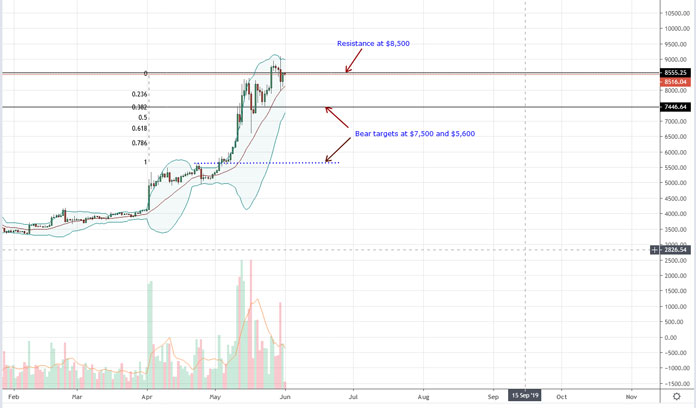 At the time of writing, Bitcoin (BTC) bulls are steadfast. Even though buyers didn't satisfactorily reverse losses of May 30th, the fact that bulls took control at the end of it all is a big plus. Then again, notice that prices are rebounding from the Middle BB.
The flexible support has been solid in the last three months and it is from there that prices have been springing back to trend despite attempts for lower lows. Nonetheless, traders cannot conclude that buyers are back and prices would instead inch up above $9,000 towards $10,000 just yet.
That's despite solid fundamentals that give bulls an upper hand. Note that there is a three-bar bear reversal pattern. Behind May 30th liquidation are high trading volumes—31k exceeding May 26th of 19k. From an effort versus result point of view, that is bearish.
Therefore, it is imperative that buyers pump prices higher, driving prices above $9,000 allowing risk-averse traders to load the dips with target at $10,000 and later $12,000. For now, the best trade plan is to hold neutral, aware that BTC could tumble if prices fall below $7,500 at the back of high trading volumes exceeding 31k of May 30th.
Chart courtesy of Trading View—CoinBase
Disclaimer: Views and opinions expressed are those of the author and aren't investment advice. Trading of any form involves risk and so do your due diligence before making a trading decision.