Polygon's [MATIC] has witnessed a meteoric rise this season. The phenomenal growth has been significantly supported by the network's successful strides as the layer-2 solution that connects Ethereum to other blockchains continued to be the market's darling.
Despite this, Polygon has had its fair share of roadblocks. For instance, its announcement of raising the base network fees from 1 Gwei to 30 Gwei to tackle the spike in Spam Transactions. But the current resurgence in the price action of MATIC has confirmed the optimistic outlook. The asset was currently trading at $1.48 after a surge of more than 25% over the past week.
Polygon [MATIC] charts reveal this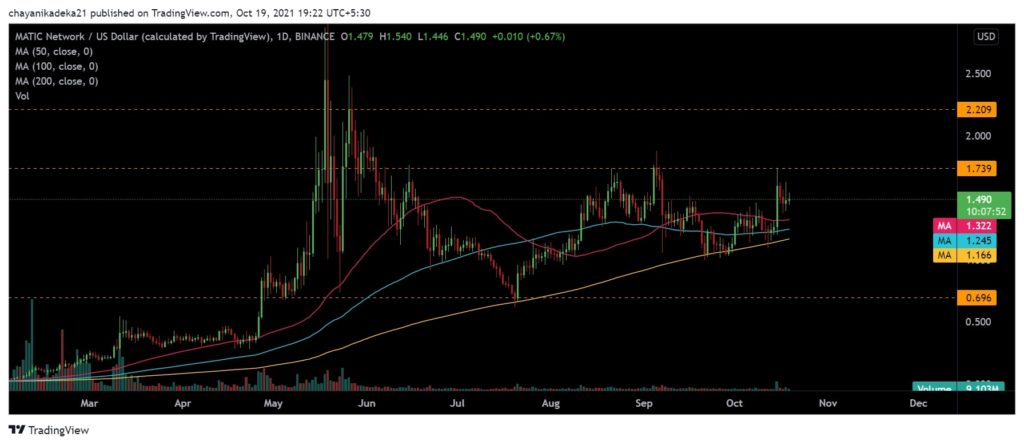 MATIC hasn't been able to post break through a crucial resistance after surging this month. However, the rising volume in the market coupled with an increase in volatility may boost its price. The moving averages also depicted signs of convergence after incessant bearish presence in the price movement of MATIC. Since then, the trend has changed and the uptick aided in the divergence of the 50 DMA [Pink], 100 DMA [Blue], as well as 200 DMA [Yellow].

The technicals also painted a bullish picture. The MACD, for one, has dodged a bearish crossover. The Chaikin Money Flow [CMF], on the other hand, noted growth above the half-line depicting a phase of capital inflow in the market. The Relative Strength Index [RSI] also demonstrated buyers' dominance as sellers took a back seat.
Overall, the market structure looks promising However, a decisive close above $1.66 can validate the breakout which could push the price of MATIC to the immediate resistance of $1.73. If the asset manages to reclaim this level, the subsequent resistance of $2.2 will come into play.
Resurgence here as well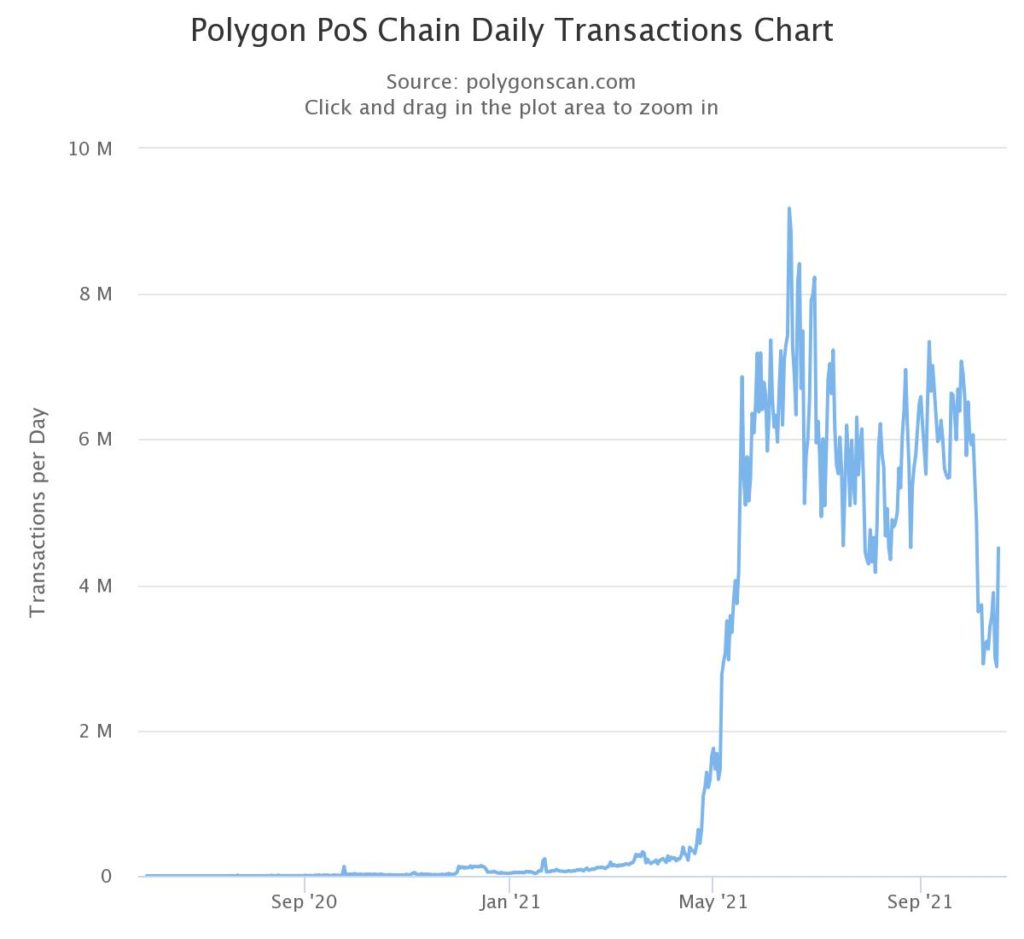 Polygon's [MATIC] on-chain technicals also look positive. After the network's co-founder Sandeep Nailwal announced an increase in base network fees, the on-chain activity saw a drastic fall. Polygon's Daily average transaction volume shed 50% after dropping from more than 6 million to under 3 million in less than a week.
However, the figures have since improved and currently stood at 4.5 million.
Additionally, Polygon has been breaking previous records in the burgeoning decentralized finance [DeFi] space. As a matter of fact, the chain officially eclipsed the DeFi giant Binance Smart chain [BSC] with respect to the total wallets this week. To top that, it also surpassed a whopping 100 million wallet mark. In short, the above charts reveal that market players' participation in Polygon has not slowed down.