It seems that the Polygon network is still attracting more users, and MATIC could be at the start of another rally. Active user numbers are still going high, and the network is becoming one of the most successful alternatives to Ethereum.
The growth rate in active addresses is on the rise. It means we see exponential growth in terms of daily active users on Polygon. All of these can result in price jumps because of more demand for the MATIC token.
The Best Ethereum Alternative?
Polygon is the most active layer two solutions for Ethereum. The network has been successful in attracting many users and projects and doesn't seem to slow down. After a big rally for MATIC price months ago, it seems the token may rise again because of more demand. After all, the daily active user (DAU) metric of the network looks very promising and shows a reliable growth path for Polygon.
Twitter account "RaphaelSignal" posted a new analysis about Polygon's on-chain data. It mainly focuses on the DAU metric of the network that jumped 61.36% week over week. The network has been on six consecutive weeks of growth in terms of DAU. The number of active users on Polygon multiplied 2.6x in the past 28 days.
Another interesting piece of data is that the growth rate is increasing, too. The DAU metric growth was 0.73% in week 36 but is now at 61.36% in week 39. All of these increasing numbers mean that Polygon is becoming the first alternative over Ethereum. The size of this network is roughly the same size as Ethereum in terms of DAU. in the last week, Polygon network's user base has grown and currently has 99.2% of the Ethereum user base.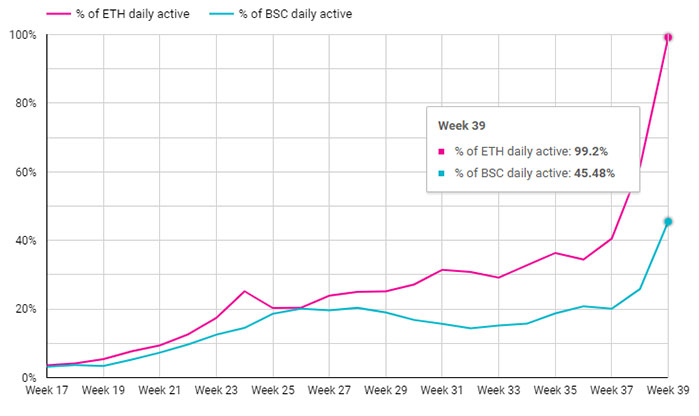 But there are decreasing numbers in the Polygon chart, too. The transactions decreased by -4.26% in the last week. Besides, the average cost of a transaction in USD decreases -29.57% going to the lowest levels since July. The revenue also declined -32.57% in USD. 
It seems that NFT and gaming projects are still a moving factor in the latest adoption of Polygon. According to @RaphaelSignal:
"Last week, we identified gaming as a true catalyst in user adoption. @Arc8App is the dominant player of the last week, notching 358.6k active users last week. … This early success is a precursor. There will be many, many more titles launching on $MATIC to acclaim."
The Polygon's growth in terms of DAU can be a good sign that this layer-two solution is becoming successful. But there is still a long way ahead of the network to be able to become the first choice for dApp developers.
---
If you found this article interesting, here you can find more DeFi News