Polygon [MATIC] is on a wild ride. The raucous market environment did little damage to the platform's ambitious roadmap that revealed no signs of a breather anytime soon. This, in turn, has catapulted its price to soar over 9,000% so far in 2021.
In the latest development, Polygon has announced the integration of its blockchain datasets to Google's BigQuery in a bid to provide precise on-chain data for the protocol.
The second-layer Ethereum scaling solution's latest move is in line with its efforts to make crypto data accessible on the search engine's marketplace through its program called Google Cloud Public Datasets.
Polygon x Google BitQuery: What does the latest integration entail?
Essentially, the program in question is all set to host a number of real-time datasets involving crypto-assets that aim to further advance offerings to incorporate additional distributed ledgers.
These datasets can be found upon searching for the keyword "crypto" in the GCP Marketplace, stated Polygon in its official announcement. Moreover, Google has also reportedly developed a "unified schema" that enables all Bitcoin-like datasets to share queries.
Polygon, which was previously known as MATIC Network, will be able to leverage crucial features with the latest integration. Google BigQuery will enable the platform's datasets to perform the following function:
Track gas costs over time
Track a smart contract's calls and activity
Multi-Chain Analysis for software development kits [SDK] such as the Polygon SDK
Integrate with traditional financial record processing infrastructures
Identify the most active/popular tokens, contracts, or applications on Polygon
Audit groups of transactions
Polygon also noted,
"It has been a pleasure to work with Helix Technologies, Nansen, and the Google Cloud Developer Relations team on this project. We look forward to seeing how the vibrant developer community at Polygon uses this powerful platform to bring further utility to their Dapps"
MATIC Sees Minor Uptick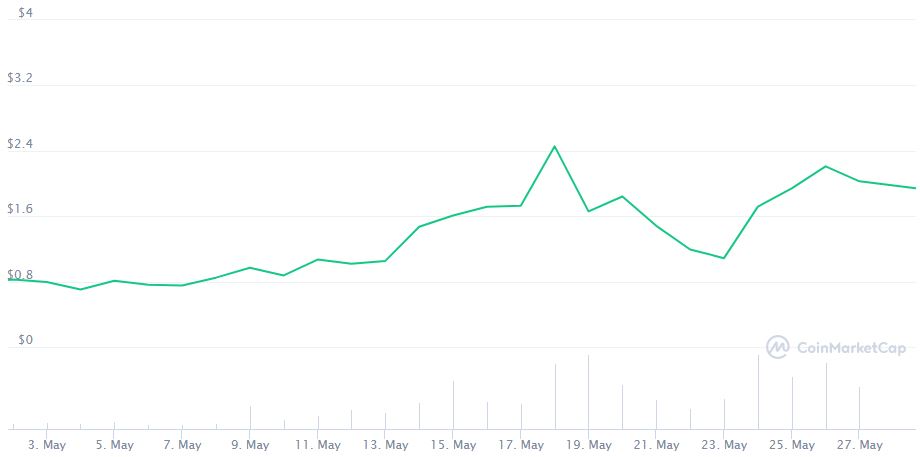 Its native token, MATIC registered a minor uptick following the news. It had sunk below crucial support levels as the market sustained yet another blow from the bulls. Over the at 24-hours, it depreciated by almost 8% which pushed the price down to $1.92, at the time of writing.
One of the most dramatic sell-offs in Bitcoin history earlier this month could not deter MATIC as it went on to hit record levels. Its demand has been on an upward trajectory despite the latest setback. According to a MATIC network explorer, it currently processes more than 6.3 million transactions per day.