The dramatic meltdown in the last two weeks did little damage to Polygon [MATIC] as it bounced right back up after staging a v-shaped recovery. It is up more than 9,700% year to date. The digital token had defied the market movement during the freefall, which wiped out significant gains, and it continued to do so.
MATIC, the native digital token of Polygon, a second-layer Ethereum scaling solution, has raked almost 20% after invalidating the losses over the past week. At the time of writing, it surged to $2.29 after posting daily gains of 28%.
It recorded a market cap of $13.82 billion and a 24-hour trading volume of $8.46 billion.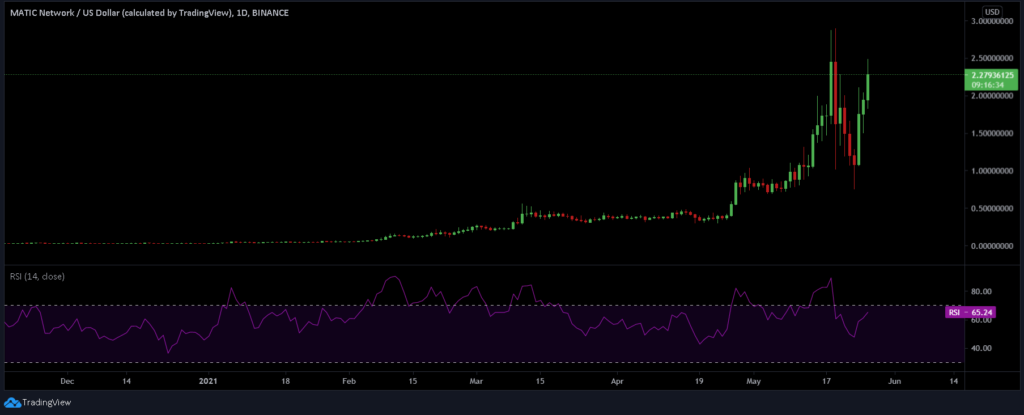 The above daily price chart for MATIC depicted a quick recovery despite the brutal sell-off in the broader crypto market on the 19th and the 23rd of May. The Relative Strength Index [RSI] also remained in a bullish territory which demonstrated a strong buying sentiment among the investors.
MATIC's Rise Coincides With Polygon's SDK Stack Launch
The fresh push, however, comes at a crucial time. Polygon has announced the release of its software development kit [SDK] which is essentially a new infrastructure for the developers to seamlessly deploy their own Ethereum-compatible blockchains on the network.
Citing Ethereum's scalability issues and infra landscape, Polygon SDK intends to establish a structure that is crucial to the ecosystem and offer a framework for multi-chain Ethereum to grow further and quicker pace.
According to the official announcement, multi-chain Ethereum will function similar to other popular multi-chains such as Polkadot, Cosmos, etc. Polygon also revealed that the SDK will come with some major enhancements.
This includes the ability to gain from ETH's network effects. In addition, Polygon chains can also acquire security from the ETH network while simultaneously being more flexible and powerful.
Polygon SDK's ambitious roadmap also claims to support the development of two major types of solutions:
Stand-alone chains: sidechains, enterprise chains, etc.
Secured chains aka L2s: Optimistic Rollups, zkRollups, etc.
While the latest release supports stand-alone chains, second-layer solutions will be roll-out in the future.
Tech Billionaire's Investment in Polygon
The highly-anticipated release comes hours after US-based billionaire investor, Mark Cuban's high-profile investment in Polygon.
Soon after which the platform was listed on Cuban's website as one of his holdings even as the size or composition of the capital invested has not been divulged yet.
Over the past couple of months, Polygon had entered into strategic partnerships with multiple blockchain projects by assisting them to ramp up by leveraging their second-layer solution which has pushed MATIC's price amidst crypto rout.