Polygon [MATIC] had surrendered to the struggling price movement of the broader crypto market. Even as MATIC remained on a different track than Bitcoin [BTC] and Ethereum [ETH] for the most part, and went on a record-breaking spree, bearishness soon engulfed the market.
However, the technicals are now hinting at a bull rally. The fundamentals also look promising.
As September ends, so should its blues. Polygon's [MATIC] price broke out of descending triangle pattern today after a month-long consolidation that had earlier resulted in the formation of several lower highs. The uptick in volatility is yet another factor that could drive the bulls.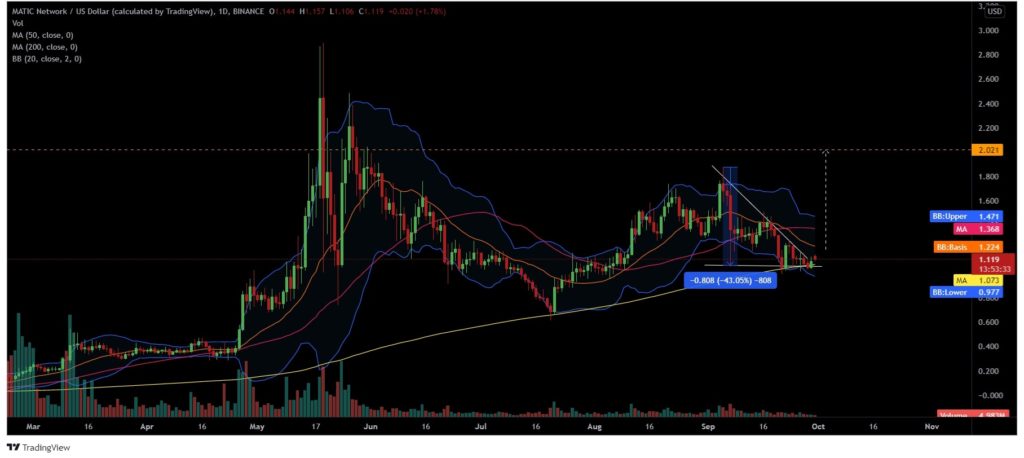 The uptrend projection could set the stage for the bulls to breach multiple resistance levels and target for highs last seen in May this year.
MATIC first needs to steer clear of the 50 DMA [Pink] at the $1.36 level to climb higher. The volume hasn't been winsome lately and could provide a significant hindrance to the asset's surge.
Following the latest breakout, MATIC pierced through the upsloping 200 DMA [Yellow] despite massive bearishness in the market.
Polygon's [MATIC] bullish confirmation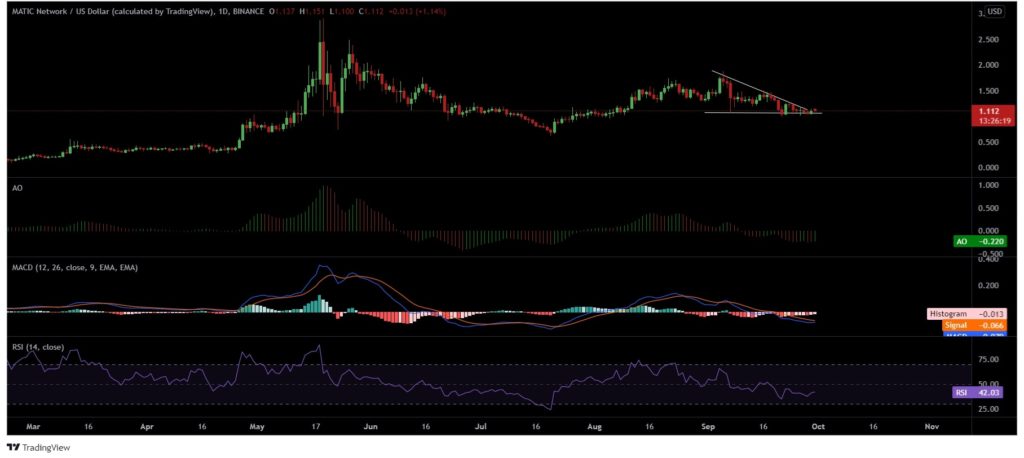 All the technicals demonstrated an opportunity for the market participants. The green closing line of the Awesome Oscillator [AO] indicated a switch towards a weak but bullish momentum.
After flashing red signals for a month, the MACD appeared to be on the verge of a bullish crossover. Further validating the trend was the daily Relative Strength Index [RSI] which noted an uptick even as sellers continued to dominate the coin market.
Increased buying pressure could catapult MATIC to cross a major hurdle of $1.7 and fetch gains to $2.02. The support area of $1.06 is firmly supporting the crypto from a damaging turn of events.
MATIC's promising fundamentals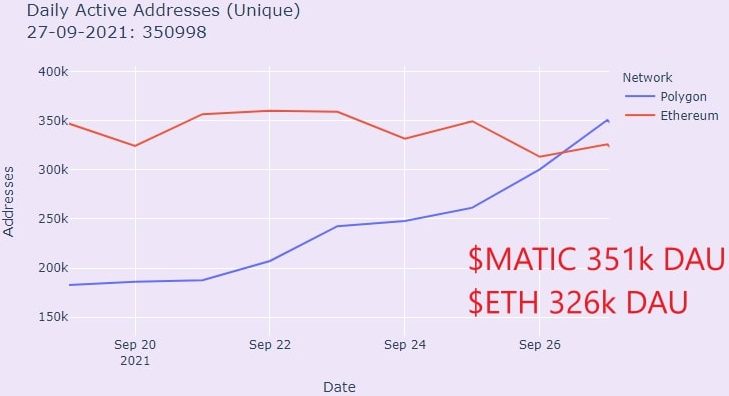 As a result of Ethereum's scalability woes, several protocols have popped up as viable alternatives. However, Polygon continued to be an important solution that has seen a sporadic rise this DeFi season.
In yet another remarkable feat, the network managed to outperform Ethereum's layer-one in daily addresses for the first time on the 29th of September.
To put things into perspective, Polygon's daily active address count stood at 351k while that of Ethereum was found to be at 326k.
Even as Polygon does not aim to rival Ethereum, but only aid in its growth, the latest graph point towards an important milestone.
The scalability solution has announced some very high-profile partnerships recently which might have paved the way for increased user activity and adoption.