Ethereum layer 2 scaling solution, Polygon has witnessed tremendous growth of late. In yet another crucial development, Polygon's all-new integration will aggregate more than $1.8 billion worth of liquidity from seven leading decentralized exchanges.
Hyper-optimized cross-chain DEX and yield aggregator, Autofarm has announced the integration of its decentralized exchange aggregator called AutoSwap on Polygon.
Here's the latest collaboration
According to the official blog post, the integration will aggregate over $1.8 billion worth of liquidity to introduce users to the "deepest liquidity and best rates for their swaps." With this view, the trades are divided into different routes across the supported DEXes with the help of Autofarm's intelligent routing algorithm.
Furthermore, the above-mentioned algorithm also helps in distinguishing the best swap rates that have no added platform fees. In fact, to enable full transparency, all data and swap details will be also displayed on AutoSwap's UI.
The seven DEXes in question are- ComethSwap, HoneySwap, SushiSwap, ApeSwap, Dfyn Exchange, QuickSwap, and WaultSwap.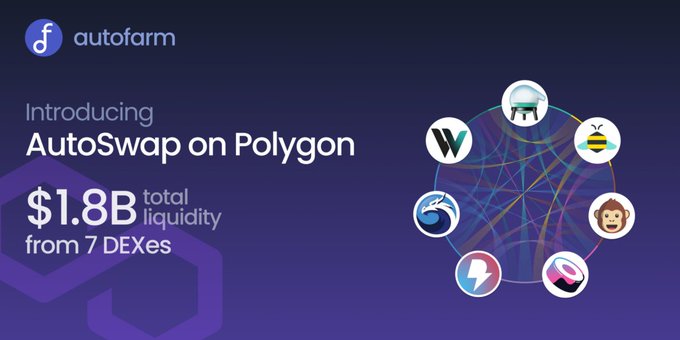 Autofarm also revealed that the assets from supported Polygon DEXes will be tradeable from one single platform at launch. This will aid in blending convenience and perpetually liquid markets for the "best swap experience." The blog post read,
"Since AutoSwap's V1 launch in April, the Autofarm team have been continuously improving and optimising the swap DEX based on extensive testing and feedback to bring users a best-in-class, robust swap DEX aggregator. After ensuring AutoSwap's core functionalities matched industry-level standards, we proceeded to integrate Polygon DEXes to the platform."
Besides, the integration is expected to enable users to rake in more tokens with the same input amount but with faster trade executions and lower slippage.
Polygon's Impressive Growth Structure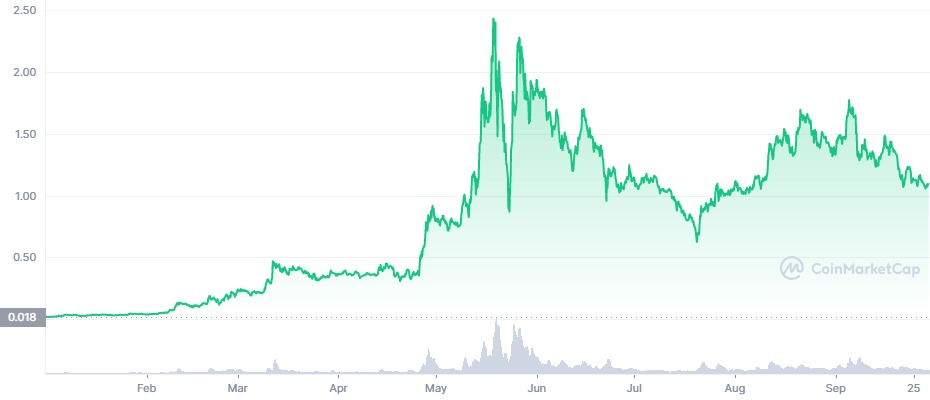 In a very short span of time, Polygon is witnessing a surge in innovative projects releasing on its platform. Needless to say, it has emerged as one of the most trending ecosystems within the blockchain domain this year.
The AutoSwap integration comes weeks after the Ethereum-based full-stack scaling solution onboarding one of the world's leading consulting firms, Ernst & Young. The monumental step for Polygon involves the creation of a multi-chain ecosystem of Ethereum compatible blockchains.
More recently, cryptocurrency management firm Osprey Funds announced the launch of the first-ever Polygon fund in the United States. Dubbed, Osprey Polygon Trust, the product will provide exposure to Polygon's native token, MATIC.
MATIC's outperforming several top crypto-asset can be attributed to the growing adoption on the technological side which has spurred its proce action.