The cryptocurrency market is moving unexpectedly. It is becoming fairly hard to predict the prices of crypto coins. Despite the bearish sentiment overall, the prices of Bitcoin saw a rise to over $21,500 today. However, the outlook of the coin is bearish. Therefore, experts are expecting a reversal from this point.
The $20K mark is the local support level for Bitcoin. Thus, if BTC slides past this point, it will be degraded to $18,000 or even $17,000. However, the market is currently green, as the overall market cap has also crossed $944 Billion. Bitcoin is valued at around $21,470. The market cap of BTC is over $410 Billion. But it is still 4% under its last week's price. Also, BTC has a market dominance of 43.50%, and its trading volume has decreased in the last 24 hours.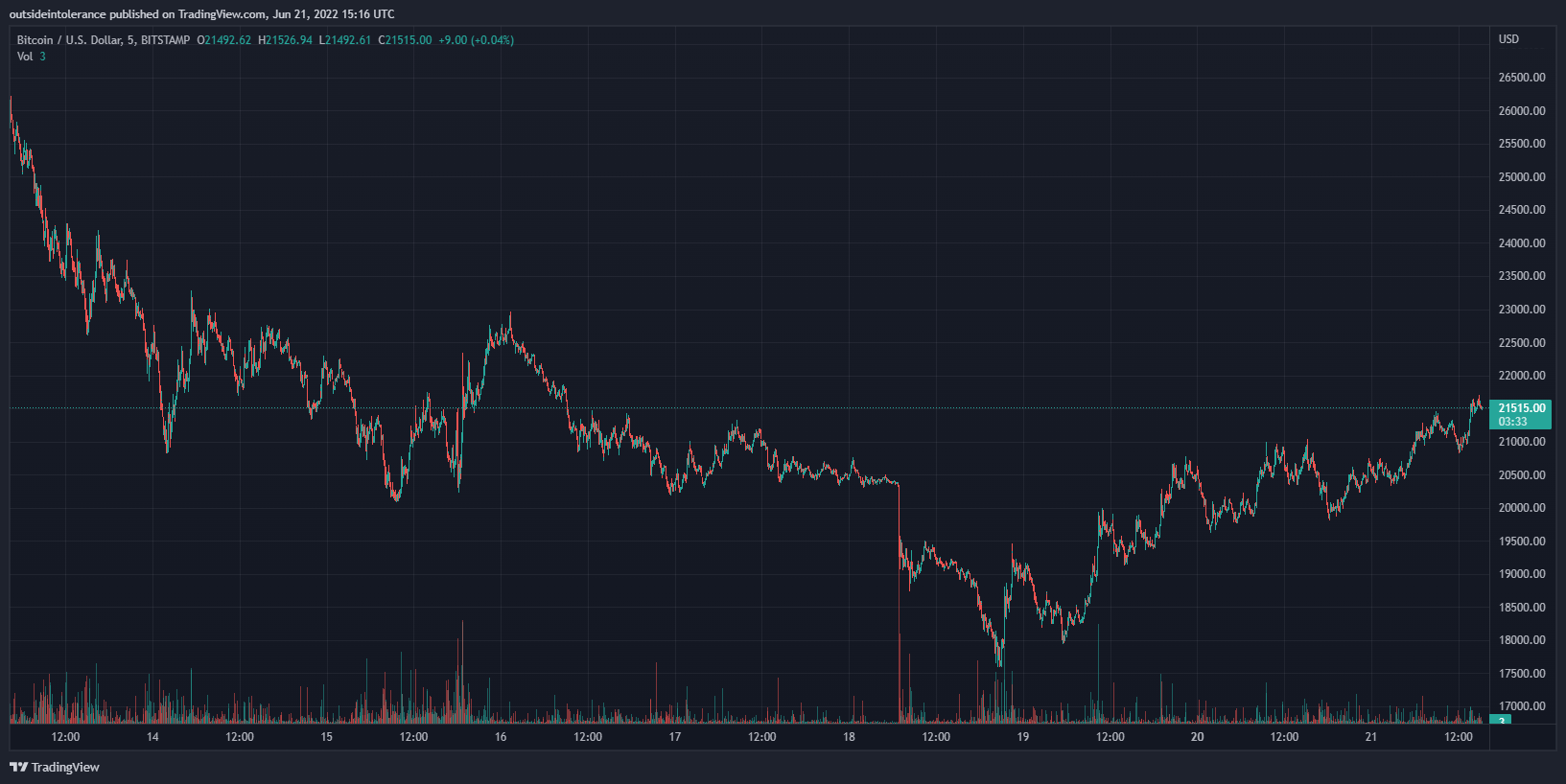 Bitcoin Consolidates But the Bearish Outlook Sustains
The month of June proved to be disastrous for the leading cryptocurrency token. BTC did not show any signs of strength or recovery. Its $20,000 support level was very weak, as the coin went under $18,000. The coin saw a boost this week, as it is currently testing the $21K mark. However, it is highly unlikely that bullish momentum is formed for the coin. In this case, BTC can go lower than its previous low.
If the fallout happens, then $16,000 is an expected target for BTC. On the other hand, the coin can eye $23K if it successfully sustains its position over $21K. But this can only happen after a major swing reversal over the following weeks. Experts and traders are still very cautious while analyzing the price pattern of Bitcoin.
On the other hand, Ethereum has also moved past $1,150 after touching the lows of under $900. This recent relief has come just at the right time for the leading altcoin, as ETH was struggling to keep up with the severe bear run. Due to this uptrend, several other tokens, including BNB, SOL, MATIC, DOT, and AVAX, saw significant growth.
Moreover, DOGE and SHIB posted double-figure percentage gains to reach commendable highs. This market trend might help traders and investors to minimize their losses and close positions. However, the market is currently unstable, and there is no assurance over the next move of the FED. The bearish sentiment is far from over in the crypto market, as it has already liquidated billions of dollars in no time.